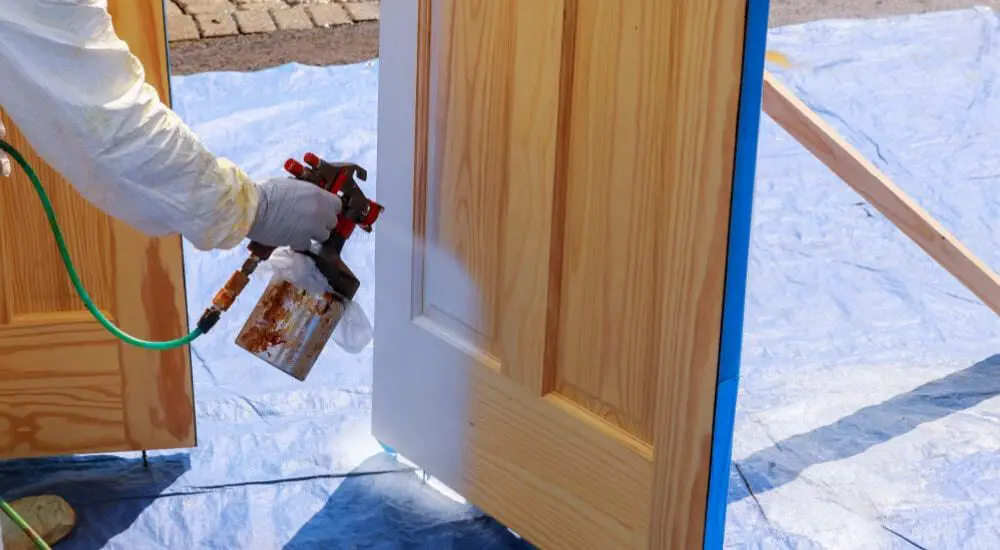 Painting your door or trim is not as simple as it sounds. Now, most people tend to hire professionals, but what if you are on a budget? Your best option would be to use the best paint sprayer for trim & door to help you refresh your home. Even when you have done some DIY projects using a paint sprayer in the past, the precision needed for this project is still challenging.
However, buying the right paint sprayer for the job at hand is not as simple as it sounds. There are a lot of options in the market, making the process rather difficult. Most people get confused during purchase, especially when it is their first time buying a paint sprayer. We took our time to do extensive research and come up with a review that contains all the information you need when purchasing a paint sprayer for your trim and door that suits your needs.
Best Paint Sprayer for Interior Trim & Doors – Comparison table
| Products | Name | Hose Length | Editor Rating | Price |
| --- | --- | --- | --- | --- |
| Top Pick | Graco Magnum 262800 X5 | 25 ft. | | |
| | Wagner 0518080 | 20 ft. | | |
| | Wagner 0529021 FLEXiO 890 | 11.5 ft. | | |
| | HomeRight C800971 | N/A | | |
| | Wagner 0529010 | N/A | | |
Top 5 Best Paint Sprayer for Trim & Door- Reviews
1. Graco Magnum 262800 X5 Stand Airless Paint Sprayer
When you are looking for a seamless paint process when working on your trim & door, the Graco Magnum 262800 x5 is among the top choices. The included adjustable pressure knob ensures that the user gets a fine finish due to the improved control.
The incorporated flexible suction tube lets you paint from a 5-gallon or 1-gallon bucket effectively. Choosing between the different paint bucket sizes lets you comfortably finish your project. Use the 1-gallon bucket when working on a small project and a 5-gallon bucket for the large projects.
The Graco Magnum 262800 x5 features a RAC IV switch tip, which allows the user to reverse the tip should there be any clogging. This is a great feature that ensures you get to keep on painting even when clogging occurs. You get a professional finish whenever you use this paint sprayer.
However, a huge downside with the Graco Magnum 262800 x5 is the price. This paint sprayer is rather expensive when compared to similar products. The great news is that you get value for your money when you purchase it due to the unmatched performance that you get.
This paint sprayer comes in a durable and sturdy design that can withstand wear and tear caused by prolonged use. With this paint sprayer, you can have peace of mind knowing that you will get long-lasting, quality, and durable services. The power flusher feature makes it easy to clean when you are done with your project.
 Pros
Powerful yet light in weight
Flexible suction tube
Easy cleanup design
Adjustable pressure controlEasy to use
 Cons
Expensive
Not ideal for thicker paints
2. Wagner Spraytech 0518080 Control Spray Max
The Wagner Spraytech 0518080 is among the top choices when you're looking for an excellent paint sprayer for the trim & doors. The ability to change the generated air pressure within this paint sprayer makes it stand out from the rest. You get better control over the paint, which significantly improves the quality of the work.
The lightweight design ensures that you can complete projects faster. It is an HVLP paint sprayer, which means that it uses low pressure and high volume technology to provide a smooth finish. The HVLP system atomizes paint into finer particles, which gets you a more professional finish.
It includes a powerful two-stage turbine, which lets you use a wide variety of materials, including latex, poly, and stains. The 20 ft. hose makes it easier to reach all the different areas when working on a project.
However, there is considerable overspray when using this paint sprayer. This might not be a huge problem when you are a seasoned DIYer. If you intend on using this paint sprayer for large projects, then you will have to account for overspray.
What I found most interesting about this paint sprayer is its great design. It is an easy to use model that works just fine when used by both a professional and beginner. The pocket-friendly price makes this paint sprayer an ideal buy when you are on a budget.
 Pros
Multiple spray patterns
Powerful turbine included
Adjustable flow control
Air filter helps keep out dust
 Cons
Considerable overspray experienced
3. Wagner 0529021 FLEXiO 890 Stationary HVLP Paint Sprayer
When you want a reliable model at a budget-friendly price, then the Wagner 0529021 FLEXiO 890 Is a good choice. This paint sprayer gives you just as much functionality as the high-end models but at a cheaper price. Home improvement jobs need a piece of equipment that provides top quality finish but at an affordable price.
The Wagner 0529021 FLEXiO 890 was designed to ensure that the user gets a superior finish on ceilings, walls, furniture, trims, cabinets, and more. The turbine rests on the ground, ensuring that you can get working without encountering any form of fatigue. This paint sprayer features a lot of adjustable settings that let you control the air pressure in the sprayer. The material flow control ensures that you can decrease or increase the paint flow depending on the project.
What you will find rather challenging with this model is the lack of adequate viscosity. Getting that seamless painting output will require a rather steep learning curve. However, with a little bit of tinkering, you will solve the problem.
The Wagner 0529021 FLEXiO 890 is an excellent choice for both professionals and DIYers. You get a good quality paint sprayer with all the needed functionality but at an affordable price. Clean up is equally fast and simple, which is a great advantage.
 Pros
Affordable unit when on a budget
Adjustable iSpray nozzle
Detailed nozzle for small projects
 Cons
Huge learning curve
Prone to clogging
4. HomeRight C800971 HVLP Spray Gun
When you are looking for a portable paint sprayer at an affordable price, then the HomeRight C800971 Is a great option. It includes adjustable pressure control, six spray tips, and 450 watts of power. All these features are mostly seen on the expensive high-end models, which makes this paint sprayer a good option when on a budget.
The HomeRight C800971 is both powerful and lightweight, making it a versatile tool. You get to use it for several projects, which is vital when you are a regular DIYer. This paint sprayer handles both water-based and oil-based paints quite effectively.
With this paint sprayer, you get the option of adjusting the air cap, thereby letting you spray in a vertical, horizontal, or round pattern. The material flow control knob included enables the user to customize the paint flow, which is excellent.
One downside about the HomeRight C800971 is the unreliable motor. This paint sprayer is, therefore, not ideal for large projects, especially when you are on a deadline. This also means that you might get a couple of poor finishes due to the unreliable motor.
The 2-year warranty included ensures that the buyer can get peace of mind. When buying any piece of equipment, it is crucial to consider the warranty. The warranty is a sort of guarantee on the quality of the product that you are getting.
 Pros
Affordable especially when on a budget
2-year warranty included
Adjustable air cap
Ideal for various projects
 Cons
Inconsistent spray patterns
Unreliable motor
5. Wagner Spraytech 0529010 FLEXiO 590
When you need a paint sprayer for the occasional house improvement projects, then the Wagner Spraytech 0529010 FLEXiO 590 is among the top choices. It is a durable unit that is designed from long-lasting quality material.
The iSpray nozzle and adjustable speed settings make it one of the top choices when it comes to painting. You get a professional finish within a short period, which is excellent when you need to move on to different projects. You get to spray unthinned stains and paints effectively with this paint sprayer due to the x-Boost turbine, which delivers incredible power.
The 10 speed setting gives you more control, which is essential when you need a high-quality paint application. While the iSpray nozzle is excellent for larger projects, you should shift to the included detail-finish nozzle when working on trims and doors.
What can be rather frustrating about this paint sprayer is clogging, especially when you do not thin the material correctly. The good news with this downside is the fact that you can eliminate it when you prep properly.
The Wagner Spraytech 0529010 FLEXiO 590 is worth your time due to the reduced overspray, adjustable settings, and a wide range of features. It is an excellent option for both beginners and professionals who want to get a fine finish.
 Pros
Easy to transport design
Powerful X-Booster turbine
10-speed settings
iSpray nozzle included
 Cons
Overspray when not used correctly
Clogging may occur
How To choose The best Paint Sprayer for Trim And doors
We all want the best for our homes because it's the one place that we get to spend time with our friends and family. You must have a comfortable home that creates a lasting impression when people visit. Home improvements are, therefore, among the top agendas.
A professional paint job, including the trims and doors, is essential. You need the best paint sprayer to help you get that perfect finish that you need. However, when looking for a paint sprayer for trim, there are a lot of options in the market that make the entire process challenging. Well, below are the things that you need to consider when choosing the right paint sprayer for your work.
Pressure and horsepower
The horsepower and pressure represent how powerful the paint sprayer motor is when painting. The more power the paint sprayer has, the more work you will be able to do within a short period. The horsepower rating should be written right at the product's description.
Ensure that you pick a paint sprayer with sufficient power to complete the projects you have in mind. Start by identifying the tasks that you need to get done using your paint sprayer. This should help you figure out the amount of pressure and horsepower that you need from a paint sprayer.
The hose length
A long hose will make painting faster and easier since you get to reach higher and further with minimal movements. Understand that getting projects completed quickly ensures that you can move on to the next projects.
A long hose also reduces effort because you can get to the hard to reach areas more effectively. Now, dealing with a long hose also ensures that you don't get to strain your hands lifting the entire setup. All you need to lift is the hose, thus ensuring that you never get fatigued even when working on a large project.
Weight of the sprayer
A heavy sprayer is not ideal, especially when you are working on a large project that requires a lot of movement. What you need to understand is the fact that powerful paint sprayers are usually heavier when compared to other paint sprayers.
However, this does not mean that a lightweight paint sprayer won't get the job done just as effectively. There are a lot of lightweight paint sprayers that give the user a professional finish when used correctly. Professionals usually go for the heavy high-end models, which cost a fortune. When working on home improvement projects, the affordable lightweight models will do just fine.
Features
When purchasing a paint sprayer, you have to consider the features included. These features ensure that you get a quality finish when working on your projects. Some of the features to look out for include the spray tips included and adjustable pressure controls.
The adjustable pressure control, for example, gives you more control over your paint sprayer. This is instrumental when you need to get a professional finish because you get to control the amount of paint and pressure when working.
How To Paint Interior doors And Trim with A Spray Gun
Trim and door painting are usually overlooked by a majority of individuals. When you understand that a new color can put the final touches on an interior painting job, then you will know the importance of trim and door painting. We want you to get a professional finish when painting your trim and door. Below is a step by step tutorial on how to paint interior doors and trim with a spray gun.
Tools required
Paint sprayerPaint/stainSpray tip- 6 or 8- inch will work just fineEmpty buckets for cleanup and priming sprayerPaint strainer bagStir sticksPlastic sheetingMasking tapePaintbrushSpray shieldCleaning rugStiff nylon brushesPrecaution and safety equipment
Step 1: Getting started
Start by clearing as much furniture as possible from the room. The remaining furniture should then be moved to the center of the room and covered completely using the plastic sheeting. Ensure that you leave sufficient space for movement.
Apply the protective paper and masking tape around the trim's edges. This will ensure that you protect your wall surfaces. You also need to cover all floor surfaces that are under or near your door and trim. Remove your door and all the door hardware, placing everything on a table or across two sawhorses.
You then need to check for any holes and cracks on your trim or door. Fill all the cracks and holes with putty and sand all the rough areas.
Step 2: Spraying doors and trim
Start by selecting the right spray tip depending on the surface and type of paint or stain that you are using. Ensure that the tip you choose does not exceed your sprayer's maximum capacity.
When you are using paint from different containers, then you must mix them in an empty 5-gallon container. This will ensure that you get a consistent color. Always select a low-pressure setting when working with light materials such as stains.
If you intend to paint the entire interior wall, then you need to start with the trim first. Spray in long but even strokes while keeping your tip about 12 inches from the work surface. When working on your door, ensure that you overlap each spray pass by about 50%.
Step 3: Clean up
Allow enough time for your stain/paint to dry before you remove the tape. This will ensure that you get crisp and clean lines. Proceed to remove all the furniture coverings. Rehang your doors and replace all the hardware that you might have removed.
Proceed to clean your paint sprayer once the project is complete. The user manual will contain all the directions you need for the cleanup. This is usually a simple process that will take you just a few minutes to complete.
Who Needs This Specific Product?
When you are a regular DIYer who is looking to make some home improvements, then you need a paint sprayer. Home improvements aim to enhance your home and make it feel comfortable.
Your home needs to create a lasting impression, especially when you have visitors and friends coming over. To make this lasting impression, the first place you need to start with is the paint job. A quality paint finish is, therefore, a necessity.
Final Verdict
Although all the reviewed paint sprayers are great when you need to paint trim and doors, my top choice has to be the Graco Magnum 262800 x5. It gives you an excellent flow control that ensures you get a good quality finish. This paint sprayer has sufficient horsepower and pressure to handle both large and small projects.
The Graco Magnum 262800 x5 incorporates a lightweight and durable design with a lot of features, including RAC IV switch tip and flexible suction tube.
As stated earlier, there are a lot of options in the market when it comes to paint sprayers for trim and doors. You must ensure that you pick the right paint sprayer that suits your needs. You don't want to end up with a paint sprayer that won't get the job done effectively.
Frequently asked questions
Can I use a paint sprayer for my door and trim?
Most people usually overlook painting doors and trim. This is because they don't understand that a new paint color is what you need to have the finishing touches needed on an interior painting job.
A paint sprayer is a great tool that will give you a professional finish when painting. You get to eliminate the brush marks and get an even coat on your door and trim. With the right paint sprayer, you also get to save a lot of time and effort.
What type of paint should I use on trim and doors?
There are several types of paint that you could use for your trim and doors. The oil-based paint is long-lasting without compromising on the finish quality. However, acrylic latex paint looks good and is easier to apply.
If you want to go for a customized looked, then use the acrylic latex paint. But if you want a long-lasting solution, then use the oil-based paint.
What tip should I use for spraying doors?
When using an airless paint sprayer, the best tip to use for spraying trim and doors is a 310 or 312 tip. This is because they produce a 6-inch spray fan, which ensures that you get to coat your doors and trim quickly with minimum overlapping. A smaller tip will mean that you will have a lot of overlapping to do, and this will take time.
How do professionals deal with interior painting?
When painting the house interior, professionals start with the trim before moving to the ceilings and, finally, the walls. This is because it is faster and easier to tape off the trim than the walls. You, therefore, get to complete the interior painting job quickly and faster.
Should I use air or airless paint sprayer?
The airless paint sprayer produces quality work quickly, although it is quite expensive. The air paint sprayer, however, is quite affordable, but you will take longer to get that professional finish. It, therefore, comes down to pricing.