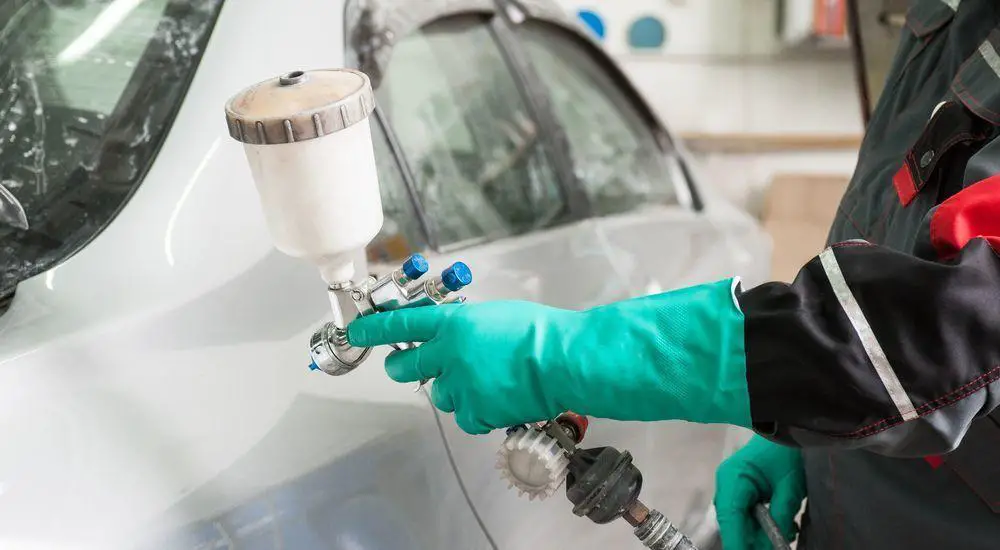 Maintaining a car's blue book value is not as easy as it seems but the best place to start has to be with the paint job. When you love DIY projects, then it doesn't get better than painting your vehicle. It is equally crucial when you need to restore your car after an accident.
However, finding the best paint sprayer for cars is not as easy as it seems. Start by taking a look at this in-depth guide and the top five best paint sprayers for cars to help you during your purchase.
Best Paint Sprayer for Cars- Comparison Table
| Product Image | Name | Max Pressure | Editor Rating | Price |
| --- | --- | --- | --- | --- |
| | Devilbiss Finishline HVLP 4 FLG-670 | 23 PSI | | |
| | Graco-Sharpe 288878 HVLP FX3000 | 29 PSI | | |
| Top Pick | ANEST IWATA LPH400 | 16 PSI | | |
| | Wagner Spraytech 529013 | 1500 PSI | | |
Top 5 Best Paint Sprayer for Cars in 2022
1. Devilbiss Finishline HVLP 4 FLG-670
When you want a paint sprayer for your car that is both pocket-friendly and versatile, then the Devilbiss Finishline HVLP 4 FLG-670 will work just fine. It is ideal for personal use when you need to work on a car or two.
This paint sprayer requires 13CFM at 23 PSI which ensures that you don't face any challenges when working on your project. Included are multiple fluid tips that make everything easier especially when you are a beginner. The multiple fluid tips come in handy when you want a professional finish for your car.
Although you require a hose with 5/16 inches, according to my trials, a 3/18 hose will give you the best results. The 5/16 inches will work just fine if you practice a lot of patience and try to be precise. The 3/18-inch hose is, however, great for beginners who don't have experience with paint sprayers. Since all the entire device is anodized, you will find it easy to clean which is a huge plus if you ask me.
This paint sprayer gets you high-quality and uniform results all the time. I would recommend it to experts and beginners who want to get professional results. Experts will also get a lot of functionality from this paint sprayer due to the multiple tips and included features.
 Pros
Multiple tips included on purchase
Lightweight construction
Versatile design
easy to use
 Cons
2. Graco-Sharpe 288878 HVLP FX3000 Paint Spray Gun
One of the most popular units in the market right now is the Graco-Sharpe 288878 HVLP FX3000. The aluminum cup holds 600cc which means that you can get a lot done without constant refills. However, you need to clean the lid after every job. This is because of paint build-work which will lead to a poor finish when working on the next project.
This model makes it easier to adjust controls which gives you more flexibility when painting your car. It is lightweight with a compact design that ensures you encounter no difficulties when working on a task. Due to its durable construction, this device is long-lasting.
However, what I found most convenient with this device is that it's easy to find replacement parts. Should anything break down or malfunction, then you won't have to look under every nook and cranny to find its replacement.
When you purchase the Graco-Sharpe 288878 HVLP FX3000 there is no airline included and you will have to purchase it separately. Get a decent-sized compressor with about 8-9 CFM at 40lbs air pressure. This paint sprayer is a great buy considering all the functionality that you get at a pocket-friendly price. However, it is ideal for the buyer who plans to use it for nothing else but paint cars.
 Pros
Lightweight construction
it easy to use
Affordable price
Easy to find replacement parts
 Cons
Project-specific
Not ideal for large tasks
3. ANEST IWATA LPH400 LPH-400-144LV 1.4 mm LPH400LV
One of the top line LVLP paint guns in the market right now is the ANEST IWATA LPH400 LPH-400-144LV. It only weighs 0.86 lb which makes it ideal for all types of jobs. The 1.44 mm tip also helps you achieve a high-quality professional finish.
It is a workhorse that can last for up to more than 12 years when maintained properly. Most professionals use it when they need a clear coat that is exceptional. Working with this spray gun is relatively simple and you don't get any sort of discomfort. It has an ergonomic handle that ensures you encounter no hardships even after prolonged use.
It is relatively quiet and you won't hear more than a whisper making it for use at a workshop. Most paint sprayers are rather noisy and this can be very distractive when working on a time-sensitive project. With this model, I did not find any faults and it seems to work flawlessly.
This is an expensive paint sprayer that gets the job done perfectly when used effectively. It is, therefore, an ideal buy for the individual who wants to get the best that the market can offer. It is also a good buy for car paint shops since it has a lot of great features that give you a quality paint job every time.
 Pros
Soft spray ensures professional finish
Quality construction increases durability
Quiet operation making it ideal for workshops
Lightweight construction material
Its easy to use
 Cons
a little pricy compared to similar paint sprayers
4. Wagner Spraytech 529013
The Wagner Spraytech 529013 is your best bet when you want a smooth finish due to its end nozzle that is professionally finished. You will get a fine finishing when working on different projects including cars, furniture, and cabinets.
There is an included adjustable flow control knob that gives you more precision when working on the delicate areas of your car. An adjustable flow control feature is vital when it comes to painting cars because at one point you will have to make some adjustments.
It equally features three spray patterns (horizontal, round, and vertical) that make it easier to suit all projects that you want. The spray patterns will help you when working on complex projects especially when you need a detailed paint job.
This is an easy to assemble model that comes with a complete user's manual to get you started quickly. You can change front ends which means that you get a lot more flexibility with this model. Clean-up is equally easy and you get to save a lot of time.
It is an affordable paint sprayer that is easy to assemble and use making it ideal for beginners. It also has an extensive user manual that makes it easy to understand and use effectively.
 Pros
Affordable price
You get a professional fine finish
Adjustable pattern setting
Easy to assemble
 Cons
5. ATD Tools 6900 HVLP Spray Gun
When you want to get your car a professional look, then the ATD Tools 6900 HVLP is one of your top choices. It is a versatile spray gun containing 9 pieces which means you can start working on any car painting project effectively.
What I love about this device is the fact that it has everything that you would need for any home projects. You don't just have to use it for painting your car but for all the small home projects including walls and furniture painting. A 2HP air compressor is just perfect for this device and you will get maximum functionality.
You must clean each of the tools immediately after use to ensure that there is no clog when working. The clog will lower the quality of the finish which may just ruin your entire project when you are going for perfection.
It is an easy to clean model with a compact design that makes it long-lasting. You will need just about a couple of minutes to get it clean and stored away which is just great. This paint sprayer is great for the average DIYer who wants great performance at a great price. It includes an extensive tool kit that gives you a lot of functionality which is great when you want to work on different projects.
 Pros
Extensive tool kit
Affordable price
Easy to clean
 Cons
Finding replacement parts is difficult
How To Choose The Right Paint Sprayer For Cars
Overtime paint sprayers have changed and more models are being introduced into the market. You need to understand that an HVLP is the best choice when it comes to spraying your car. However, this does not mean that the other types of paint sprayers are not just as satisfactory.
HVLP spray guns have all the features that are required for pro-level painting and this is what makes them more reliable. There are certain factors that you need to consider when purchasing the best paint spray for cars. Some of these factors include the following:
Quality
Quality of the product is one of the most important things you need to consider when it comes to any product that you buy. In our case, a low-quality sprayer will give you a roughly done job while a high-quality sprayer will give you that elegant professional finish. Start by considering the brand before moving on to the features.
Look for a well-reputed brand that has been in the industry for long periods. A well-reputable brand has tears of experience in the industry which means that their product has evolved to fit the clients.
How would you feel if you ruined your car's look due to a low-quality paint sprayer? Isn't your car's look worth the extra money required to purchase a high-end paint sprayer? Everybody loves their car and so do I, which makes it essential to get a good-quality paint sprayer.
Type
Apart from looking at quality, you need to consider the type of paint sprayer. Car paint jobs require a certain type of paint sprayer to get that quality finish. Now, there are three major types of these paint sprayers available in the market, which include HVLP, conventional, and airless. The traditional paint sprayers require air compressors so that they can work effectively while the airless paint sprayers have a power source such as electricity.
HVLP, on the other hand, are units that utilize low air and high pressure to get the work done effectively. The HVLP is recommended for car painting, they produce remarkable results.
However, this does not mean that the other two types of paint sprayers don't produce good results. You simply need to look at all the pros and cons of all the three types of paint sprayers to help you make a decision.
Cost
The cost of the product is an essential factor that you will have to consider. What makes cost rather tricky is that we all want a cheaper model that can save us a little bit of money. However, doing this will compromise the finish.
The high-end models however can cost a fortune that you might not have. So what do you do? The best option is to look for a model that falls within your budget. Try to think about what is the maximum that you are willing to spend on your car paint sprayer.
If you can afford to go for a high-quality brand, then do not compromise. Remember that good quality paint sprayer is an investment. Most of these paint sprayers can be used for other DIY projects including painting the walls and furniture.
Features
To narrow down your search on the best paint sprayer for cars, you must compare the features. All product descriptions include the important features and you need to go over every one of them. This should help you narrow down your search to a few options. Also compare the specifications and price to get your list even smaller. You need to get the best feature for the price that you are willing to spend on the paint sprayer.
Portability
You need a car paint sprayer that offers you flexibility. If you have painted a car before, then you know that flexibility is vital. You need to move around so that you can get the entire job done quickly and effectively.
Ensure that you look for a model that is lightweight, ergonomic, and easy to use. An ergonomic paint sprayer will ensure that you complete tasks without getting worn out. This is a huge factor to consider especially when you paint cars for a living.
Tips/nozzle
One thing that you have to consider is the sprayer's tips or nozzle. You must get a paint sprayer with adjustable tips or nozzles. This should give you some flexibility when working on different types of projects.
What you may not know is that you will need a 1.88mm tip for the primer, 1mm for the fine details, and 1.4mm for the topcoat. This means that if you can't change your nozzle or tip, then you can't get the professional finish at the end of the day.
This is an important consideration that most people seem to neglect. Ensure you carefully look at the product description and customer reviews to know whether your device has interchangeable tips or not.
How To Spray Paint A Car Professionally
Painting your car seems like a difficult task when it isn't. before you start painting, however, you need to understand that the process can be tiresome and you will require some determination. I am going to take you on a step by step tutorial on how to paint your car professional. Let's get started so that you can have your car in a new shape as soon as possible.
Materials required:
Sander
Newspaper
Painters tape
Spray paint
Spray gun
Car wax
Safety goggles
Step 1: Prepare the car
You need to prepare your car before we can start working on anything. To get the professional finish that you want, you have to sand out the entire car. This should help to get rid of the former paint job while getting rid of all dents, corrosion and car wax. Sanding ensures that you start the project on a clean canvas.
Ensure that your garage doors are open or just do the entire paint job on your driveway. Air circulation is important because the paint contains harmful chemicals that could have a bad effect on your health. Ensure your garage door is fully open during the entire process from the start until the end.
A large-grain sander will do the job just fine, ensure that it is about 600 grit. Now, sanding is not as easy as it seems and it is rather labor-intensive. To get the job done properly, divide your car into sections and work from one section to the next.
Dividing your car into sections will ensure that you get every part of your car sanded properly. Should you encounter any holes, then you will need to fill using a putty before you can begin painting. Switch to a finer sanding paper once you remove most of the paint to help you get the job done perfectly.
Step 2: Paint the car
Start by putting painters tape over wheel rims, car bumpers, window frames, and side mirrors. You will also need to tape the newspapers to all the windows and add a layer under the car. Put on the safety goggles first and install your spray gun and spray paint correctly.
Stand 10 inches from your car and start from top to bottom using a regular and even motion. Although you are starting from the top, ensure you move in a side to side motion to ensure that the coat builds up properly.
The coat has to be as even as possible. You will need a lot of patience during this stage and you have to keep a steady motion. After you are done, you have to leave your car to dry up and this will take some time. It's the perfect time to grab a beer or eat that burger.
Step 3: Paint the second coat
To give your car that professional smooth look, you will need to add a second paint layer. Start from the top in a side to side motion until you get the whole car done again. For this second layer to completely dry you will have to wait for about 48 hours.
After the second coat is dried, you will then need to wax your car to get that good look. Waxing is not a difficult task and it will take you a shorter time to complete. You can now take your car out for a ride looking good and new.
What Are The Types of Spray Guns For Car Painting?
There are so many types of paint sprayers for cars including siphon-feed sprayers, airless paint sprayers, and so many more. When you are a professional, the airless sprayers work effectively but the HVLP is great for beginners.
Understand that the HVLP paint sprayers are more ideal since it gets an even coat easily and you don't need to be a professional. With the airless paint sprayers, you will get large droplets of paint due to the high pressure.
Siphon feed sprayers
Now there are equally siphon-feed sprayers that can be used just as effectively for painting cars. However, the paint is sucked from a canister and not directly fed to the tip or nozzle like most models. I don't recommend using a siphon feed sprayer since there is a high chance of splatter due to the air getting into the canister.
HVLP paint sprayers
HVLP paint sprayers are great when it comes to painting cars and they give good results. Now, there are two types of HVLP paint sprayers – gravity feed and siphon-feed. Both these two types get the job done just as effectively.
Gravity Feed HVLP
You can purchase an HVLP paint sprayer with a gravity feed spray kit. This gives you a lot of options and you can get more work done quickly. With the gravity feed, place your cup on top of your spray gun and get working. The good thing about this type of paint is that you get an even and professional finish.
LVLP spray guns
LVLP stands for Low volume low pressure. They work at a lower pressure when compared to the HVLP models. What I love about the LVLP spray guns is that you don't need any kind of skill to use them properly.
The good news about LVLP spray guns is that you get a reduced overspray which means that you get a better finish. It also means that you get to save the paint due to the reduced overspray.
How To Use A Spray Gun with an Air Compressor
To most people, using a spray gun with an air compressor seems quite easy but this is not the case to everyone. The bright side is that you can quickly learn and get painting using your air compressor and spray gun quickly.
Step 1: Prepare the area
When working with paint, you should expect overspray and drips on the floor. This means that you need to prepare the paint area. Set canvas sheets everywhere on the floor and tape over anything of value in that area.
Step 2: thin the paint
Although thinning paint is a whole new topic on its own, I will just walk you through the basics. Paint thinning is simply ensuring that every gallon of paint has a ¼ cup of water. However, this shouldn't be so hard since a paint manufacturer will include details on how to thin the paint.
Step 3: Hook everything up
You need to hook all the tubes and hoses to the appropriate positions. Proceed to plug in the sprayer to the outlet once everything is properly connected. Do not rush during this step but rather take your time to confirm that everything is exactly as it should be.
Step 4: Turn on your spray gun
Turn on your paint gun once everything is connected properly. This is where it gets rather tricky because you have to adjust the PSI level to match the task that you want to accomplish. To test out whether you have the right pressure, test the sprayer on a piece of paper.
Repeat the tests until you feel comfortable with the amount of pressure. You must use the right pressure especially when you are going for a professional finish.
Step 5: Paint
Since you have everything working properly, the painting shouldn't be hard. The sprayer and air compressor will work just fine during this step. However, ensure that the nozzle is about 6-12 inches away from the object that you are painting.
During painting, you must maintain one even motion throughout the process. This should help you get an even finish.
Final verdict
The ANEST IWATA LPH400 LPH-400-144LV has to be my recommended top choice since it's a quality HVLP sprayer that gets you a professional finish. It is made from durable and dependable material with three tips to ensure you get flexibility when painting your car. It is also quite and you get a relaxed environment which ensures you can focus more on the project.
If you are planning to buy the best paint sprayer for your car, then this in-depth guide and review should help you with your search. Ensure that you look at product specifications and customer reviews before making any purchases.
Frequently Asked Questions
What should I look out for when buying a paint sprayer/spray gun for my car ?
The most important things to look out for when buying a paint sprayer for your car are larger cups, interchangeable tips, and the CRM rating. The larger cups will ensure that you paint your entire car without needing any refills.
The interchangeable tips give you more flexibility so that you can get a professional finish. Different sections of your car will need different size tips to get an even quality finish. Lastly the CRM rating will show you whether that paint sprayer is compatible with the air compressor you have or not.
Can I paint my car using an HVLP paint sprayer ?
Yes, the HVLP paint sprayer does a good job when it comes to painting your car. It also ensures that no paint is wasted due to its high transfer efficiency. The amount of paint from your gun that sticks to the car is high.
However, ensure that you use the right air compressor to get the job done effectively. Look at your spray guns CRM rating to determine the air compressor that you will need. See help from a professional if you are not sure about anything.
What pressure should I use for spray painting ?
The amount of pressure you use will depend on the type of task that you are doing. Understand that some tasks require just a little pressure while others require a lot of pressure. When you want to spray clear paint, for example, I would recommend a pressure of about 2-3 which gives you better flow and more atomization.
Now, when you are spraying base coat, use a pressure of about 26-29 psi for HVLP sprayers and 17 psi when using an LVLP spray gun. Different pressures will be used for different tasks as you can see.
Is buying a paint sprayer worth it ?
Yes, having a paint sprayer is worth it especially when you love DIY projects. You can save a lot by painting your car, wall, and furniture. Most paint sprayers are versatile and you can use them for different projects. However, this does not mean that you should throw away the old roller and paintbrush.