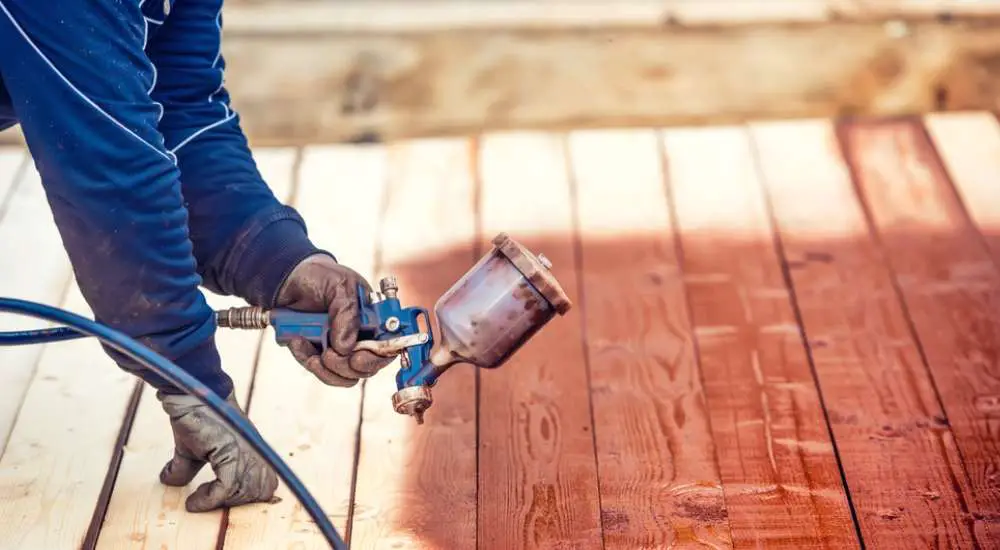 If you enjoy woodworking, you're probably wondering what the best HVLP spray gun for woodworking to use is. I'm here to give you some reviews of the best ones on the market, and to tell you how they can help you with certain projects. By the way, in case you didn't know, HVLP stands for high-volume, low-pressure. These spray guns are much better to use than traditional spray guns, because they reduce overspray, saving you money on paint cost and reducing coating waste.
Best HVLP Spray Gun for woodworking – Comparison Table
Products
Name
Weight
Editor Rating
Price
Top

Pick

Fuji 2203 Semi-PRO

26.1 Pounds
Earlex HV5500
12 Pounds
DeVilbiss Finishline
19 Pounds
Wagner 0518080
11.2 Pounds
Fuji Spray 5175G
1.95 Pounds
Top 5 Best HVLP Spray Gun For Woodworking Reviews
1. Fuji 2203 Semi-PRO 2
This spray gun is the most powerful 2-stage system on the market right now. There is nothing else in its price range that does what this spray gun can do. It is designed for DIY projects, but has professional elements, so it can really be used for anything. It has a fan control knob to adjust pattern size, a non-bleed nozzle, and a low wattage motor. What more could you want?!This spray gun is for people who want professional results on their home projects. The nozzle that this particular spray gun comes with is designed to handle any type of coating. You can use paint, latex, clear finish…you name it! Whether you are painting your cabinets or your crown molding, this gun will do the job right.
Customers who have used this product have reaffirmed its quality and have praised its versatility. However, users say that some coating needs to be thinned before you can spray it on your wood with this gun. Latex needs to be thinned, as well as some types of paint. This is somewhat inconvenient, especially if you are trying to finish a project quickly.  This spray gun is about 25 pounds and also has a 25-foot hose.
Pros
Fan control knob
Non-bleed nozzle
Low wattage motor
Professional results
Designed with DIY projects in mind
Cons
Latex needs to be thinned before using with this gun
Some types of paint need to be thinned before using with this gun
2. Earlex HV5500 Spray Station
This pro spray gun is designed for contractors, woodworkers, and people who love DIY projects. It's a very portable spray gun, which makes it perfect for both home and job use. It is made to use with small and medium sized projects. The Earlex has a three-position external spray pattern, which can change the width from one inch to 12 inches. Just push and click the buttons on the handle to change the width – it's very easy. This gun is made to use with any kind of coating. This spray gun also comes with a paint flow control dial, stainless steel nozzle, and an angled tube for either overhead or downward spraying. It comes with storage for the spray gun and a 13-foot air hose.
Customers who have used this spray gun say that it is easy to use and gets the job done. However, some people have mentioned that the air hose detaches easily, sometimes when in the middle of the project, causing the coating to become clumpy at that time. Some customers have had to go over the wood another time after the hose detaches, because the coating is no longer smooth.
Pros
Paint flow control dial
Stainless steel nozzle
Angles tube for overhead or downward spraying
13-foot air hose
Cons
3. DeVilbiss Finishline 4 FLG-670
This pro spray gun offers the latest in enhanced atomization technology, and will help you achieve professional results on your projects. This product is ideal for contractors and those who have a passion for DIY projects.
The DeVilbiss Finishline comes with a precision machine air cap and several fluid nozzles, so you can choose how you want your coating to come out. Its anodized body makes the product easier to clean.
It has an air adjusting valve with a gauge, HVLP high transfer efficiency, and it is made of high grade stainless steel. If you are looking for a spray gun that will give you a sleek, smooth finish on all of your projects, this is the spray gun for you!
Customers have also said that this spray gun achieves some of the best results they've seen. It is easy to take apart and clean, and any coating comes out smoothly. However, some customers have said that is has a somewhat narrow spray pattern, as its maximum setting is only seven inches wide.
This makes it difficult not to have lap marks on larger items, like doors and tables. Some customers have also said that some of the buttons and settings on the spray gun are a little confusing and take time to understand.
Pros
Precision machine air cap
Multiple fluid nozzles
Easy to clean
Made of high grade stainless steel
Cons
Narrow spray pattern
Confusing buttons and settings
4. Wagner 0518080 Control Spray Max HVLP Paint Sprayer
The Wagner Control Spray Max will give you a smooth, sleek finish faster than the other spray guns on the market. The controls that this spray gun comes with will give you the ability to adjust the spray based on what you're working on and the material you are using. The spray pattern on this gun ranges from a half inch to 12 inches wide. It comes with a 20-foot hose.This spray gun is perfect for contractors with large projects and people who love to DIY. It's meant for larger sized projects, so don't be afraid to use it! It comes with two air filters which will protect your coating from dust. It has a powerful two-stage turbine which can handle any kind of thick material – even latex paint!
You won't have clumps and bumps with this spray gun, because it comes with a viscosity cup that will measure the density of the coating you're using.
Many customers have stated that this spray gun is one of the best they've used, and that they are so glad they purchased it. However, some customers said they were disappointed in the motor on the spray gun. Some people said the motor died after they used it for the fourth time, and they had to send it back to the manufacturer.
Pros
Variable spray pattern
Comes with air filters
Powerful two-stage turbine
 Comes with 20-foot hose
Cons
5. Fuji Spray 5175G – T75G Gravity Spray Gun
The Fuji Spray Gravity Spray Gun has an easy-pull trigger, so it's easier for you to keep spraying with less fatigue. Its handle even has a "stay-cool" handle, so that even if you use this gun for a long period of time, the handle won' overheat on you. It has a pattern control knob so you can adjust how wide your coatings are, depending on what project you're working on. It is made of high quality stainless steel, and is meant for small to medium sized jobs. This is quite a small gun, so it's great for getting into crevices and spraying smaller items. The gun only weighs two pounds without being filled, so once it is filled, it can feel a little top heavy However, it's still a great spray gun and delivers a beautiful, smooth finish.
Customers love this spray gun! People have said that, although the gun is small, it will help you achieve great results on small to medium sized projects. It is very easy to use and doesn't overheat. The only downfall is that it cannot be used for larger jobs. Customers also said that when they had minor issues with this gun, they called the manufacturer and they received outstanding customer service.
Pros
Easy-pull trigger
Stay-cool handle
Pattern control knob
Made of high quality stainless steel
Cons
Only good for smaller projects
How To Choose An Ideal HVLP Spray Gun For Woodworking
The type of project you're working on
The type of project you're working on will definitely help you decide on what kind of spray gun to purchase. What type of wood are you trying to paint? How big is the surface that you need to paint? Are you painting a door, cabinets or something bigger? You should ask yourself all of these questions as you decide on your purchase.
What type of coating you're planning to use
 Some spray guns are made with specific coatings in mind. For example, some are made with latex paint in mind, while others are made for vinyl paint…the list goes on. Think about what kind of coating will work best for your project, and then purchase a gun that is proven to give you the best results.
Features on the spray guns
Each spray gun I've mentioned above has its own special features! The Fuji Semi Pro has a fan control knob and a low wattage motor. The Earlex has a paint flow control dial. The DeVilbiss Finishline has a precision machine air cap and multiple fluid nozzles. All of these spray guns have their own features for different purposes, and its important to think about how their features will help you with your specific project.
Hose length
If the area where you'll be working on your project is a larger area, you might want to get a spray gun with a longer hose. The ones I've mentioned above have hoses that range from 13 to 25 feet. If you need longer a hose, there are extensions available. Having a long hose will make it much more convenient for you if you're working in a large space.
Cost
Some of these spray guns are a little expensive, so it's important to look into their costs to see if they fit into your budget. There are plenty of spray guns out there, and there is definitely one that will fit into your budget, no matter what it is. The possibility of future projects Are you planning on using this spray gun again in the future? Some DIY-ers might plan on buying a spray gun to use on a specific one-time project, while contractors might buy a spray gun with intent on using it again. This will decide on the quality of the spray gun you buy, and also the cost.
How To Use A HVLP Spray Gun
The first thing to do when using a HVLP spray gun is to turn on the air compressor that powers it. Every gun has its own compressor regulator, but you'll need to set the air pressure to around 90. Once you have the compressor running, you can attach the spray gun to the hose. Then you can hook up your paint canister to the gun, but don't start spraying your project right away. You should start by spraying a piece of extra wood you have just laying around, because the first paint that comes out will probably be thick and maybe even clumpy. You will need to adjust the gun's fan to get the kind of paint spray you want for your project. The fan is on the back of the gun, and can easily be adjusted. If you see that the paint is too runny, speed up the fan, and if the spray is too fine, then slow it down. With a little practice, you'll get the kind of texture you need! After you adjust the fan to your liking, you can change the fluid control on the spray gun. This will make the texture of your spray even better. You really just want a coating that's heavy enough to coat your material, and not thin enough that it runs.
Spray Painting
Now, it's time to paint! Make sure that you spray your material horizontally and that you hold the gun perpendicular to your material while you're spraying. This will help you achieve a professional look. Also, make sure you start at the top of the material and spray that first, and then make your way to the bottom. This will help you avoid paint running and leaving unwanted marks. Depending on your material, you may need to spray on multiple coats to achieve the look that you want. As you keep coating the material, remember to let it dry in between, so it can "set." In order to let it dry thoroughly, this might take one or two days.
What Type of HVLP Spray Gun is Recommend for Woodworking?
Woodworking is typically the skill of making items such as cabinets, wood carvings, and wood turning from wood. Spray painting is the most ideal way of getting a smooth and even finish on the items made from wood. Therefore, for an HVLP spray gun to be used for woodworking, it should guarantee that professional finish that every individual desire.
The best woodworking spray gun should also be able to work efficiently on all woodworking projects and be able to spray perfectly on a wide range of wooden items. These items include the cabinets, ceilings, fences, shutters, walls, and many more. The following are some of the features that an HVLP spray gun should have to be recommended for woodworking;
Versatility
A woodworking spray gun should be easily used on different surfaces of wood items. It should have a nozzle tip that allows for easy adjustment to fit the kind of surface it is being used. Wood projects are usually in different shapes which means that one spray pattern cannot be used on all of them. Spray tips offer great versatility on spray guns by changing the spray patterns. Versatility should also be based on the types of paints it can be used with since not all wood items require the same paint or stain.
Lightweight and portable
A portable spray gun will make it easy for a user to move around while spraying any wood item. It also offers great convenience when using it since one can carry it around without getting fatigued. Portability of a spray gun is also essential when using it for woodworking which is mainly done outdoors. A lightweight model can also be used to spray in tight spaces and corners of your wood items with ease.
Easy to set up and use
Woodworking projects are usually small to medium projects. Therefore, they require a spray gun that can be easily set up and used with a lot of ease. This means that an individual should be able to set it up on his/her own and use it. In the end, one will save time and energy when doing woodworking projects.
The above features and others such as power will determine the best HVLP spray gun for your woodworking project. Therefore, you should always be on the lookout for these features when looking for the ideal HVLP spray gun for woodworking.
Who Needs this particular spray gun?
This particular product would best great for contractors, DIY-ers, and others who are creative and need tools for a project. Some people think of HVLP spray guns as products that are only meant for professionals, and that's not true. Anyone can use this product and achieve great results, it might just take some practice.
Which of these spray guns is the best?
Overall, I think the DeVilbiss Finishline is the best pro spray gun for woodworking on the market right now. It has great features, like the precision machine air cap and stainless steel make. It also has multiple fluid nozzles, which makes it perfect for multiple projects. It will last a long time and will be of use during a present project and also projects in the future. If you're looking for a pro spray gun that's going to get the job done, this is the one to choose.
Final Verdict
The best HVLP spray gun for woodworking that we suggest to you the most is the Fuji 2203 Semi-PRO 2 –  HVLP Spray System and its for professional paint project. DeVilbiss Finishline is also best bet for last long time.
After discussing the pros and cons of all these HVLP spray guns for woodworking and what they can do, the most important thing you can do before purchasing one is to think about the project you're planning to work on. Each one of these spray guns has specific qualities that make them useful for larger or smaller jobs, and large or smaller spray patterns.
I think that the most common error a contractor or DIY-er can make is to purchase a random spray gun without doing proper research to make sure that it is intended for the exact type of project it is needed for. I also think that the most important thing you do before starting your project is to practice. Use some extra wood you have laying around, and see how your coating looks on it. See if you can get your coating to have the texture that you want, and know how to adjust your HVLP gun to achieve that coating. It will save you time when you get started on your actual project, and you will be able to achieve those professional results much quicker. With the right spray gun, a little practice, and some experience under your belt, you will be ready to finish any project with ease! Whether you're a contractor or a DIY-er, getting professional results with a HVLP spray gun is definitely possible and is a fun, creative experience.