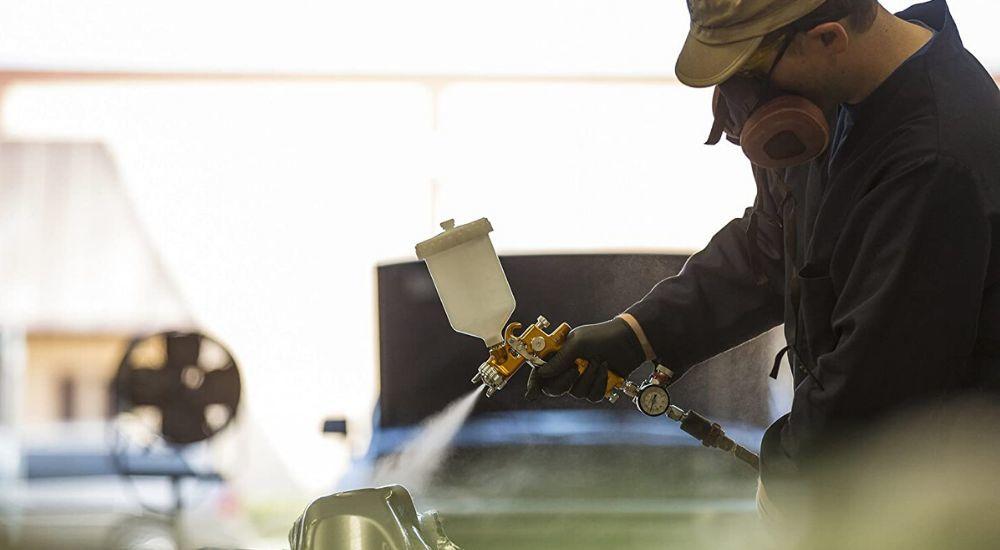 Purchasing the best LVLP spray gun can be a nightmare, especially when you are not an expert in the field. Most people don't know what an LVLP spray gun is, and the difference between HVLP and LVLP paint sprayers. However, we will get to look at all these aspects in this extensive review and buyer's guide.
We will start with an in-depth review of the top LVLP spray guns, proceeded by a buyer's guide, and finally, a faqs section to ensure that you get all the information you need.
Best LVLP Spray Gun – Comparison Table
| Product Image | Name | Max Pressure | Editor Rating | Price |
| --- | --- | --- | --- | --- |
| Top Pick | SPRAYIT SP 352 | 60 PSI | | |
| | Neiko 31215A | 40 PSI | | |
| | SPRAYIT SP-33000 | 60 PSI | | |
| | Astro EVOT13 EuroPro | 18 PSI | | |
| | SPRAYIT SP-33500K | 60 PSI | | |
Top 5 Best LVLP Spray Gun – Reviewed
1. SPRAYIT SP 352 – Versatile Device At An Affordable Price
The SPRAYIT SP-352 aluminum swivel cup, gravity feed spray gun is first up in our list. It is built to ensure that you get long-lasting services and guaranteed to impress all users, including the ruthless critics. With an operating pressure of between 44 to 58 PSI, you can rest assured that you will get quality services.
It is affordable, and you won't have to break the bank to purchase this spar gun. The maximum pressure is 60 PSI, which makes it ideal for all types of paint jobs that you might have in mind. The corrosion-resistant nozzle and stainless-steel needle ensure that you get a durable model.
The downside of this device is that it flakes off, and you have to be careful during cleaning. This is slightly inconvenient because you will spend a lot of time cleaning. It is also not suitable for complete re-sprays.
The SPRAYIT SP-352 is lightweight, which ensures that you can spray paint for long hours without getting fatigued. This is especially important when you plan on painting large projects, such as an entire car. You don't want a bulky device that will impact negatively on the finish due to fatigue.
The SPRAYIT SP-352 is suitable for DIYers who want to work on several projects at home. You can use this LVLP sprayer for woodworking and car painting, which gives you a lot of flexibility.
 Pros
Durable construction material
Its design increases portability
Minimizes waste by increasing precision
Ergonomic, and comfortable handle
 Cons
Cleanup takes a lot of time
2. Neiko 31215A – Professional Touch
The Neiko 31215A is a heavy-duty spray gun that can be used for various projects. It comes with different models to ensure that you can always get one that suits your needs. The nozzle sizes vary depending on the model you choose, giving you more versatility.
It is constructed from solid brass and stainless steel, thus giving you long-lasting service. It features working pressure of 10 PSI and an operating pressure of 40 PSI, which is adequate for most of the projects that you have in mind.
Neiko 31215A is professional spray making it rather pricey when compared to other models in the market. It will cost you a fortune, and you have to plan accordingly before making purchasing the model.
This paint sprayer ensures that the user gets an enhanced paint flow thanks to its traditional HVLP fluid delivery system. You can easily control the paint moving out using the included valve knob. It also features a gauge that makes it one of the most comfortable paint spray models to operate.
The Neiko 31215A is an ideal paint sprayer for both professional and DIYers. You get a professional finish when working on different projects due to the adjustment features that are included. It is a great buy when you plan on using your spray gun often.
 Pros
Durable nozzle and needle
It is highly portable
Professional, smooth finish
 Cons
Expensive especially when on a budget
3. SPRAYIT SP-33000 – Precision Painting At An Affordable Price
The SPRAYIT SP-33000 is a simple design low volume gun that incorporates a lot of features. What makes this device stand out from the rest of the spray guns in our list is the user-friendly design. Most spray guns in the market are sophisticated, and beginners have a steep learning curve.
You get different spray patterns due to the adjustable nozzle, which ensures that you can work on various projects. This paint sprayer gives the option of using a 1.3 mm, 1.5 mm, or 1.7 mm tip depending on the type of job you are working on.
This device, however, can be rather challenging to assemble once you dismantle it for cleaning. It took me quite a while to have it assembled, which is a colossal waste of time. The good news is that you get used to assembling after prolonged use, and you will save up on time eventually.
The lightweight construction is both durable and practical. You get a while plastic cup at the top and a corrosion-resistant aluminum bottom. It is easy to use, and you can get working almost immediately you purchase it from the store.
The SPRAYIT SP-33000 is an affordable spray gun that ensures you get precision painting, making it ideal for workshops and home use. This device packs all the great features at an affordable price.
 Pros
Lightweight aluminum construction
Adjustable controls for precision painting
A maximum PSI of 60
 Cons
Reassembling can be rather challenging
4. Astro EVOT13 EuroPro – Environmentally-Friendly LVLP Spray Gun
If you want an affordable and long-lasting spray gun, then the Astro EVOT13 EuroPro is one of your top choices. With a stainless steel fluid tip and needle, you get a durable model that packs a lot of great features.
This LVLP spray gun is easy to use and clean, making it more practical. You can quickly disassemble and assemble this device, which gives you easy access during cleaning. A clean spray gun ensures that you get a more professional finish.
However, to get the best results with this LVLP spray gun, you have to dilute the paint to almost zero. This may not be effective when working on several projects. The Astro EVOT13 EuroPro, therefore, limits you to specific projects such as woodworking only.
Paint consumption with this device is significantly reduced due to the superior transfer efficiency feature. This means that overspray and pollution levels are also quite minimal when using this spray gun. The lubricated adjustment knobs ensure that the user gets more control over the spray gun.
The Astro EVOT13 EuroPro is a good buy when you want an environmentally-friendly spray paint gun. It can be used for different types of projects and always gives a fine finish.
 Pros
Better quality results
Easy to clean saving time
Reduced pollution levels
 Cons
The atomization features are not active
5. SPRAYIT SP-33500K – Long-Lasting Spray Gun For The Detailed Projects
The SPAYLIT brand has been in the market for a long period, and their products never disappoint. The SPRAYIT SP-33500K is one of the highest quality spray guns in the current market. It offers high-performance when working on small jobs and can be used in automotive, woodworking, and industrial applications.
This paint sprayer weighs about 20 ounces due to its lightweight aluminum construction. You can work for longer hours without experiencing fatigue. Getting a fine finish is easier when you have a lightweight spray gun because you don't need to take breaks due to fatigue.
This paint sprayer, however, is not ideal for large projects due to its small capacity plastic tank. 0.6 liters are not adequate for large projects because you will need constant re-fills that slow down the work projects. You will also not get a finer finish due to the many re-fill breaks.
The air controls and fluid fan pattern are fully adjustable, making this paint sprayer suitable for different projects. When you want to work on small detailed projects, then the SPRAYIT SP-33500K is one of your best options. You get adjustable tips to help you tackle all projects.
The SPRAYIT SP-33500K is a good buy for individuals and professionals planning to work on small detailed projects. This fully adjustable spray gun ensures that you get a quality finish when working on any spray pattern.
 Pros
Durable stainless steel nozzle
Fully adjustable reducing overspray
The fan pattern sizes are bigger
Lightweight construction increases comfort
Provides a smooth, professional finish
 Cons
Highly-priced when compared to similar models
How To Choose the right LVLP Spray Gun
Choosing the right LVLP spray gun can turn out to be a difficult task considering all the options in the market right now. However, there are a few key considerations that could help you make the process easier. Well, below are the things you have to consider before purchasing  LVLP spray guns to suit your needs.
Weight
If you have painted before, then you know that these projects can be tiresome. What happens when you add weight lifting to an already tiresome painting project? It gets more difficult, and this usually affects the finish. You need to choose a spray gun that is not only ergonomic but also lightweight.
You want a device that you can use all day long without feeling any sort of fatigue. Most of the time, you will find out that heavy equipment usually has a good design that is tempting to buy. Yes, the heavy designs might also have more features, but this might not be helpful if you can't complete the project with ease.
Construction material
LVLP paint sprayers and not cheap, and you don't want to be buying a new device every few years or months. You need a spray gun that has a durable construction, which will guarantee you long-lasting service.
Lightweight aluminum is mostly used in the construction of spray guns because it is corrosion-resistant and highly portable. It is also important to understand that the construction material will also determine the ease of cleaning.
When looking for an LVLP spray gun to suit your needs, ensure that it features an aluminum cup, aluminum body, and a stainless steel nozzle and fluid needle. LVLP spray guns with plastic cups can break easily, and you will need to handle them with care, which might not be possible when working on some projects.
Working pressure
The working pressure determines a lot of things, including the quality of the finish and the smoothness. High pressure will distribute debris and dirt to the painted surfaces and cause overspray. The working pressure is measured at the nozzle and is usually in PSI.
The LVLP spray guns for most projects should have a working pressure of between 50 to 60 PSI. when you go lower, then the finish might not be professional, and the work could take longer. Try to find a spray gun that features pressure adjustment to get a much more professional finish.Maintenance
You need a spray gun that is easy to maintain, and this starts with the cleaning. some LVLP spray guns have proved to be high-maintenance, which is not practical when you are a regular DIYer. Some models will require you to have them professionally cleaned after a specific period.
A high-maintenance LVLP spray gun could cost you a lot of money in the long-run. Most of the time, professionals go for the high-maintenance models because they have experience using spray guns. The high-maintenance spray guns are usually expensive and pack a lot of features.
Accessories included
When purchasing an LVLP spray gun, then you need to look at the accessories included. some spray guns have many accessories included in the purchase, such as a wrench, cleaning brushes, adjusting valves, and carrying case.
These accessories will come in handy when carrying, storing, cleaning, or using your spray gun. Remember that you will need these accessories, and you may have to buy them separately, which can be rather costly.
The manufacturer or retailer usually lists the accessories included with the purchase. Having a spray gun that comes with its accessories makes it much easier. Some of these accessories are specific to a spray gun and can be rather expensive.
LVLP vs HVLP Spray Guns
When you want to buy a spray gun, you will discover that the top two contenders are the LVLP and HVLP spray guns. What is the difference between the two, and which should you buy?
Understand that the paint job will determine whether you need an LVLP or HVLP spray gun. In this next section, I will walk you through the criteria used to decide whether to use an HVLP or LVLP spray gun.
The kind of paint you will be using
When you want to buff up luxurious metallic paint on a surface, then the HVLP spray gun is a great choice. But, in a scenario where you have chipped your car and need to cover the damage, then the LVLP spray gun is your best choice.
The LVLP spray guns are equally great with water-based paint making them more versatile. The automotive paint coating is simple and easy when using the LVLP paint sprayers because you get a professional finish quickly.
Amount of waste
An HVLP paint sprayer will lead to less overspray when compared to the LVLP paint sprayers. This is because high air pressure usually results in reduced waste. However, when you compare the price of the LVLP paint sprayers to the HVLP paint sprayers, the little overspray is not such a big deal.
Certain LVLP paint sprayers have incorporated features to ensure that overspray is greatly reduced. These paint sprayers perform just as effectively as the HVLP paint sprayers but at an affordable price.
Air compressor size
To work with an HVLP paint gun, you will need a large air compressor, which is not cheap. This means that the HVLP sprayers are costlier when compared to the LVLP sprayers. You will also need to purchase an air compressor that matches the functionality of your spray gun, which can be rather challenging.
An LVLP paint sprayer ensures that you can get working almost immediately, you make the purchase. You equally don't have to incur the enormous cost of buying an expensive air compressor. The LVLP paint guns use any size air compressor and are pretty versatile.
Why do people prefer LVLP paint sprayers?
There are several reasons why people prefer using LVLP paint sprayers. Some of the most common reasons include the following:
Precision
LVLP spray guns offer the users high precision when you want to work on a detailed project. This also means that you can get a more professional finish since you get to cover every detail. The fine needle ensures that you can have a fine-grade finish without having to be an expert painter.
The LVLP paint sprayers also ensure that you never have to work with a brush or roller again. You have to admit that using the roller or brush can be rather tiresome and that finish is not always top-quality. There are usually brush lines that are left visible, and a lot of paint is generally wasted.
Price
The LVLP spray guns have a pocket-friendly price that is affordable to almost every individual. With an LVLP spray gun, you get to save on both time and cost. It will take you a shorter period of completing a project without having to spend a lot of money on the purchase.
The LVLP paint sprayers also ensure that you can use a small amount of paint for a large project. You get to save on paint due to overspray, which will eventually reduce your coat in the long run. A good LVLP paint sprayer will cost you somewhere between 50-100 dollars, which is quite affordable considering the functionality.
Final Verdict
After presenting you with the best LVLP spray gun models in the market, it's time to make our pick. Understand that all the reviewed paint guns are top-quality, but we had to go for the SPRAYIT SP-352. It is a versatile model made from durable aluminum and stainless steel.
It is a lightweight model with a working pressure of about 58 PSI, which makes it great for all sorts of projects. With the SPRAYIT SP-352, every project seems like an easy task, and you will always end up with a professional finish.
Frequently Asked Questions
What is an LVLP spray gun?
The LVLP, Low-Volume Low-Pressure, gun is one of the most common spray guns which uses low pressure to atomize the paint. It utilizes smaller air compressors when compared to the HVLP paint guns. With the LVLP spray guns, there are lots of models available to help you get one that best suits your needs.
Do I clean my LVLP paint gun?
You must clean your LVLP gun after every use. Proper cleanup ensures that your device is long-lasting. The construction material is not enough to keep your paint sprayer working for a long time. You have to ensure that you properly maintain it through regular cleaning. A clean paint sprayer will also get you a more professional finish.I have shared a vedio of quick way to clean a spray gun .
Should I buy the cheap, low-quality LVLP paint guns?
Although it might be tempting to buy the cheap LVLP paint sprayers in the market right now, I strongly advise against it. This is because these LVLP guns are not constructed from durable material, and you will need to replace them after a short period. A constant replacement will mean that you will spend more money in the long-run.
What can I use my LVLP spray gun for?
An LVLP spray fun can be used in marine, woodworking, auto, and industrial painting projects. It is also a useful tool for both professional and regular DIYers. Most people, however, use the LVLP paint guns for home projects such as painting the walls and fence.