If you need to restore your fence, you likely aren't looking forward to spending the time staining or painting it with a brush. However, you can cut the time it takes to do the job dramatically by purchasing the best paint sprayer for fences. Paint sprayers are not only for painting, but also for staining and applying other kinds of finishes to applications like walls, floors, decks and yes, even fences.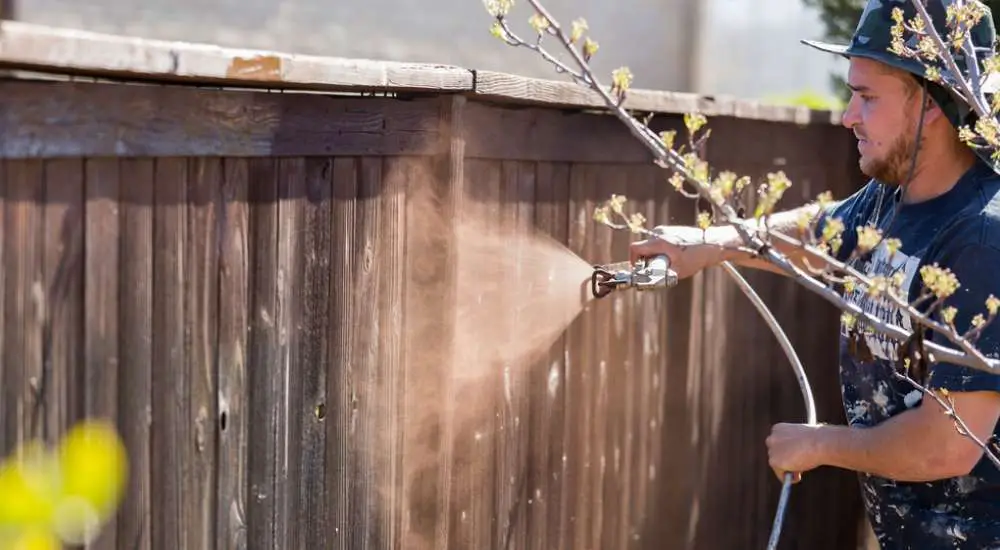 Paint sprayers work just like a can of spray paint does; you load your liquid and have it sprayed onto your fence with the pull of a trigger. These are known to greatly save you time and effort in applying coats to a fence. In this review, we are examining six great paint sprayers made by brands including Wagner, Tacklife and Fuji.
Each paint sprayer has a list of pros and cons we will show you to. We will then determine which paint sprayer is the one that you should buy for your upcoming project.
Best Paint Sprayer for Fences – Comparison Table
| Products | Name | Weight | Editor Rating | Price |
| --- | --- | --- | --- | --- |
| | Home Right C800766 | 2.76 Pounds | | |
| Top Pick | Fuji 2903 T70 Mini | 27.9 Pounds | | |
| | Graco Magnum 262800 X5 | 19 Pounds | | |
| | TACKLIFE Paint Sprayer | 4.2 Pounds | | |
| | Wagner 0518080 | 11.2 Pounds | | |
Top 6 Best Paint Sprayer for Fences Reviewed in 2022
The first quality paint sprayer for fences is brought to us by HomeRight, built inside of a mesmerizing royal blue body. This liquid sprayer can store up to 27 ounces of liquid at a time, and is equipped with numerous handy features. This paint sprayer is self-containing, so there is no compressor included or needed when setting up your paint, varnish or stain.
The Finish Max sprays in great quality. You can spray smooth and even coats of paint with next to no mistakes or having to retouch with a brush soon after. The fine spray is possible thanks to the adjustable air cap, which converts large blobs of paint into tiny particles for control and precision.
You can turn the nozzle to one of three settings: round, vertical and horizontal. Horizontal and vertical are for spraying in wide strokes, while round is for painting irregular objects and crafts.
The Finish Max includes a two-year manufacturer's warranty. You have an abundant amount of time to be sure that all parts of this paint sprayer are in working condition. If that isn't the case, you can get a free replacement. The Finish Max's biggest flaw, however, is it is known to get clogged. When this happens, for those who aren't painters, is that much of the paint will drip down the nozzle of the paint gun.
The Finish Max, as the name implies, is ideal for thin liquids including finishes, so if you are looking to paint your fence rather than stain it, expect to be a little disappointed.
Pros
Is good with paints, varnishes and stains.
Turns paint into fine particles.
 Includes three spray patterns.
Offers a two-year warranty.
Cons
Fuji is reputable for its high-quality paint sprayers that both homeowners and professionals love to use. The Mini Mite 3 is made to satisfy and many consider it to be worth the money it goes for. The control knob is the sprayer's first grand feature, allowing you to choose the diameter of your spray.
Not only can you be fitted to spray fences, but also wood furniture and crafts, according to the size of spray you want. The spray gun is touted to be non-bleeding so that up to 99 percent of your liquid will be on your fence and down dripping down the gun. You would end up wasting little paint in the process and minimizing your mess.
The paint cup is 32 ounces in volume, and is located on top of the gun. This is so that you always spray paint or other liquids and not air, thus making your sprays bleed paint. You can use paints, stains and everything in between with the Mini Mite 3. The force of this paint sprayer is 6 PSI, so not only can it give off a nice finish, but it also allows you to paint rapidly, as well.
While it is a nice paint sprayer, we do not recommend it for one-time users. Not only is it pricey, but it also takes some time getting used to. Set up and use with other sprayers, you will find to be much easier.
Pros
Is good with paints, varnishes and stains.
Turns paint into fine particles.
Includes three spray patterns.
Sprays paint quietly.
Offers a two-year warranty.
Cons
Has a high learning curve.
The Magnum X5 is a commercial-quality paint sprayer that professionals use for painting many applications for their job. The Magnum X5 can spray over a quarter gallon of paint per minute with a nozzle that is 0.015 inches diameter. This is a hefty sprayer that can let you spray paint right from the paint's bucket, no matter if it's one or five gallons.
When spraying paint or stain for your fence, you have the room and control necessary to paint from top to bottom. Included with the Magnum X5 is an extension tip, so that you can paint any hard to reach areas and spray floors without needing to crouch down. What you can use with this paint sprayer includes paint, latex paint, stains and varnish.
This is a paint sprayer that gives you a powerful, yet misty force of paint, thanks to its ½ horsepower motor, but if you want a weaker, more controllable stream, you can simply turn the knob if need be.
Cleaning this Magnum X5 is super simple. Simply connect the sprayer to a garden hose, run some water through, and your paint will be rinsed and removed effectively.
This is a very expensive paint sprayer, and while this is an incredible produce, it comes at a price that few would pay just for a simple fence project. If you have more painting projects on the horizon, or you paint for a living, then it would be more understandable to purchase the Magnum X5. We recommend getting a cheaper paint sprayer so you do not waste a lot of money.
Pros
Is good with paints, varnishes and stains.
Easy to clean.
Comes with an extension tip.
Can use paint straight from the bucket.
Cons
If affordability is a high priority of yours, you will find this sprayer from Tacklife to be a worthy choice. The cup holds 900 milliliters of liquid. The lid can flip open so you can quickly refill it without twisting off the cup itself.
This paint sprayer has the three different spray patterns you'd come to expect thanks to its flow control knob: Round, vertical and horizontal.
What is unique about this paint sprayer is it comes with four different nozzles that you can switch to. These indicate different size spouts for different liquids, like paint for the largest nozzle and stains for the finest nozzle.
Every component of this spray gun can be disassembled, and that is a great thing when you need to clean it off when you are finished spraying. Use it with mineral spirits, cleaning solution or just water on its own to clean each part without any problems.
This paint sprayer has many features that other sprayers do not have. One thing to watch out for, however, is that it is noisy. The Tacklife paint sprayer is the loudest paint sprayer in our review, despite it has a rather light motor. It can sound like a jackhammer at times.
Pros
Easy to clean.
Is very affordable.
Has an easy refill lid.
Is good with paints, varnishes and stains.
Includes three spray patterns.
Offers a two-year warranty.
Cons
Wagner should be a name you commonly see at the hardware store, as they are known for making quality sprayers at affordable prices. This sprayer has a cup that can hold 48 ounces of paint and can cover almost 130 feet from full to empty.
The FLEXiO 590 can spray many types of liquids, which include paint, latex paint, stains, urethanes, sealants, and more. If you need to paint your living room after you've sealed your deck, the FLEXiO allows you to do that. If you are eager to stain, there comes an extra nozzle exclusively for finishing.
This paint sprayer offers nine varied speeds of pressure, so you can find the precise pressure you want without having a steam of paint too strong or too weak. The results are great, as well, as you can enjoy smooth finishes that you can be proud of.
This is the quietest paint sprayer for fences in this review. Almost all of them are actually fairly loud, but the FLEXiO only is as noisy as 65 decibels, only as loud as a conversation of people. If you cannot tolerate much noise, then this is a good paint sprayer to get.
The FLEXiO 590 comes with vertical and horizontal spray patterns, this means you can swap between one or the other without having to turn the sprayer 90 degrees, which we do not recommend.
The one thing to watch out for about this sprayer is the control is subpar. Yes, there are nine different pressure settings, but regardless of which one you choose, you cannot spray upwards and expect a nice finish.
Some sprayers can make ceilings and high applications tolerable and look wonderful, but the FLEXiO instead will give you rougher finishes.
Pros
Has nine different speeds.
Includes two spray patterns.
Is good with paints, varnishes and stains.
Sprays paint quietly.
Cons
Does not do great on ceilings.
Wagner has its main line of paint sprayers, too, all with their trademark yellow shells. How does the Control Spray Max stack up? The Control Spray Max comes with a paint cup that can hold as much as 48 ounces at a time. It is capable of spraying paint, latex paint, stains, lacquers and thinners.
What is nice about this paint sprayer is it comes with an extra metal paint cup, along with the plastic cup. If there's a liquid that you need to use that doesn't tolerate plastic by any means, the metal one will surely suffice. The plastic cup, however, can hold more liquid.
The Control Spray Max offers a fine and even spray, so that you know each finish will be silky smooth. Inside the Control Spray Max are two different air filters so that no dust can mar the finish.
Like the HomeRight Finish Max, there are also three spray patterns to switch between: Horizontal, vertical and round. Pick the best setting for the right situation and avoid any hectic workarounds.
This is a fairly east paint sprayers to clean. Because this was made with as few parts as possible, cleaning it is simple with a rinse of water. If you are using latex paint, then you will also need mineral spirits. The one flaw we have found with the Control Spray Max is the power cord is rather stubby.
You will need an extension cord or two to extend your reach to bigger areas. Even though they try to make this tolerable for large-scale projects, this is a product designed for smaller work.
Pros
Includes three spray patterns.
Is good with paints, varnishes and stains.
Easy to clean.
Comes with multiple paint cups.
Cons
Includes a short power cord.
How To choose The Best Paint Sprayer For Fences
A paint sprayer has many characteristics that set it apart from other competing paint sprayers. There are different paint sprayers that vary in many specs and features. Here are all the things to consider when choosing the best paint sprayer for decks and fences.
Price
There are some paint sprayers that are geared towards one-time users, and there are others that are for multiple uses for different painting projects. If you are only planning on using a paint sprayer just one time, consider buying a cheap paint sprayer that can get you through the job. Expensive paint sprayers have better quality, but are not worth paying for just one weekend project.
Spray Patterns
Paint sprayers with more than one spray pattern allow you to spray paint in wider strokes than normal, whether it is horizontal (up and down) or vertical (side to side). These sprayers might also have a third pattern in the form of a round, which is for painting furniture and other objects. If your paint sprayer just has this round pattern, it may take you longer to paint something as broad as a fence.
Paint Cup
For projects such as painting or staining a fence, you would like to be able to extract paint right from the bucket. Not only is the bucket a larger container than a proprietary paint cup, but when that paint cup runs out of paint, you have to spend time to refill it. If you need to get a paint sprayer with a paint cup, try to get as big of a paint cup as you can get.
Extra Features
Paint sprayers come in additional features such as extension tips, wheels, flip-top lids and more to make handling the paint sprayer easier. You should look for products with one or more of these features so that painting and handling your sprayer is more convenient. These extras tend to make the costs of these paint sprayers go up, but the product should make up for it with an enhanced experience overall.
Compatibility
If you want to spray thick paint, not every paint sprayer will be able to without clogging or bleeding. Be sure that you buy a paint sprayer with a wide enough nozzle so that thick paint can come out smoothly and effortlessly.
Which Type of Sprayer is Best For Staining Fences
What type of paint sprayer for fences depends on the size of your fence. There are two primary types of paint sprayers: HVLP and Airless paint sprayers.
HVLP paint sprayers are high volume, low pressure paint sprayers that turns the paint into a fine mist. When you spray a type of paint or stain onto your fence, you should expect a smooth uniform finish that looks as if the fence came from a factory rather than hand-painted. HVLP paint sprayers tend to be more portable than airless paint sprayers, as you can fill up a cup of paint for you to spray anywhere that you need to.
Airless paint sprayers simply spray paint without any air necessary. This ensures almost all your paint will go onto your application with next to no clogging involved.
Airless paint sprayers do not involve any paint cups attached to the gun, but you connect a hose to your bucket of paint and that paint is instantly transferred from out the bucket to inside the gun and out the nozzle. You may not be free to move wherever you want, but you will spray more paint at a time until your paint bucket is empty.
Airless paint sprayers are more ideal for spraying long fences, as they can cover more than an HVLP sprayer can in a given period. If you want to have your fence painted or stained as quickly as possible, look into buying an airless paint sprayer.
The Best Way To Paint an Exterior Fence
Painting a fence is an arduous process that requires several steps aside from just applying paint. If you have recently put up your fence, wait for up to a month for it to season before applying your paint or stain. When wood is unseasoned, the moisture in paint and stain can cause the wood to warp.
When choosing a day to paint or spray your fence, choose the early morning to start painting on a clear day. Painting on a hot time of day can cause the paint to crack when drying. Prep your fence by cleaning it and scraping it of any loose splinters and debris. Put a drop cloth underneath your fence so that paint does not drip and fall onto the grass or dirt.
If your fence has been painted before, you will need to chip or peel all the old paint off. You can power or pressure wash your fence, but you will need time for the fence to dry before you start to paint.
Refer to the user manual of your paint sprayer and set it up. Unless your fence is small, you can save money by buying your paint in a five-gallon bucket. If you need to prime the paint, do so before you start to spray.
When you start to spray, set your paint gun to the vertical spray pattern, if applicable. Aim the spray gun so it is six to eight inches away from the fence. When you spray, move the gun from left to right and keep it parallel; do not turn the gun.
Start from the top from one side to the other, and continue with the next section down. If you are using a paint sprayer with a built-in container, be wary that you fill more when it empties. You can take these paint sprayers anywhere, with the drawback being that you have to refill it sooner or later.
If your fence is too high, you might need assistance from a  ladder or extension tip so that you can spray the top with no trouble.
For spraying corners and trellises of your fence, switch to a horizontal spray pattern and spray this corner from top to bottom. Move the paint sprayer slowly and gingerly so that you make sure that every square inch is covered with your paint or stain. Inspect the fence carefully.
If you notice any spots that you have missed, get a small brush to fill in those spots carefully. Made sure that your brush doesn't create any streaks. Get a bigger brush to paint a broader stroke to smooth out the area.
Once your fence has one full coat of paint, clean out your paint sprayer and wait at least 24 hours before you decide to add a new coat of paint. More often than not, fences require two to three coats to get the color or finish you desire.
Who Needs this particular Product
No matter if you own a home, a business, or even a town with public places, many people could own a paint sprayer for as long as they own things to paint or stain, including wooden fences. If you are a homeowner that just needs to paint or stain your fence one time, purchase a cheap and affordable paint sprayer likely only good for just one project.
If you work at a job that involves painting many applications, or you have many fences that you need to paint, you will need to buy a more expensive yet higher-quality paint sprayer.
Final Verdict
The best paint sprayer for fences is revealed to be the Graco Magnum X5. We have chosen Graco's paint sprayer for three big reasons.
Firstly, it is a viable, airless paint sprayer. Airless paint sprayers tend to take less time to paint an entire fence, due to their greater force over misty HVLP sprayers.
Secondly, this sprayer includes an extension tip to help you spray, so that you are not required to get a ladder to spray high up or crouch over to spray a floor or deck.
Finally, this sprayer is effortless to clean. You can easily get a garden hose to run water through it so that any residual paint or stain is rinsed out. The best type of paint sprayer for fences will depend on the size of your painting project.
If you have a small fence, however, we urge you to buy an HVLP paint sprayer instead, even if it takes more time to paint, you will be glad that you saved money and know it would not take long anyway. But if you are looking for the flat out best paint sprayer for decks and fences, it belongs to Graco.