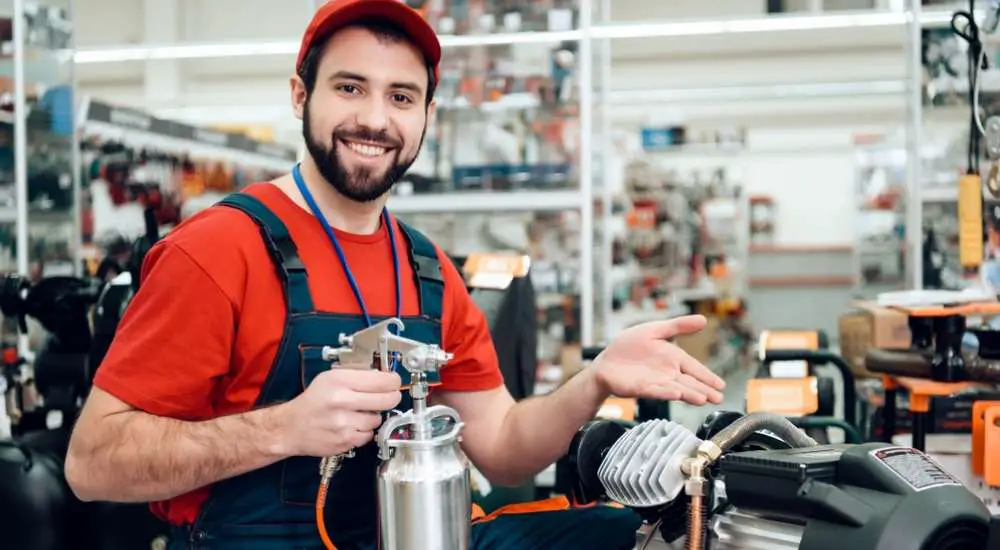 If you are put to task to paint multiple walls, fences or anything else you own, you might find it hard and time-consuming to paint by brush. Not only can painting by brush take a long time, but you also have to worry about paint dripping with each stroke you make. But thankfully, you can buy the best professional airless paint sprayer so you can simply pull a trigger to spray paint onto your walls, as if you were painting them with a can of cheap spray paint.
With a paint sprayer, the time it would take you to cover a room would be greatly reduced, and you get a smooth, uniform coat that goes onto your wall. Best of all, you can use the paint, or even stain or other finish you bought and intend to use. In this review, we will be looking at six professional airless paint sprayers from Graco, Titan, Wagner and HomeRight. They all have their share of strengths and weaknesses, and it is our job today to show you to the best of the best. Without further ado, here are the paint sprayers that we will be looking at.
Best Professional Airless Paint Sprayer – Comparison Table
| Product | Name | Max Pressure | Editor Rating | Price |
| --- | --- | --- | --- | --- |
| | Graco Magnum 262805 X7 | 3000 PSI | | |
| Top Pick | Graco Magnum 262800 X5 | 3000 PSI | | |
| | Wagner Control Pro 150 Paint | 1500 PSI | | |
| | Titan ControlMax 1700 | 1500 PSI | | |
| | Home Right C800879 Power | 2800 PSI | | |
Top 9 Best Professional Airless Paint Sprayers in 2022
1. Graco Magnum 262805 X7 Cart Airless Paint Sprayer
You have to assume that every paint sprayer associated with Graco can be described in three words: Powerful, effective and pricey. This is a commercial paint sprayer that can paint walls professionally, and you will definitely notice the difference between the Magnum X7 & a cheaper spray gun.
The Magnum X7 paint sprayer comes with a ⅝ horsepower motor, and it can shoot paint out at almost one third of a gallon per minute. The Magnum X7 can cover a little bit more paint in a given time than the Magnum X5, also present in this review.
You can use ether paint, stain, lacquer, varnish, or any other type of liquid straight from the bucket or can. It accepts contains in either or five gallons. This makes it a paint sprayer that is highly versatile.
If your tip gets clogged, not to worry. Simply reverse the tip so you can get a nice flow of paint again. This means that you will not need to stop to correct any problems with the Magnum X7. Washing the Magnum X5 is also delightful. You simply hook a garden hose up to it and run the water, and your leftover paint will easily rinse out.
No manual cleaning, no needles or brushes, just add water. This paint sprayer also includes wheels, so that you can cart it around smoothly without lifting or carrying it. This is a pretty heavy product, so we find the wheels to be necessary. Furthermore, this paint sprayers comes with a one-year warranty. If it arrives damaged or broken, or something on it doesn't work right away, you could be eligible for a free replacement. But one thing that you should be mindful of is this sprayer tends to overspray.
What this means is that paint will get on areas where you might not want it to go, such as on the ceiling or on the floor. This will be somewhat messy to use, so we recommend a weak spray setting to start out, and, to remove all your belongings form any rooms before painting the wall.
 Pros
Can easily be rinsed.
Uses paint right from the paint bucket.
Is compatible with various kinds of liquids.
Comes with a one-year warranty.
Comes with a reversible tip.
 Cons
Tends to have a messy spray pattern.
2. Graco Magnum 262800 X5 Stand Airless Paint Sprayer
The Graco Magnum X5 is another powerful, commercial paint sprayer made for businesses and avid painters who typically would use a paint sprayer regularly. You can use either paint, stain, latex paint, or even varnish right from the can that you buy it in. It will accept one or five-gallon containers.
With half a horsepower along with this sprayer, the Magnum X5 can spray over 0.25 gallon of paint each minute. This is a steady rate of spray too, which gives yourself plenty of control when painting every square inch of your wall or fence. Of course, your streams don't always need to be powerful, you can adjust to a weaker flow of liquid if need be.
Like the Magnum X7, the Magnum X5 can also be cleaned by connecting it to a water hose, washing it of any and all paint or other liquid. It's a clever and time-saving perk that all paint owners would love to have.
Along with the Magnum X5 is an attachable extension tip. Attach this tip to the gun and you have extended reach, allowing you to spray walls and ceilings from far away, as well and not having to crouch down to stain decks.
The warranty on the Magnum X5 lasts for one year. If it comes with any defects or errors in shipping, you can have it sent back and have a new one arrive at your doorstep free of charge.
The Magnum X5's biggest flaw, however, is it will not work with exterior paint. If you want to paint your home from the outside with the proper paint, it will not flow properly due to how thick the paint is. It should not be used with paint that thick, so stick to interior paints and other liquids.
Pros
Can easily be rinsed.
Includes an extended spray tip.
Uses paint right from the paint bucket.
Is compatible with various kinds of liquids.
Comes with a reversible tip.
Comes with a one-year warranty.
Cons
its not suitable for indoor paint.
3. Wagner Control Pro 150 Paint Sprayer
The Wagner Control Pro paint sprayer is more efficient than a roller with low overspray because it applies coatings three times faster. This paint sprayer is perfect for outdoor projects like painting or staining large home exteriors, large decks, and basement renovations too.
The HEA pump of the paint sprayer is very durable because it lasts almost three times longer than other alternative airless paint sprayer pumps. The durability of the HEA pump is mainly attributed by the rebuildable fluid section that extends the life of the sprayer.The best thing about the Wagner Control Pro paint sprayer is that you can spray exteriors with a variety of materials using it. This includes latex, paints mixed with primers, and oil enamel. Like most sprayers, Wagner Control Pro also uses HEA (high efficiency airless) technology, which minimizes the rate of overspray by about 55 percent thereby facilitating softer spray and a consistent finish.
This sprayer has integrated storage space that lets you store spare tips that you can buy separately with the product. The spray tip that comes with the paint sprayer is the 515 HEA spray tip, which performs great with latex paints.
 Pros
The HEA technology of the spray paint allows you to spray surfaces effortlessly without creating a mess.
 Cons
It does not use any batteries so if the power runs out, no spray painting will take place
4. Titan ControlMax 1700 PRO Cart Airless Paint Sprayer
The horsepower on the ControlMax's motor is ⅗. It is capable of spraying most liquids whether they are thinned or un-thinned. This paint sprayer can spray water at ⅓ gallons per minute. The pump on the ControlMax is billed as lasting three times longer than those in the average paint sprayer. This is meant to be a long-lasting product that you can enjoy for a handful of years after your first initial painting project. Titan touts the ControlMax uses 55 percent less overspray, meaning that each pull of the trigger will produce neat and precise flows of paint, with minimal mess.
The ControlMax comes with a two-year warranty, opposed to just one that lasts for one year. If you aren't planning to use the paint sprayer right away, you would be delighted to know that you have plenty of time to check your sprayer out before you need to make a decision on whether to have it sent back.
The one weakness that this paint sprayer has is the flow of paint. Compared to the other paint sprayers in this review, this has one of the slowest PSIs at 1500. You can ensure it won't overspray, but that's obviously because it doesn't spray as fast. If you want to cover walls in the fastest time possible, you'd want something more forceful. With the money you would get for this, you should expect more power and force.
Pros
Comes with a two-year warranty.
Can easily be cleaned.
Uses paint right out of the bucket.
Is compatible with multiple kinds of liquids.
Cons
Has a low PSI.
Is expensive.
5. HomeRight Power Flo Pro 2800 Airless Paint Sprayer
HomeRight's paint sprayers are slightly more affordable than other commercial paint sprayers, but does it sacrifice anything? We certainly hope not. The motor delivers ½ horsepower to spray paint. It sprays paint like a pressure washer, but in a nice, uniform mist.
If you want to control the pressure, you can turn the knob to get a slower and steadier flow of paint. With an advantage over the other paint sprayers, this one comes with a swivel tip, so you can change the direction of the nozzle with ease. The tip is also reversible. With the Power-Flo Pro, cleaning is dramatically different from any of the Graco paint sprayers, and some effort is required on your end, but it still should be pretty easy.
Simply fill an empty bucket with water and cleaning solution, and then load it with the paint sprayer as if you were going to spray paint. Spraying the solution will cleanse the sprayer's inner workings of any residual paint.
This paint sprayer come with a two-year limited warranty. It's better than one, certainly, and you have plenty of time to check for defects and errors before you can determine it is a product that works 100 percent.
This is a product made with homeowners in mind, so that they wouldn't need to hire a professional to paint a home or room on their behalf. You can use this paint sprayer for paint, latex paint, stains, sealers and more. The one big flaw with the Power-Flo Pro is the hose. Their hoses are known to leak, thus you likely won't be using all the paint that you have. If your hose fails, you can send the unit in for a warranty, but you can also replace the hose by purchasing a new one at your nearest hardware store.
Pros
Can easily be rinsed.
Uses paint right from the paint bucket.
Is compatible with various kinds of liquids.
Comes with a two-year warranty.
Comes with a reversible tip.
Comes with a swivel tip.
Cons
6. Titan Tool 0580009
Why should you consider buying the Titan Tool airless paint sprayer? It has an operating pressure of 1500 PSI and it can spray about 300 gallons of paint per year. Think of the amount of work you can do with it. Titan Tool paint sprayer has a gun-like feature that allows you to spray with a lot of ease.
 It comes with a hose that is 30 feet long to facilitate easy navigation when you work on large projects. If you intend to work on bigger projects like the exterior of large buildings, you can extend the hose up to 80 feet to facilitate greater reach. This Titan airless paint sprayer will enable you to carry out your work speedily because it has a speed pump with a hose power of 0.60. This means that the pump will spray un-thinned stains and paints at 0.33 gallons per minute, which will result into great productivity. Titan Tool high efficiency airless paint sprayer uses the HEA technology, so you can be sure of a neat job because the technology decreases overspray by 55 percent. The airless sprayer contains a fluid section that is replaceable, which helps to maximize the sprayer's life, giving you maximum and extensive service. Like most airless paint sprayers, it can spray between one to five gallons of paint.
 Pros
The Titan Tool high efficiency airless sprayer has a storage area that is very convenient for storing tools and tips.
 Cons
The paint sprayer cannot spray sand-textured paint because it will clog the tip.
7. Wagner 9175 Airless Twin Stroke Piston Pump
A popular name in paint sprayers, Wagner is not one that often disappoints. Like the other paint sprayers in this review, this one can spray latex and traditional paints, sealers and stains without any issues. This Twin Stroke sprayer comes with a ¾ horsepower motor, the most powerful motor in this review. In turn, it can spray up to more than a third of a gallon per minute. It can draw paint straight from a five-gallon bucket. This sprayer gets its name from the dual-piston pump that guarantees perfectly even paint sprays. You'll know that your stream of paint will always be the same so that you can plan accordingly and anticipate overspray before it happens.
Cleaning is relatively easy with this paint sprayer. Just load a bucket of paint with water and cleaning solution, and spray it out of the gun like you would be for paint. You won't even need to get your hands dirty, and you can safely clean your sprayer outside.
The Twin Stroke comes with a one-year warranty, so you have a decent amount of time to test it out and make sure it is in 100 percent great condition. If not, then you can always get a free replacement. The one nitpick we have about this paint sprayer is it is hard to use a one-gallon bucket of paint or primer.
It comfortable can use a five-gallon bucket, so we suggest you get an empty bucket and pour your smaller liquid into this one, so you can use this to spray.
Pros
Can easily be cleaned.
Uses paint right from the paint bucket.
Is compatible with various kinds of liquids.
Comes with a one-year warranty.
Cons
Must always use large bucket.
8. Graco Magnum 261815 ProX7
This is another great paint sprayer made by Graco. The ProX7 shares many similarities with the Magnum X7. It has a similar appearance, as well, with two big wheels to help the cart move wherever you want it. Like the previous Graco paint sprayers, this one can use paint right from a one or 5-gallon bucket.
The only liquids that the ProX7 cannot spray include lacquer, block filler and texture-based materials. It works well with stains, acrylic paint and heavy latex paint. Even better than the Magnum X7, this paint sprayer comes with a ¾ horsepower motor and can spray over a third of a gallon of paint a minute. Of course, there is also pressure control included, so you won't need to paint at full blast every time.
 If we had to rank the Graco paint sprayers from power- The ProX7 would be first, the Magnum X7 would be second and the Magnum X5 would be third. The ProX7 cleans laughably easy when you connect it with a garden hose. Clean up is simple and quick, and you just need water to rinse all the residual paint out.
Akin to the other Graco paint sprayers, this commercial paint sprayer comes with a one-year warranty. You have a whole calendar year to see if anything is wrong with the product, and if there is, you can have a new one sent to you at no added cost. So where does the ProX7 falter?
It is like the Magnum X7's, which is the overspray. If you have it on the highest setting, it can get messy, so we encourage you to switch to a weaker setting so you can better control your paint on your walls and/or fences.
Pros
Can easily be rinsed.
Uses paint right from the paint bucket.
Is compatible with various kinds of liquids.
Comes with a carrying bag.
Cons
Tends to have a messy spray pattern.
9. Wagner Spray TECH 805-000 Titan 440 Skid
If you want a commercial-quality paint sprayer for multiple large-scale projects, the Titan is one worth considering. This paint sprayer is for serious painting and staining projects, and the specs certainly show it. You get a ⅞-horsepower motor, a die-cast aluminum body, a 50-foot hose and a quality airless spray with every pull of the trigger. The Titan is great for spraying any and all liquids, from thinner stains to thicker acrylic paints. The nozzle from the gun is very small, but thicker paint sprays out like a fine mist, as if it were an HVLP paint sprayer. The tip on the Titan's paint gun is reversible, so in case you encounter any clogs, you can simply turn this tip around and continue spraying.
This paint sprayer is the most powerful in this review. Spraying up to 3300 PSI, and more than half a gallon each minute, this paint sprayer can cover walls, fences, surfaces and more in record time. All Titan products come with a four-year warranty.
If you are having problems with your paint sprayer, you can simply take it to Sherwin Williams or another participating location to have it repaired or replaced.
Not only is this free under the warranty, but you won't have to ship it away and wait for it to come back. This is a quality paint sprayer that is well worth the price. However, if you aren't looking to use a paint sprayer more than once, we recommend a more affordable sprayer.
Pros
Comes with a four-year warranty.
Tip is reversible to counteract clogging.
Has a very high PSI for spraying.
Can work with any paint or stain.
Built to last a long time.
Made of sturdy die-cast aluminum.
Can spray paint right from the paint bucket.
Long and extendable hose.
Cons
Expensive when compared to similar sprayers.
Has a very small nozzle included.
How To Choose The Best Professional Airless Paint Sprayers
To get an even and smooth paint application, the airless paint sprayer is your best option. However, you need to ensure that you pick the right sprayer size and type to get that professional finish that you need. Remember that professional airless paint sprayers are a costly investment which means that you have to get it right the first time.
It can be very frustrating if you find yourself stuck with an airless paint sprayer that you spent a fortune on but doesn't seem to get the job done perfectly. There are several considerations that you need to keep in mind,
Horsepower
To get a professional finish you need an airless paint sprayer with a large horsepower. The horsepower ensures that enough paint is spayed faster meaning that you don't have to re-spray or re-do the job.
When it comes to painting, the biggest mistake people make is adding layers of paint since they didn't do it correctly the first time. A professional airless paint sprayer with enough horsepower will ensure you get the job right the first time.
PSI (Pounds Per Square Inch)
Each best commercial paint sprayer should tell you what the max PSI is for the product at hand. The higher the PSI, the faster the paint should come out of the tip.
GPM (Gallons Per Minute)
Gallons per minute equates how much paint you can spray with your paint sprayer in a minute. The more GPM a paint sprayer has, the more paint you should put on a wall in a given period. Higher GPM should mean it should take you a short time to empty a paint can.
Wheels
Each airless paint sprayer should come with a set of wheels so that you can cart your sprayer around. Without wheels, you are left to pick up and carry the equipment, making insufficient convenience a real difference maker.
Compatibility
Your paint sprayer should be compatible with all the types of liquids that you plan to use it with. If you are not sure if your paint sprayer can effectively use the liquid that you want, don't make a swift decision just yet.
Adjustability
You have to ensure that you get a professional airless paint sprayer with an adjustable gauge. This is because an adjustable gauge will give you the flexibility of adjusting the pressure to suit the type of job you're working on. This is especially important when you are planning to use your airless paint sprayer for different sorts of jobs.
Length
Understand that the hose length of your sprayer will dictate the areas that you can paint. For example, when you have a three-story home, you will need a sprayer with a longer hose to get the job of painting your home more effectively. If you plan to use your professional airless paint sprayer for indoor activities, then you don't need a long hose.
Portability
You have noticed that most professional airless paint sprayers are attached to stands or carts with wheels to make movement easy. This is very crucial because you will have to move your sprayer when painting. You must ensure that you get sufficient mobility that you require before making a purchase. Carefully consider the weight of the entire equipment when making your purchase.
The Advantages of Using An Airless Paint Sprayer
If you require painting multiple different walls across more than one piece of property, there are many reasons why you could use an airless paint sprayer. Airless paint sprayers are great for simply being airless.
As no air is involved, the only thing that comes out of the nozzle is your liquid of choice, ensuring a quality, uniform spray every time. Paint sprayers that potentially have air inside of them have the chance of oozing paint down the nozzle, in which there will be a percentage of paint that goes to waste.
These airless paint sprayers also come with motors that deliver a semblance of horsepower, so that the liquid you spray always forces itself outwards and onto your wall, fence, floor or other surface. This added horsepower helps reduce the time it takes you to cover a given area. And of course, airless commercial paint sprayers are built with quality and durability in mind.
They can last for dozens of different painting projects without anything going wrong, being with an internal part, the hose, etc. These airless paint sprayers are made to last and serve companies for a few good years or even more.
How To Use an Airless Paint Sprayer
Airless paint sprayers may sound easy to use, but are they really that simple? Let us find out. Learning how to use a sprayer is easy, but like every other new thing, it requires practice and knowledge in order to achieve professional results. Here are several things you need to know about using an airless paint sprayer.
Safety precautions
Safety precautions are necessary in operating airless sprayers because you are still dealing with paint. It is helpful to remain mindful of potential hazards that may occur. Wearing protecting clothing like gloves and eyewear will protect your skin and eyes from irritation, burning, or allergic reactions.
Before you use any airless paint sprayer equipment, ensure that you go through the safety procedures in its manual. You will find helpful information that you would have otherwise overlooked.
Setting up the paint sprayer
If you have no prior knowledge on the use of an airless paint sprayer, you may have no clue on how to set it up. When you purchase a paint sprayer, it comes in form of different disintegrated parts that you will have to set up later for use. Manufacturers pack the airless sprayers like that in order to facilitate easy packaging. Even though you have some experience with paint sprayers, different models require different methods of set up. However, there are basic steps that are general in all paint sprayers. They include:
Connecting the hose with the spray gun. Flushing the sprayer. Priming the sprayer. Installing the spray tip. Installing the guard. I recommend that you go through the instruction manual of the airless paint sprayer for detailed instructions.
Surface preparation
For professional looking results, you should prepare a surface properly before beginning the painting process. If you are planning to paint interior surfaces, I suggest you use Trisodium Phosphate (TSP) to wash the walls and then leave them to dry. For exterior surfaces, just use a cleaning solution and a pressure washer to clean the surfaces thoroughly and then leave them to dry. Once the surface is dry, whether interior or exterior, cover up any cracks, holes, and chips. If the surfaces feel too rough, sand them until they become smooth, then dust them off.
Since you are about to use an airless sprayer, you need to be prepared for overspray. Although most paint sprayers have HEA technology that minimizes overspray by 55 percent, this means that 45 percent of overspray will still occur. Ensure that the surroundings are protected by covering up furniture, windows, shutters, and baseboards for interior painting. If you are painting outdoors, take note of the direction of the wind.
Spraying technique
In order to achieve even distribution of paint using an airless sprayer, follow the following techniques:
Hold the spray gun at a distance of about 12 inches from the surface.
To achieve maximum coverage, use a motion that is continuous. Start moving your hand before triggering the gun, and then continue the hand motion after releasing the trigger. Ensure that you overlap the pattern of your sprays by 50 percent by aiming the spray gun's tip at the edge of the area you just finished painting and repeat the procedure.
Airless Vs HVLP : Which is Best for Painting Job ?
The better type of paint sprayer depends on the scope of your painting project. Airless paint sprayers are great for spraying large rooms, fences, decks, and entire homes. HVLP paint sprayers are smaller tools that are used to spray smaller rooms, furniture, and arts and crafts. You can try to use an HVLP paint sprayer to spray a large room, but the time it might take you could be dreadfully long.
Airless sprayers tend to be more professional sprayers that spray paint in larger quantities onto applications. The flow of paint can get too forceful, but you should be able to adjust the pressure of paint to a speed that you can better tolerate.
HVLP sprayers atomize paint into a fine mist so that when it is sprayed, it leaves behind a nice and uniform finish. As mentioned previously, HVLP sprayers tend to spray paint at a slower rate than airless paint sprayers not only because of its small paint capacity, but because of how it slowly and gradually handles paint.
If you need to paint a wall, floor, deck, fence or other surface, we recommend an airless paint sprayer. For anything else, go for an HVLP sprayer.
Who Needs This Particular Product?
These professional airless paint sprayers are best for commercial use. With that said, the people who should be using them are people who paint or work on homes for a living, like painters, home builders, architects and the like. These are effective and powerful sprayers that benefit the user with multiple and ongoing use.
Other people, like handymen, DIYers, weekend warriors, and other individuals that only have one personal painting project to do in the near future should not consider buying one of these, as they tend to cost lots of money.
Final Verdict
I have to say all of Graco's paint sprayers are best professional airless paint sprayer but we had to unanimously choose the Graco Magnum X5 for a few reasons. Firstly, the extendable tip that is included with this paint sprayer is a life-saver. When you attach this tip, you won't need to bend down to stain a deck, you won't need a ladder to paint some siding, and you simply won't work yourself out. Secondly, while this is the least powerful of the three paint sprayers, we find the power included with this paint sprayer is still tolerable to be greatly enjoyed by homeowners. Thirdly, this is not the most expensive of paint sprayers to get, so you won't worry about spending a fortune to get a decent sprayer for your painting projects.
FAQS
Are airless sprayers good for indoor painting projects?
Yes. Apart from outdoor use, you can also use airless paint sprayers for indoor projects. Some indoor tasks that could be carried out using airless paint sprayers include painting trims, doorjambs, ceilings, walls, baseboards, casings, doors, and windows. For maximum results, ensure that you first cover up the surrounding furniture and floor areas so that they are not stained by the paint. I recommend that you also put on protective clothing and glasses to protect your eyes and skin. If possible, clear the room of furniture before using an airless paint sprayer so that the furniture does not come in contact with overspray.
Can airless paint sprayers produce overspray?
Yes, they can. Although most airless paint sprayers use HEA technology that reduces overspray by 55%, there is still a 45 percent chance that overspray will be released. This is why I recommend covering furniture and surroundings as well as putting on protective clothing when using an airless paint sprayer.
Can I use airless sprayers outside without protective gear?
I highly recommend that you do not use airless sprayers outdoors without protective gear. Outside the wind is stronger and more uncontrollable than indoors. If you are using an airless sprayer outdoors then the wind blows in the opposite direction of your projection, some of the paint will be redirected into your eyes, nostrils, and skin before you can shield yourself. Do not take any risks with your health. Wear protective gear when painting indoors or outdoors at all times.
Will an airless sprayer use up more paint than a roller?
Yes. Airless paint sprayers use more paint than rollers because of overspray. With rollers, no overspray occurs since all the paint goes on the surface with each roll. An airless spray on the other hand ejects paint at a very high pressure, which makes some of it to be lost in the atmosphere. Expect to lose up to a third of paint to wastage if you intend to use an airless sprayer. The consolation price is that by the end of the day, a paint sprayer with produce high quality smooth professional results than other painting options like brushes and rollers.
Is an airless sprayer difficult to use?
No. Airless paint sprayers are easy to use. They have a spray gun that lets you paint by squeezing the trigger. Every sprayer comes with a manual so be sure to go through the manual for more usage instructions.