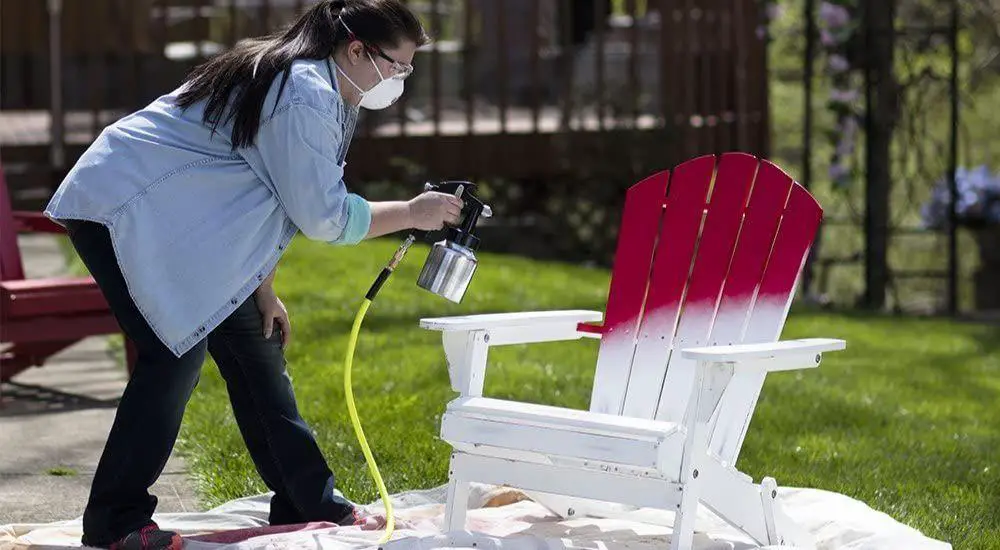 Why do you need the best paint sprayer for furniture in your home? Well, your furniture gets worn out with time and a fresh coat of paint will give you a new look. What most people don't seem to realize is the fact that having your paint sprayer makes everything cheaper and easier.
However, there are so many options in the market right now that choosing a paint sprayer for furniture becomes a huge problem for most people. The good news is that we compiled an extensive review and buyer's guide to make the whole process easier for you.
Best Paint Sprayer for Furniture – Comparison Table
| Products | Name | Weight | Editor Rating | Price |
| --- | --- | --- | --- | --- |
| | Wagner 0518080 | 9.8 Pounds | | |
| Top Pick | Graco 17D889 | 3.75 Pounds | | |
| | Home Right C800971 | 2.76 Pounds | | |
| | Wagner 0529033 | 1.08 Pounds | | |
| | Critter Spray | 1.7 Pounds | | |
Top 6 Best Paint Sprayer for Furniture – Reviewed
1. Wagner Spraytech 0518080 Control Spray Max HVLP Paint Sprayer
The Wagner 0518080 is designed for all furniture staining and painting projects. It is a versatile device that can comfortably handle stains, lacquers, and latex. You can control air pressure when using the Wagner 0518080 thus ensuring that there is no overspray regardless of whether you are using thick or thin material.
This paint spray features three different spray patterns that give you flexibility when working on your projects. Whether you decide to use the round, vertical, or horizontal spar pattern, the adjustable spray nozzle ensures that you get precision.
Now, the Wagner Spraytech 0518080 features a 20-feet air hose which provides the much-needed flexibility for easy spraying. With this device you will get a uniform and professional paint job every time.
The quick start guide should also help you get everything set up correctly including the volume, pressure, and airflow. It is a versatile paint sprayer for furniture at an affordable price making it great for individuals on a budget. It has a lot of great features to give you a professional finish.
 Pros
Versatile giving you more functionality
Air pressure control
No overspray experienced
Three spray patterns
20-feet long hose
 Cons
Produces a lot of noise
Small paint reservoir
2. Graco 17D889 TrueCoat 360 VSP Handheld Paint Sprayer
The Graco 17D889 is one of the top picks due to the numerous features that ensure you get perfect paint flow control. The variable speed control gives you control over paint flow when working on a project, thus ensuring you get the best painting outcome.
It also features different spraying speeds so that you can work on different furniture sections effectively. Varying paint speeds is essential especially when you are working on a huge project. The paint bag is equally huge and you won't have to refill your paint during the project.
The Graco 17D889 also includes a durable case that comes in handy during storage. You can safely store your paint sprayer and all its components in good condition until the next time that you will need it. the durable case also ensures that your furniture paint sprayer is long-lasting and you can get years of service from it.
However, cleaning this device is quite time-consuming and is rather challenging. Most people will find the cleaning process as tedious and labor-intensive. It is a great choice with lots of functionality that you can take advantage of. It is a great buy for the regular DIYers since it can be used to perform various tasks.
 Pros
Large paint bag
Durable case for storage
Variable speed control
Reversible spray tip
 Cons
Difficult and time-consuming to clean
3. HomeRight C800971. A Super Finish Max Extra Power Painter
What makes the HomeRight C800971 stand out among other paint sprayers is its multiple spray patterns and ease of use. It comes with several paint tips to ensure you can work on all the different types of furniture.
The HomeRight C800971 is lightweight and you can get a lot of work done without any sort of fatigue. It features a powerful motor that generates 450 watts, making it one of the most powerful models in the market.
This spray paint is ideal for furniture since it can handle both thick and thin paint adequately. The handle is ergonomic and you can get a lot of work done with ease. Its fluid container is large and you won't need a refill every time you are working on a project.
The HomeRight C800971, however, has considerable overspray which we found to be rather messy especially when you are going for precision. It is a powerful paint sprayer that can get you years of service with proper maintenance. It is ideal for individuals who intend to work on large projects due to their large capacity container.
 Pros
Powerful motor
Lightweight construction material
Large capacity container
Multiple spray tips
 Cons
A lot Overspray
The motor is prone to breakdowns
Inconsistent spray pattern
4. Wagner 0529033 Home Decor HVLP Paint Sprayer
When you are looking for consistency, then the Wagner 0529033 is one of the best options. It features a powerful motor that ensures you get the job done effectively. It also includes a large hose which makes it simpler and easier to complete a spray paint job.
It is a compact design model with a lightweight sprayer gun which gives you a lot of functionality. The Wagner 0529033 features material flow and pattern adjustment control to allow the user to get a more customized output.
This device gives you a smooth finish that is just more effective than hand painting which leaves brush marks. Due to the flexibility that you get from the Wagner 0529033, you can use it for home décor, crafts, and furniture projects.
However, there is considerable overspray that you should be aware of because a lot of paint will be wasted. Now, you could always reduce overspray by proper maintenance and technique. This paint sprayer has a lot of functionality and is ideal for regular DIYers who have a little bit of experience when it comes to painting.
 Pros
Powerful motor that makes it versatile
Large hose makes it easier
Compact design
Lightweight construction
 Cons
A lot overspray
Difficult to clean
5. Critter Spray Products 22032 118SG Siphon Gun
The Critter Spray Products 22032 118SG is a mounted metal spray gun on a Mason jar making it quite a versatile tool. You can use several materials since you just need to fill the Mason jar. Latex, lacquer, stain, and paint can be used with this device effectively.
What we found most interesting about the Critter Spray Products 22032 118SG is that you can always use a different jar. This means that you get much more functionality and ease of use especially when working on large projects.
This device comes with a step by step instructional making it ideal for beginners who want a professional finish. It's equally easy to clean and use thanks to its simple but elegant design.
It comes with a jar gasket and tube which come in handy when working on different projects. The Critter Spray Products 22032 118SG has a compact design that is easy to use making it ideal for beginners. You could use it for other tasks around the home making it a great buy.
 Pros
Ease of use
Easy to clean
Can be used with different materials
Versatile design
 Cons
A bit heavy for some users
6. Campbell Hausfield General purpose DH650001AV
The Campbell Hausfield General purpose DH650001AV is a versatile paint sprayer that can be used for urethane, stain, primer, enamel, and lacquer. This makes it a flexible model that can be used for different projects in the home.
It is a non-bleeding paint gun featuring adjustable spray patterns that give you flexibility up to 9 inches. You will need an air compressor to get more functionality from this general-purpose device. it is one of the top choices in the market when you consider its functionality.
Cleanup is also simple with this paint sprayer due to the anti-drip canister. It is recommended that you use it with the MP331100AJ and is not compatible with the HV2500. It is an ideal tool for beginners due to its versatile design that gives you a lot of functionality.
When you want an affordable paint sprayer that gives you a smooth professional finish, then the Campbell Hausfeld should be among your top choices. It is a general-purpose paint sprayer that offers you long-lasting service with an adjustable spray pattern.
 Pros
Flexible
Durable construction
Adjustable spray pattern
General-purpose
 Cons
A little heavy therefore limiting movement and comfort.
How To Choose The Right Paint Sprayer For Furniture
Buying a paint sprayer for your furniture isn't as simple as it seems and you need to consider a lot of different things. Now, you have most probably noticed that there are several options in the market. The trick becomes finding that one paint sprayer that will be perfect for you. Well, below are the things you will need to consider when looking for the perfect paint sprayer for finishing furniture.
The horsepower
One of the first things that you just have to consider is the horsepower of the device of the sprayer. The horsepower determines the amount of power used to push the paint out of your sprayer. You are probably wondering why that is so important when it comes to spraying furniture.
Understand that you are looking for a smooth professional finish. The horsepower will generate pressure and this is instrumental in getting a perfect paint job especially when you are working on large surfaces. What most people don't understand is that you require sufficient pressure to reduce overspray.
Spraying tips
Spraying tips essentially determine the spray patterns that you get from your sprayer. This is especially important when you love patterns and want a professional finish. However, let's be honest about one thing, who doesn't need patterns when spraying furniture?
Spray painting furniture needs to be an art and you can only achieve that through different spray patterns. Ensure that you get a paint sprayer with several spraying tips to give you different spray pattern options. When making a purchase ensure that you look through the different spraying tips until you get the one that works for you.
Weight
To get a paint sprayer that will match your needs, you need to consider the weight. A heavy paint sprayer is difficult to move around and it, therefore, limits you greatly. Also, understand that you will need to move around almost every time you are working on furniture no matter how big or small.
Yes, a lighter sprayer is much more comfortable to move around with but it may also have smaller components. With a small jar, for example, you will need lots of refills especially when working on a large surface. You, therefore, must consider several factors when finding the right weight. It shouldn't be heavy but it should have a large fluid jar.
Construction material
You need to consider the construction material of the paint sprayer before making any purchases. You want a durable paint sprayer that is long-lasting. It is not economical to buy a paint sprayer every couple of months or years.
To get the most durable models, ensure you carefully consider its composition which should include reinforced plastic and metal. Although it can be hard to find a model that is pure metal, it should feature a few components made from metal. Yes reinforced plastic is just as durable but the metal components give it the extra strength.
Adjustment to external compressor
You must get a paint sprayer that can be incorporated into the use of an external air compressor. This is something that most buyers look over when it is quite critical. Your device will need an external air compressor for the best results.
Only an external air compressor can provide the perfect pressure when it comes to furniture painting and you need to know this. Always ensure that you go for a paint sprayer model which can fit external pressure devices. Look at customer reviews and ask around to ensure your device can be connected to an external air compressor.
Refillable paint tank
A refillable paint tank is crucial when it comes to furniture painting since you have to make several refills especially when working on a large project. The good news is that most product manufacturers will disclose whether the device has a refillable paint tank right in the description.
Most paint sprayers, however, have a refillable paint tank which is just great. But there are a few models that don't have a refillable paint tank and you must be careful. Take your time and go through the features carefully before making any purchase.
Why Should You Use Paint Sprayers For Furniture?
Furniture is valuable and you need to ensure that you give it the best paint job possible. Yes, you could always use a hand brush, but this method isn't as effective. Why do I prefer to use a paint sprayer for my furniture? Well, here are all the reasons.
Even finish
With the right paint sprayer, you will always get an even finish every time. Understand that a paint sprayer works by pushing out paint at great pressure thus giving you a wider spraying surface which will reduce runs and drips.
Getting a smooth even finish is important especially when you value your furniture. We all know that a good paint job gets furniture looking more elegant and beautiful.
Quicker decorating time
It is much quicker to decorate your furniture using paint sprayers than any other method. All you need to do is find a paint sprayer model that features different spray patterns. Right from the description you can determine the different spray patterns that you get with your device.
When purchasing a paint sprayer, it is therefore important that you carefully consider the spray pattern options included. The more spray patterns you get the better because there is a lot of different furniture that will require different patterns.
Less cleaning
Trust me; it is much easier cleaning a paint sprayer than a paintbrush. This is especially true when you get a model that is easy to clean. Using a paintbrush is hectic, to begin with, and spending more time cleaning it after just doesn't make sense.
A good paintbrush will greatly reduce the effort you need to get the job done quickly and effectively. Cleaning after the project is also simple and you can move on to perform other duties. Easy cleaning also ensures that you can easily store your device.
No brush marks and less waste
Brush marks on your furniture can be a huge problem especially when you want perfection. Paint sprayers leave no brush marks which ensure that you get a smooth professional finish every time. a good finish raises the value of your furniture greatly.With paint sprayers there is equally less waste and you get to save a lot of paint and money. The extra paint could always be used to work on other pieces of furniture.
HVLP Vs Airless Sprayer Which Is Better For Furniture Painting
There are two distinct types of paint sprayers; HVLP and airless sprayers. We need to understand what each means so that we can determine which is better for furniture painting.
HVLP – High Volume Low-Pressure Sprayers
These types of paint sprayers are ideal for detailed painting since they have a narrower spray radius. Users get incredible control especially when it comes to paint flow, making it easy to use and get perfect paint job results.
The volume of paint you get on the surface of the furniture is high because of the less pressure that is generated by the HVLP system. Due to the precision that one gets from this type of sprayer, it is ideal for DIYers and professionals.
Airless sprayer
As the name suggests, this type of paint sprayers doesn't mix air with the plaint which means you get a high volume to surface area ratio. Since paint is not mixed with air, overspray is minimal and you can paint efficiently.
Airless sprayers save the users a lot of money due to the reduced overspray. They are popular among both professionals and beginners when it comes to spray painting.
Which is better?
When it comes to furniture painting, both the HVLP and airless paint sprayers are just as effective. The HVLP paint sprayers are, however, more effective when you love to create patterns compared to the airless sprayer.
Final Verdict
The Graco 17D889 is the ideal choice in my opinion due to its increased efficiency and reduced overspray. It includes lots of features such as reversible spray tip and variable speed control which ensures you get a smooth professional finish. The Wagner Spraytech 0518080 is equally a great choice especially due to its durable composition and large paint bag. You get a lot of control and the flexibility of working on a project without constant refills.
When you love painting your furniture at home, you need a good paint sprayer. This review and buyer's guide will help you find the best paint sprayer for furniture that suits you. Ensure you look at customer reviews before purchasing a paint sprayer.
Frequently Asked Questions
W
hich paint sprayer is best for furniture paint ?
Well, the best is the handheld models because they give you much more freedom of movement. It's easier to move around painting furniture than moving the furniture around to paint. The small handheld paint sprayers are great for not only furniture but also the small projects around the home.
Should I use a brush or spray paint for furniture?
When you want a professional finish, it is better to use a paint sprayer because it eliminates brush strokes. You also get a high-quality even finish that dries faster. Spray painting is considerably faster than using a brush and you get to save a lot of effort and time.
Also, consider the fact that it is a lot harder to paint all the hard to reach areas using a brush. A paint sprayer will get to all the nooks and crannies ensuring that you get a job well done. With a brush you may have to dismantle your furniture to get to all the areas. To know more about brush Painting Vs. Spray Painting Furniture.
Where should I purchase paint sprayer for furniture?
You could purchase a paint sprayer from the local hardware store or an online store. When you decide to purchase online ensure that it is a verified source such as Amazon. Equally, look at customer reviews to determine whether you will get the product on time as advertised.
Buying from the local hardware stores is much easier and you could always get professional help. Ensure that you inquire about everything and ask for recommendations from the professionals at the hardware store. You could equally take advantage of the seasonal promotions to get a better deal.
Can I use the paint sprayer for other projects apart from furniture?
Yes, you could always use your paint sprayer for different tasks apart from painting the furniture. You could use if for your walls or ceiling. The good news about paint sprayers is that they are portable models with lots of functionality. Some models can even be used to paint your vehicle which is just great.
However always ensure that you use the correct type of paint for the different projects. It is equally important that you understand that your paint sprayer may not be effective on extremely large projects such as painting an entire house.