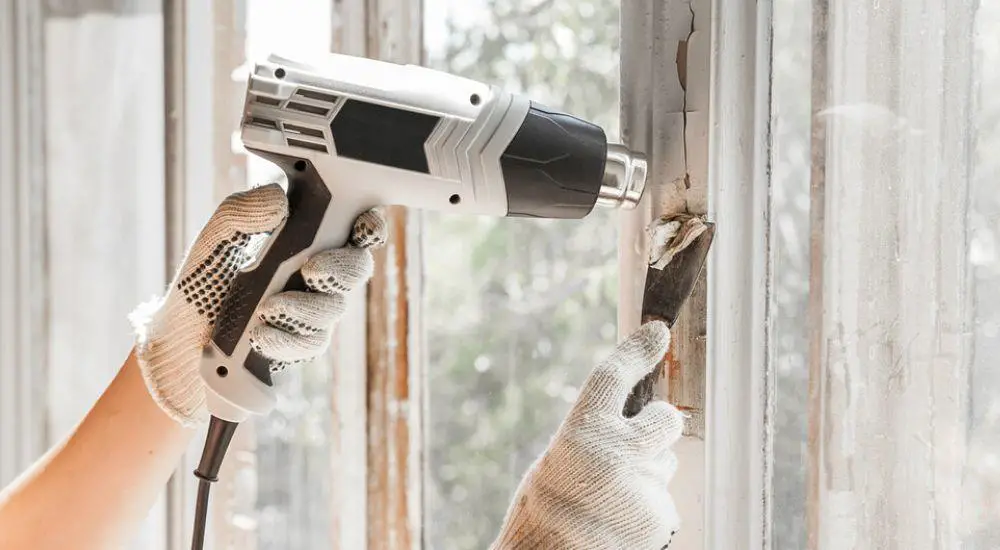 Paint removal is not a simple task, and it can turn out to be time-consuming without the right equipment. What you need is the best heat gun for paint removal. With these heat guns, paint stripping suddenly turns into a fun and straightforward task.
When you simply look up heat guns for paint removal, you will come across lots of options that can leave you confused. What you need is an in-depth review and extensive buyer's guide to help you pick out the right heat gun to suit your needs. Well, it's time we get started since we have done the job for you.
Best Heat Gun For Paint Removal – Comparison Table
| Product Image | Name | Max Temperature | Editor Rating | Price |
| --- | --- | --- | --- | --- |
| Top Pick | DEWALT (D26960K) | 1100-Degree | | |
| | PORTER-CABLE (PC1500HG) | 1,085 Degree | | |
| | BLACK+DECKER (HG1300) | 1000 Degree | | |
| | Wagner Spraytech 0503008 HT1000 | 1000 Degree | | |
| | DEWALT (D26950) | 1100 degree | | |
Top 5 Best Heat Gun For Paint Removal – In Depth Reviews
1. DEWALT Heat Gun with LCD Display & Hard Case/Accessory Kit (D26960K)
One of the most versatile heat guns for paint stripping in the market right now is the DEWALT (D26960K). It includes lots of great features that ensure you could use it for different types of projects. It consists of an LCD screen that gives you the instant temperature readings so that you can make adjustments with 50-degree increments.
Although the 50-degree increment is such a huge gap, it doesn't cause a lot of issues when working on household tasks. What I found most interesting about the DEWALT (D26960K) is the fact that you get 12 accessories with the purchase.
This heat gun has incorporated automatic overload protection, which turns it off automatically in case it overheats. There is also a small inbuilt ring that you use to hang the heat gun when you are not using it for any projects. Safety is taken care of with this device, and storage is rather simple too.
Yes, this heat gun is rather expensive, but it's a tremendous bargain considering what you get in return. What you get includes a fishtail nozzle, scrapping tool, carrying case, cone nozzle, and lots more. Considering all this, the DEWALT (D26960K) is undoubtedly worth the price.
This heat gun is perfect for both beginners and experts since it comes with an in-depth instructional and is easy to use. You get a lot of handy accessories, which make it a good buy for the regular DIYer.
 Pros
Temperature control LCD display
12 included accessories
In-built hang ring for better storage
Overload protection included in the design
Wide temperature range
Cord protector to increase safety
 Cons
Expensive to purchase
50-degree increment adjustment only
2. PORTER-CABLE Heat Gun, 1500-Watt (PC1500HG)
The PORTER-CABLE (PC1500HG) is a powerful 1500-wat heat gun that has gained massive popularity with DIYers. One of the factors that make it so accessible is the fact that you get so much functionality at a pocket-friendly price.
Right away, you will notice that it features separate controls for fan speed and heat settings. What does this mean to the user? You can adjust to cooler temperatures and a higher fan speed simultaneously, therefore, giving you added functionality depending on your project.
It also includes an integrated stand that allows you to use this heat gun while working with other materials. The cord of this handy heat gun features a ring clip, which makes storage simple. Once you complete a job, you can simply hand your heat gun safely.
The downfall of this device is that there are no added accessories to help you complete different projects. However, its hot air nozzle can be used with a wide range of accessories due to its standard construction. The 6-feet high-grade cord also makes it ideal for use in all the projects without the fear of any difficulties
The PORTER-CABLE (PC1500HG) is one of the best heat guns for paint removal and suitable for hobbyists who love working on a wide range of projects. It's relatively cheap, and you can always acquire it even when on a budget.
 Pros
Affordable that favors those on a budget
Wide temperature range
Offers a lot of control to the user
 Cons
No extra accessories included during purchase
3. BLACK+DECKER Heat Gun, Dual Temperature (HG1300)
A heat gun that you are bound to love working with due to its simple design and ease of use is the BLACK+DECKER (HG1300). Yes, it doesn't include a lot of features like most heat guns in the market, but its functionality is flawless.
It incorporates an inbuilt cooling stand, which ensures that you can prop up your device and let it cool. This feature makes the BLACK+DECKER (HG1300) safer since you can always cool it down quickly with minimal effort.
It is limited when it comes to temperature adjustment since you get to choose between either 700-degrees or 1100-degrees. Yes, the temperatures are high enough to strip paint and even loosen screws, but you will find it challenging to work on projects that need specific temperatures. It has a pocket-friendly price, which makes it a good buy for individuals who want to work on DIY projects.
Now, it is not suitable for professionals because of the limited temperature control and other design flaws. For example, some users have complained that the nozzle melts into the gun. Although not all the users will experience this, it is a huge design flaw.
Due to the few glitches with the BLACK+DECKER (HG1300) it is not ideal for commercial work. It is, however, an excellent buy for an individual who works on small household projects. It is not practical for large projects that require continuous use of the heat gun.
 Pros
Compact and lightweight making it easy to use
Affordable price
Cooling stand for faster cooling
Includes a kickstand
 Cons
Limited temperature control
Produces very loud noises
4. Wagner Spraytech 0503008 HT1000 Heat Gun
The Wagner Spraytech 0503008 HT1000 is a quality build heat gun that features two heat settings at an affordable price. You get to adjust between 750-degrees and 1000-degrees, which is sufficient for most paint stripping projects.
You can carry out most of the DIY projects due to the two fan speed control settings, which allows you to loosen rusted bolts, shrink wrapping, and strip paint. The 2-fan speed control gives you more control, which helps when you are working on customized projects.
It includes a corrosion-resistant nozzle that gives you long-lasting service. The integrated hanging hook equally ensures that storage is simple with this heat gun. Storage is important when it comes to heat guns because you don't want to spend an hour looking for it when you need to be working on a project.
With proper storage, you will also get a long-lasting service which gives you value for your money. The Wagner Spraytech 0503008 HT1000 features a hand free operation due to its integrated stand. You get hands-free operation, which makes it safer easier to use. The hot nozzle won't get into contact with your work surface, ensuring that you get top-quality results.
This heat gun comes with a two-year warranty making it ideal for the regular DIYer who wants to work on a variety of projects. It's a good buy considering its low price and lots of functionality. The ergonomic handle lets you work for longer hours with minimum fatigue.
 Pros
Affordable price making it ideal
Ergonomic design increases comfort
Long-lasting design
Corrosion-resistant construction
Lightweight for ease of use
Minimal noise production
 Cons
It takes longer to cool down
Limited application
5. DEWALT Heat Gun (D26950)
The easy to use DEWALT (D26950) heat gun includes several features that make it one of the best heat guns for paint removal in the market. It features a variable temperature control that lets you adjust the heat settings to suit most of the projects.
It includes built-in overload protection, which ensures that the device automatically turns off to prevent any burns. This is an incredible safety feature that lets you work with the peace of mind that nothing can go wrong.
To get more stability, this heat gun includes an innovative built-in kickstand to offer more support when working on a project. The built-in hang ring also makes it convenient to store this heat gun when not using it for a project. Storage is a critical feature because a heat gun doesn't get regular use, and you don't require it for all DIY projects.
What I found most interesting with this gun is the ergonomic grip that is super comfortable. You can use this device for longer hours without getting any sort of fatigue. This feature is vital when you are not used to paint stripping and require more time to complete a project.
The DEWALT (D26950) is an excellent buy for DIY lovers on a budget. You get a lot of functionality at a pocket-friendly price. You can use this heat gun for various projects, including loosening nuts, shrinking wrapping, and stripping paint.
 Pros
Built-in overload protection
Pocket-friendly price
Easy to use
Cord protector included
Built-in hang ring
 Cons
How To Choose The Right Heat Gun For Removing Paint
After looking at the best heat guns for paint removal, it is vital that you understand the features to consider when making a purchase. Understand that we are looking for a model that will suit your particular needs. This section is dedicated to helping you figure out what you need from a heat gun for paint removal. It also includes the features you need to look out for, which is essential when purchasing any piece of equipment.
Weight
Understand that just a few extra pounds can make a huge difference when it comes to a heat gun. Now, even if you get an ergonomic design, you won't get much work done without getting tired if the heat gun is heavy.
You want something light that ranges somewhere around 2 pounds. Stripping paint is not a simple task, and it will take some time, especially when working on a large project or several layers of paint. You don't want to be sore when the task is complete; that just not ideal.
Accessories
When shopping for a heat gun for paint removal, it is vital that you consider the accessories that come with the device. At first, it may seem as though you don't need these accessories, but you will need them for large projects.
Most of the fixtures are usually nozzles, which are a great tool when you want to work on different types of projects. Other heat guns also come with a storage case which gives you much better and safer storage options for your tools.
Budget
When purchasing any piece of equipment, it is vital that you consider your budget. You don't want to buy a high-end model that costs a fortune, which will leave you in debt. You also don't want a cheap model that won't give you quality service.
Yes, there are several affordable heat gun models in the market that you have probably come across. Although they seem quite tempting to purchase, they won't last long, and you have to replace them every couple of months. This means that you might just end up spending more money than you would if you bought a high-quality heat gun.
Use
Before you run off the nearest store or click on the buy button, you have to consider what kind of projects you intend to work on with your heat gun. Understand that some heat guns won't give you quality work when working on a project that requires specific temperatures.
Ensure that the heat gun can handle the job that you intend to use it for before making a purchase. An excellent place to start is customer reviews to help you figure out whether you can use that heat gun for the project you have in mind.
Features To Look
Now that you have figured out your budget, what type of projects you want to work on, and the ideal weight of the heat gun, we need to look at some of the features to consider. Product features are essential in ensuring you get quality work done.
Temperature control and range
It is vital that you consider the temperature control and ranges of the heat gun. Different projects require different temperatures, and you have to carefully consider this. In most cases, you will realize that heat guns with a wide temperature range are more costly.
With some models, you get increments of as low as 10-degrees between its temperature range. These models make it easier to work on several different projects. Other models, on the other hand, are limited to two distinct temperatures.
Nozzle choices
Although all heat guns come with a wide-mouth nozzle that is pretty much standard, manufacturers usually include interchangeable attachments. A wide range of nozzle attachments will give you better control when working on specific projects.
The cone nozzle, for example, concentrates heat at one point while the fishtail nozzle spreads the heat. Ensure that you purchase a heat gun that offers several nozzle attachments when you plan on using it for different projects. Some models include an extensive accessory kit that provides for all the nozzles, while other models will require you to purchase them separately.
Adjustable airflow
Airspeed has quite a significant effect when it comes to stripping paint. Yes, your device might offer you the heat you need for a project, but without proper airflow to get rid of the hot air, you will get a poorly done job in the end.
A lot of the heat guns usually have a high and low adjustable setting when it comes to airflow control. Check the brand's wattage to determine whether you will get efficient airflow. More than 1000 watts of power is a good sign that you will get improved airflow control.
How Does A Heat Gun Work?
Understanding how a heat gun works is just as essential to help you during your purchase. From a simple glance, you will notice that heat guns look like ordinary hair dryers in design. How they operate is equally a lot similar to the hairdryers if you dig deeper.
The basic working concept is rather simple, and I will explain it to you so that you get a better understanding. Air gets pulled in by the fan into the body of your heat gun and driven across an electric heating element before coming out through the nozzle. This process is relatively simple, right?
When you use your heat gun for stripping paint, the heated air softens the paint on your project's surface, making it easy for you to strip it off. You can either use a hook or knife once the paint gets soft enough. Since heat guns are lightweight, you can hold it with one hand while the other hand holds your stripping tool.
How To Strip Paint With A Heat Gun-Step Guide
If you are not quite sure how to use your heat gun to strip paint, I have put together a step by step tutorial to help you out. It is a simple to understand tutorial that breaks down everything for you so that you get the most out of your heat gun
Requirements:
Paint scraping toolHeat gunOld ragSteel woolWhite spiritsWater
Step 1 : Clean the surface
You need to start by making sure that the surface is clean before you can start your project. Dust and dirt on your surface will give you a lot more work, and it's better to just avoid this entirely. Use water and an old rag to clean the surface efficiently.
Take your time when cleaning the surface because it's a crucial step. When you heat a dirty surface, the dirt burns and makes it harder for you to strip off the paint. Sometimes dirt leads to excessive burns, which might damage your surface.
Step 2 : Plug in the heat gun and wait
Now, your heat gun is not some type of magic wand that will instantly get hot. You need to give it some time to heat up properly. The important thing is that you don't leave it on top of flammable material such as fireworks.
Exercise caution during this step because you might cause some severe damage. The wait time is usually less than 3 minutes, which isn't such a long time. Don't go far away from your heat gun as you wait for it to heat up.
Step 3 : Heat the paint
You now need to bring your heat gun close to the surface and move it slowly up and down just like you would a paint roller. This process will take a while before the paint starts bubbling and melting. The heat gun should not be too close to the surface, or it may cause damages.
The movement also needs to be consistent so that you get the job done quickly and effectively. In just a little bit, you will see the paint start to bubble and soon after melt.
Step 4 : Scrape the paint
Immediately the paint becomes soft; use your paint scrapping tool to scrape the paint. You will notice some spots of paint left on your surface. This shouldn't alarm you because you will deal with these spots easily later on.
Step 5 : Final touches
Once you have removed most of the paint from the surface, you can begin a few final touches. Using your steel wool, scrape off the entire surface while rubbing it down with the white spirits. After a while, your surface will be completely paint-less, and you can move on to a different project.
The work can be tiring when you are working on a large surface, but you can always divide it into sections and work your way slowly until you complete the project. A good heat gun, however, will get you good results on both large and small surfaces.
Final Verdict
The DEWALT Heat Gun (D26960K) has to be my top choice due to the incredible features that are included, such as LCD temperature control, overload protection, and 12 included accessories. It has a wide temperature range that can be controlled with 50-degrees increments. You will get a lot of functionality from this model, especially considering that it is long-lasting.
When buying the best heat guns for paint removal, it is vital that you get a good quality model. A heat gun is an investment that can be used for different projects around the home. Ensure that you go through customer reviews before making a purchase to get a clear view of the model.
Frequently Asked Questions
How hot can a heat gun get ?
How hot a heat gun can get will depend on the model of the heat gun. However, the highest temperature reading of most models is somewhere around 593-degrees, which is a lot. Although there are a few devices that get even hotter.
On the other end, the lowest temperature of these heat guns is somewhere around 32-degrees. Some DIY projects require low temperatures making them crucial.
Do heat guns strip paint effectively ?
Yes, heat guns are an effective and economical solution to stripping paint. You won't need to work with any chemicals, and the job gets done faster. However, you need to research on how to use the heat gun effectively.
When using a heat gun to strip paint, you equally need to practice caution, especially when using extremely high temperatures. Ensure you wear all the required protective clothing when working on any project.
Can I strip paint using my hairdryer ?
Understand that hairdryers are not designed to remove paint from surfaces. Yes, some people may tell you that it will work, but it may take a lot of time and effort. Using a hairdryer also doesn't guarantee quality work.
A heat gun is designed to ensure that it can soften varnish and stain within a short time, and you can get the project completed first. If you are going for a professional finish, the heat gun will give you much more quality than a hairdryer.
Can I use my heat gun to remove wallpaper ?
Yes, when you have stubborn wallpaper, the heat gun is your best bet. Ensure that you hold the heat gun at a 45-degree angle and about 2-inches from your wallpaper. This is important so that you don't set the wallpaper on fire.
To get better results, ensure that you move in a circular motion over small areas at a time. Use a paint scraper to remove the wallpaper easily. It is essential to set the temperature at the lowest setting since wallpapers don't need that much heat.