Maintaining the cleanliness of your small shop is vital, mainly because you spend most of your time working. When dealing with plastic, wood, or other material, your small shop will undoubtedly get messy. What you need is the best dust collector for a small shop to ensure that you always have a clean environment.
You have probably been shopping around for a dust collector, and there seem to be a lot of options. Yes, having options is a good thing, but most of the time, it will leave you confused. You need to get a dust collector that suits your needs and not the first model that you stumble upon. In this guide and the top six dust collectors for small shops, we will give you all the answers.
Be sure to check out the entire article, including the FAQS at the end of the article to get all the information you need. Let's get started choosing the best dust collector to suit your small shop.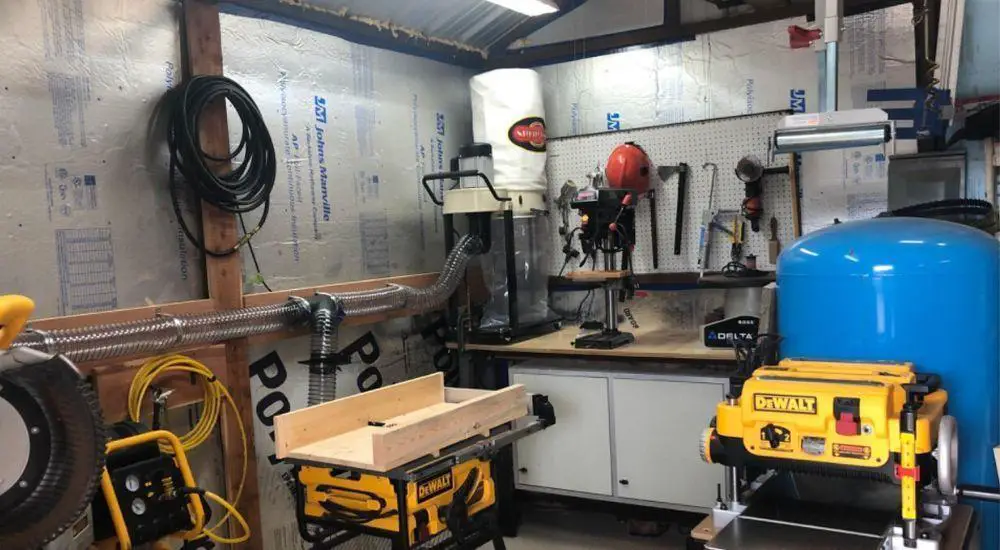 Best Dust Collector for Small Shop – Comparison Table
Shop Fox W1685-1-1/2 HP Dust Collector,White
POWERTEC 70001 Dust Collector Bag, 21″ x 31″, 1 Micron Filter
Festool 574930 CT 26 E HEPA Dust Extractor
SHOP FOX Portable W1727 1 HP Dust Collector
Top Rated
Grizzly Industrial G1028Z2-1-1/2 HP Portable Dust Collector
Shop Fox W1685-1-1/2 HP Dust Collector,White
POWERTEC 70001 Dust Collector Bag, 21″ x 31″, 1 Micron Filter
Festool 574930 CT 26 E HEPA Dust Extractor
SHOP FOX Portable W1727 1 HP Dust Collector
Top Rated
Grizzly Industrial G1028Z2-1-1/2 HP Portable Dust Collector
Top 6 Best Dust Collector for Small Shop – Reviewed
1. SHOP FOX W1685 – Durable Design At An Affordable Price
SHOP FOX has made quite a reputation for manufacturing durable products over the years, and the SHOP FOX W1685 is not an exception. It is a highly portable device that lets you freely move around your small shop.
It is an affordable dust collector for small shops that packs top-notch features. Understandably, most people associate cheap with poor quality, but that is not the case with this dust collector. With a 1.5 horsepower motor that generates 3450rpm, you are assured of quality service.
The downfall of this dust collector is the fact that its spare parts and refills are quite expensive. If, for example, you need a new micron bag, you will spend a fortune. The machine is cheap, but the maintenance costs can be rather steep.
However, what I found most interesting with the SHOP FOX W1685 is the excellent performance rate that makes it perfect for small shops. This dust collector will get your small shop clean quickly and save you a lot of time.
The SHOP FOX W1685 is perfect for small shop owners on a budget who need a convenient way to clean up their shops. It is affordable, and you won't need to break the bank, which is excellent when you are trying to save money.
 Pros
Pocket-friendly price
Durable construction for long service
Practical compact design
 Cons
Expensive spare parts and refills
2. POWERTEC DC1512 Portable Shop Dust Collector – Powerful Design That Increases Efficiency
With a 1.5 horsepower motor, the POWERTEC DC1512 is a powerful and efficient device for a small shop. This dust collector quickly cleans up your shop and collects even the smallest particles. You don't need any follow up cleaning when using this dust collector.
With 1250 CFM air suction capacity, the POWERTEC DC1512 ensures that it can collect both small and heavy debris with ease. It also incorporates a superior bag filtration that filters and purifies the air in your small shop. With this device, you get to work in a clean environment, thereby increasing your productivity significantly.
However, this device is rather heavy, and you will require help to move it around. A lot of small shop owners don't find this practical, especially when they need the cleaning done quickly. The good news is that it includes caster wheels to reduce the effort a little bit.
What you will find unique with this dust collector is the ease of changing the vacuum bag. Attaching, detaching, and emptying the vacuum bags is simple, and you can save a lot of time. The POWERTEC DC1512 features a secure clamp that makes it easier to detach a full vacuum bag.
The POWERTEC DC1512 is a good dust collector when you work with small particles due to its 2.5-micron standard. Sometimes the dust in small shops can be harmful to your health when they get into the air. This dust collector ensures that you get clean, breathable air in your small shop.
 Pros
Powerful 1.5 horsepower motor
Versatile design increases functionality
Its roller system enhances portability
 Cons
3. Festool 574930 CT 26 E HEPA Dust Extractor– best dust extractor for small workshop
You have to admit that it can be rather annoying to carry around a heavy dust collector while trying to get to the hard-to-reach places such as beneath your cabinets. The Festool 574930 CT ensures that you don't encounter such issues,
With this dust collector, all you need to do is switch it on, and it will perform most of the work. It features an 11-foot long hose that minimizes any static cling that is usually associated with the dust collection process. The cord is also flexible, making it easier for this dust collector to get to those hard-to-reach areas.
The downside of this dust collector for small shops is the price. It costs a fortune, and not every small shop owner can afford it with ease. The great news is that it is a durable design that will give you long-lasting service which makes it worth the price,
Its compact design lets you have more room in your small shop, and you don't need to move it around to gain access to some areas of your shop. It has large wheels that enable it to stay close to the floor, and you won't have to worry about finding storage space.
This dust collector is perfect for small shops that are relatively busy all time round. This is because it can get cleaning while work is ongoing without creating any problems. It is most suitable for professionals due to its high price.
 Pros
Modern design with durable construction
Small and compact thus saving space
Moveable wheels for easy cleaning
 Cons
4. SHOP FOX W1727 1 HP Dust Collector – Small, Sturdy Design
The SHOP FOX W1727 is a small and compact dust collector with a powerful motor that ensures you get quality cleaning in your small shop. Yes, sometimes you might need the large dust collectors when you have a lot of activity in your shop or home. However, when you need to deal with medium dirt levels, then a small design would be much more practical.
With a one horsepower motor, this dust collector is sufficient for a one-person contractor shop. It has an air suction capacity of 800 CFM, which makes it a useful tool to have around. The 2.5-micron standard bag filtration ensures that you get clean, fresh air while working.
The downside with this dust collector is the small capacity making it not ideal for shops that generate large debris and dust volumes. If your shop produces a lot of dust or debris, then this dust collector won't be effective.
This dust collector stands out from the rest due to its affordable price and rugged construction. You get a long-lasting device that is affordable even when on a budget. It is also much more practical when you have a small, confined shop.
The SHOP FOX W1727 is perfect for small shops and homes that produce fewer amounts of dirt and debris. It is an affordable dust collector that makes it ideal for individuals on a budget. However, it is worth noting that this dust collector is not suitable for systematic production work.
 Pros
Portable design saves space
Simple to empty trash
Its rugged design enhances durability
 Cons
Not practical for small shops
5. Jet Tools – DC-650 Dust Collector – Versatile Design With Durable Construction
The Jet Tools – DC-650 is the largest design dust collector in our review. You will notice that it works a bit differently because you can hook three machines to this device for faster cleaning. Faster cleaning means that you can concentrate on working on your projects.
What makes this device different from the rest is its ability to clean smaller dust particles than other small shop dust collectors in this category. It gets you a cleaner workplace with filtered air, thus ensuring that you can be more productive.
What I didn't find ideal about this dust collector is its low CFM rating. At just 650, this dust collector falls below the expectation considering some small shop dust collectors have a higher CFM. However, you can always assume this downfall if you need faster cleaning with filtered air.
Due to its 1.0-micron cleaning capacity, you can rest assured that it will collect all dust and debris. You will get peace of mind knowing that you have a clean environment at all times. You could equally connect it with a remote and timer to make cleaning easier.
When you need a dust collector for light debris and a small shop, then the Jet Tools – DC-650 is an ideal choice. You get an effective and powerful dust collector that lets you attach up to three other units. It is equally great for homes when you continuously work on DIY projects.
 Pros
You can hook three devices
Easy to attach dust bags
It is highly flexible
 Cons
The motor mount is fragile
6. Grizzly Industrial G1028Z2-1-1/2 HP Dust Collector – Powerful Design With Lots of Great Features
Constructed for the sole purpose of cleaning small shops, the Grizzly Industrial G1028Z2 is a powerful dust collector with 1 ½ HP motor. It runs at 120/240 volts, which gives you more functionality when working in your shop.
It runs at 3,450 rotations per minute while providing you with 1,300 CFM, which is ideal for all types of cleaning jobs. You get to clean up all the debris and dust in your shop, including the deeply embedded or stubborn debris.
What I found disappointing about the Grizzly Industrial G1028Z2 was its heavy design. Moving this dust collector around is not easy, which can be inconveniencing in certain situations. I found it to be heavier than I expected, but id=f weight isn't an issue for you, then you should consider getting this dust collector.
The Grizzly Industrial G1028Z2 has a 5.7 cubic interior bag space, which makes it convenient for small shops with heavy debris and dust build-up. Changing the bags is also simple, and you can do it in a matter of minutes.
The Grizzly Industrial G1028Z2 is perfect for small shop owners because it was designed especially for them. It's always a good idea to go for a product that was designed for the function that you have in mind.
 Pros
Runs at 120/240 volts
It is CSA certified
5.7 cubic feet bag
 Cons
How To Choose The Right Dust Collector For Small Shop
Selecting the right dust collector for your small shop is not as easy as it seems, and there are a lot of factors that you need to consider. You need to ensure that you get a dust collector that is effective and efficient for your small shop. This is especially true when you are using your hard-earned profits.
However, understand that you need to choose a system that works best for you. A dust collector that suits the small shop down the street might not be practical for you. The good news is that we have experience choosing dust collectors, and we are willing to walk you through the process. Below are the things you need to consider when purchasing a dust collector for a small shop.
Size of the filter
The size of the filter will dictate how much dust is collected by the system. If you get a one-stage system, then you will get a 30-micron bag that doesn't collect a lot, and your shop remains dusty and dirty. However, two-stage systems have microns less than ten, thus ensuring that proper cleaning takes place.
Try to go for a dust collector system with about 0.5 microns for optimum cleaning primarily when you work with a lot of dust. What most people don't understand is that cheaper dust collectors have higher micron's levels. This means that you get the illusion of an efficient cleaner when, in reality, dust and small debris are not being collected.
The first step would be to consider the dust and debris size in your small shop before you go to purchase a dust collector. Ensure that you get a system that can handle all the dust and debris that is collected around your workplace.
Portability
To save on time, you need to get a portable dust collector that is easy to use. Imagine going to pick up that hefty 500 lbs.' dust collector when you open up shop in the morning. It seems like too much work already, right?
Machines are supposed to make work easier and not more difficult. The massive dust collectors are always big, also, which means that storage becomes an issue. They take up too much space, and you might not have anywhere to store them.
Ensure that you find a portable dust collector that is easy to move around. Portability also ensures that you can get every inch of your shop clean quickly. It's a good idea to consider models with bigger wheels because this usually translates to more portability.
Budget
You must consider your budget before buying any piece of equipment. It is not practical to use all your savings to buy a dust collector rather than expand your business. When it comes to dust collectors for small shops, people usually use the shop's returns to make such purchases.
Sit down and create a budget to help you determine how much you are willing to spend. The key is ensuring that you get an affordable but practical dust collector. This means that you have to compare different dust collector systems until you get one that is long-lasting and has all the necessary features at an affordable price.
Yes, you could always go for the cheap models, but you will end up spending a fortune in the long run. These inexpensive models have a short-lifespan and require regular maintenance. Within a short period, you will have spent a lot of money on different replacements and maintenance.
Features
You have to look for a dust collector that offers you all the essential features such as high CFM rating and horsepower motor. Start by ensuring that you get a model with at least 1 HP motor to get better cleaning. Most people assume that all dust collectors have the same power rating, which is false. You must ensure that you get a device with sufficient power to do extensive cleaning.
The CFM rating dictates how effective the dust collector will be when performing cleaning. In simple terms, a higher CFM will lead to better cleaning when compared to a lower CFM. The good news is that most manufacturers list the CFM rating on the product description.
Customer reviews
Customer reviews are essential when buying a dust collector because they give you a clear picture of what to expect. The problem with industrial products is that most manufacturers use technical jargon to explain how machines work. This means that you might not fully get the picture of what to expect from the product.
An easy way of knowing whether the product is a good buy is by looking at what other customers are saying. Ensure that you look at different reviews because some reviews are known to be biased. Start by looking at how many reviews the product has and compare that with the rating. One review with a five-star rating doesn't mean more than a 4.6-star rating after five-hundred reviews.
What is a dust collector used for?
A dust collector is a handy appliance that is used for keeping the workplace clean and free from debris or dust. Although most people used to consider dust collectors as a luxury, it has become more essential every day. When you get to understand all the uses of a dust collector and why it is necessary for your business, then you will consider getting one. Here are a few applications of the dust collector.
General cleaning of the workplace
Dust collectors are used to clean the workplace, especially when dealing with wood or plastic. It is an efficient cleaning appliance that gets the job done faster. You get a clean working area, which makes you more productive in the workplace.
Air filtration and purification
Dust collectors collect small debris and dust, which usually end up in the air we breathe. Having a high-quality dust collector will ensure that you always have clean filter air in the workplace. This is especially important when working in places with a lot of dust. A dust collector will help ensure that you breathe lean fresh air and therefore reduce any chances of health issues.
Types of Dust Collectors
There are many different types of dust collectors, depending on the use. Now, the common types include the following; Fabric filters, wet scrubber, inertial separators, electrostatic precipitators, and unit collectors.
Inertial separators
These dust collectors work by separating dust particles from a gas stream and therefore purify the air. This dust collector combines the use of gravitational, inertia, and centrifugal forces. These dust collectors are commonly used in industrial settings.
Fabric Filters
Fabric filters are used to remove small particles that get suspended in the air for long periods. Such particles can be harmful when inhaled and mostly cause several complications. It uses a screen filtration system, which ensures that all the dust is removed from the air.
Wet scrubber
This is a dust collector that separates particles from the air using a liquid. In most cases, the dusty air stream is passed through water to ensure that it is cleaned effectively. The more contact with water, the cleaner the air gets and vice-versa.
Electrostatic precipitation
This is a dust filter that used static energy to get rid of suspended dust particles in an air stream. It is commonly used at power stations to remove soot and ash that are emitted into the air when fossil fuels burn.
Unit collector
The unit collectors are used to handle dust right at the source. They are capable of removing tiny particles of dust from the air. These dust collectors are mostly used in the industry setting.
Dust Collector Vs Shop Vacuum – In Depth Comparison
Everywhere you go in today's society, the main topic of concern is air pollution. Every one of us needs to take air pollution seriously because it affects both the present and future generations. One of the key steps to understand air pollution is getting to know the cleaning processes as well. First of all, you need a cleaning machine and your options are usually either the Shop Vacuum or Dust Collector.
The sad news is that most people don't understand how both the Dust Collector and Shop Vacuum machines work. However, this is a detailed look at both of these machines and how they work. Hopefully, by the end of this article, you should know the difference between the Dust Collector and Shop Vacuum.
Dust Collector: What is it?
In simple terms, the Dust collector is a machine that can collect dust straight from the environment. It is mostly used in industrial places to collect dust that rises in the air during the manufacturing process. Immediately air passes through the Dust Collector, a huge dust amount gets stuck. This makes it quite a vital tool when it comes to reducing air pollution in industrial organizations.
The Dust Collector is usually categorized into two distinct types according to the size. Since this is an in-depth look, we must go through the two types of Dust Collectors.
Small Dust Collector
The small dust collector is a system that has only one phage system. This implies that filtration and air suction occur in a parallel way within this system. It includes a big barrel or bag where the dust gets drawn to and stored.
Large Dust Collector
This is a larger system that has two stages where filtration and air suction happens. This system is widely preferred by many industries since it takes dust from the air while providing fresh air. Think of it as a system that takes the dust off the air while giving back clean fresh air.After understanding the Dust Collector and how the two different systems work, you must look at some of the advantages of using a Dust Collector.
Advantages of Dust Collectors
Mass cleaning
A Dust Collector provides a safe environment with clean air for workers which is pretty great. It also ensures that the people living around industrial areas get fresh clean air. Dust Collector systems, therefore, help both the workers and the surrounding environment.
Fresh and clean air
When you use the large Dust Collector, you get fresh air in return which is a huge advantage. This system ensures that the air all around is breathable and sufficient. The dust collector systems also remove all contamination from the air thus ensuring you get clean air.
High efficiency
The Dust Collector system is highly efficient since it uses an advanced system and powerful motor to get rid of dust in the air. It is automated to further increase its efficiency making it a great choice.
Noise-free
Unlike what you probably expected, the Dust Collector system is pretty quiet and ensures you get a peaceful work environment. It doesn't bother either the workers or your neighbors thus increasing productivity in the workplace.
Portability
The Dust Collector is portable due to its lightweight. You can, therefore, easily move it around a big area. Portability ensures that you get more clean air in the work environment.
Time-saving
The disposal system of the Dust Collector is designed to ensure you save a lot of time since it is easy to remove. The cleaning process is also easy and you don't need a lot of time.
Disadvantages
Different types of gases need different types of bags.
You need several replacement bags.
High humidity gases will need a measurement.
Pressure loss due to high resistance.
Shop Vacuum: What is it?
One of the most powerful tools that people use to make their shop's dust-free is the Shop-Vac. It is mostly used in woodworking and construction shops to reduce the amount of dirt. It has a big canister and hose attached to ensure you get the most out of this machine. According to research, the shop Vacuum is suitable for cleaning very dirty areas. It is referred to as the bucket vacuum by many people because it is designed like a bucket.
A Shop Vac includes wheels which make it easy to move around the workplace and get all areas properly cleaned. Although most people may perceive it as an ordinary cleaning device, it is used for cleaning huge dust amounts.
Advantages of the shop vacuum
Cheap
Compared to other vacuum cleaners, the Shop Vacuum is relatively cheaper. The regular vacuum cleaners are designed to be quieter and include several additional functions which make them more costly than the Shop Vac. The Shop Vac does not include additional functions due to its simple design.
Messy areas are easier to clean
Sometimes you find yourself dealing with all sorts of messy wastes. The shop vacuum is perfect for cleaning messy areas that are not necessarily dry. Most cleaners are unable to work on wet areas and you will have to wait until such areas completely dry. The good news is that you don't have to wait when you use this Shop Vac. Most vacuum cleaners get damaged when used on wet surfaces which are a huge disadvantage that you don't get when you use the Shop Vac.
Large objects are not a problem
You cannot use a regular cleaner when dealing with large types of waste. The large particles reduce the power of regular cleaners and could even lead to damages. The Shop Vacuum is, however, powerful enough to deal with the larger types of wastes without encountering any difficulties.
Can be used as a pump
The pipe connected to the Shop Vac can not only suck in air but also blow it out. This means that you can use the Shop Vacuum as a pump. Low-pressure jobs like blowing up your mattress get easier when you have this device. High-pressure jobs are impractical since it will take you a long time.
Disadvantages
Heavy
Most of the Shop Vacuums are pretty heavy and this makes it difficult to move them around. Going up and down stairs can prove to be rather difficult when using this machine. This, however, does not mean that it is impossible. It will require a lot of effort, but most people use the Shop Vacuum to clean up their entire shops from top to bottom.
Not perfect for air filtration
Generally, the Shop Vac was designed to help you clean up your shop and not filter the air. It, therefore, goes with say that it is not perfect for air filtration like the Dust Collector counterpart. It is not recommended that you buy a Shop Vac to help you with cleaning the air.
Consumes a lot of power
Since the Shop Vacuum is considerably heavy, it uses a lot of power which means that you will get high electric bills. You should use it sparingly to ensure you don't get a surprising electricity bill at the end of the month.
What is The Main Difference Between The Dust Collector and The Shop Vac?
If you have been paying close attention to this article, then you have probably figured out the main difference between the dust collector and shop vac.
The dust collector is used in manufacturing houses and industries to clean the air. It is used to make the air dust-free and more breathable. The shop vac, on the other hand, is used for general cleaning of the shop.
Simply put, the Dust Collector is used for air cleaning while the Shop Vac is used for general cleaning. The main difference is therefore in the use of the two machines. The similarity is that not the machines are used for cleaning.
The cleaning process is equally not similar as you have already seen. In the Dust Collector, the air goes through filters and gets out. With the Shop Vac, however, only wastes pass through it and not air.
Final Verdict
All the dust collectors for small shops reviewed in this guide are a great pick, but my top choice has to be the Grizzly Industrial G1028Z2. It is a durable design that you can get at an affordable price without compromising on the functionality. It has a powerful motor with high CFM and which ensures that you get optimum cleaning in your small shop.
Ensure that you look at customer reviews before buying the best dust collector for a small shop. You need to get a durable design that will provide you with long-lasting service.
FAQ
What is a single-stage dust collector ?
This type of dust collector has a single bag in place, and you get to capture dust that is at least 2 microns. Many people prefer the 2-stage system because you get a lot more dirt and debris collected. However, the system you choose will depend on the type of activities that you carry out in your workshop.
Do I need a dust collector if I have a face mask ?
Yes, you need a dust collector even with a face mask. Understand that the face mask is an article of protective clothing. Still, it won't protect you from the finer dust particles in the workplace. To safeguard your health, you must incorporate the dust collector in the workplace.
What CFM rating should I look for in a dust collector for a small shop ?
Ensure that you get a dust collector with a CFM rating of at least 700. Most dust collectors will have a rating of 1100, which is ideal for most workplaces, including the industrial setting. A rating of less than 700 CFM will not be sufficient.