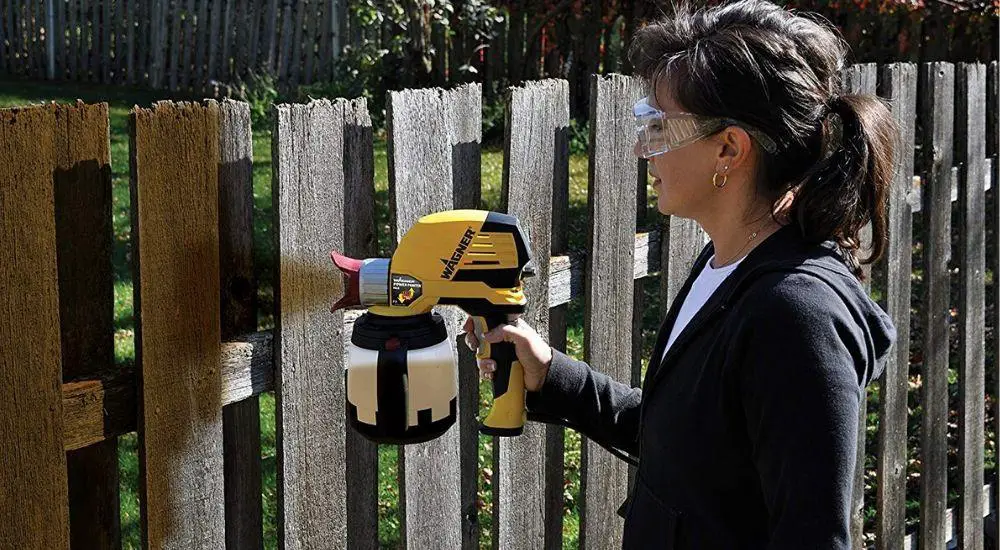 Paint spray machines have come a long way in aiding effective and efficient painting techniques. Through time we have seen paint sprayers evolve and now, they incorporate the latest technology for better functionality. When searching for the best wagner paint sprayer, it is imperative that you have the necessary information that can help in acquiring the best one.These brands top the list when it comes to painting sprayers. This review aids in dissecting everything you need to know regarding these paint sprayers. Consequently, allowing you to purchase the finest paint sprayer you can find in the market today from Wagner.
The Wagner company
The Wagner brand manufactures one of the best paint applicators for both commercial and home use. Through the years the Wagner brand has evolved to be part of the most competitive in the market today. These paint sprayers from Wagner use the most modern technology to ensure they are of top quality.
Being a respected market leader, the Wagner company has taken huge strides over the years in ensuring that each paint sprayer manufactured meets the expected market standards. The catalog for the Wagner paint sprayers is vast. Therefore, let us dive in deep and review some of the best units.
Best Wagner Paint Sprayers -Comparison Table
| Name | Weight | Editor Rating | Price |
| --- | --- | --- | --- |
| Wagner Spray Tech 0518080 | 11.2 Pounds | | |
| Wagner Spraytech 0529010 | 2.11 Pounds | | |
| Wagner Spraytech 0518050 | 4.14 Pounds | | |
| Wagner 0525032 Painter max | 9 Pounds | | |
| Wagner Spraytech 0417005 | 3.39 Pounds | | |
Top 8 Best Wagner Paint Sprayer Reviews in 2022
1. Wagner Spray Tech 0518080 Paint Sprayer
This paint sprayer is among the best that the company has developed with the user in mind. Using its high volume and low-pressure technology, the Wagner Control Spraymax can completely breakdown paint particles, hence giving a smooth finishing when painting. This paint sprayer can be used for a variety of painting projects, be it furniture, cabinet, door trimming or priming.
This specific paint sprayer also allows you to paint a wide variety of surfaces including walls, stains, surfaces with latex paints and this is made possible by the powerful two-stage turbine feature. Another interesting feature is the adjustable controls which enable a user to customize preferred paint flow.
The pressure adjustable controls can let you change to your preferred spray pattern, whether it's vertically, horizontally or round. With its great design and outlook, a 20ft hose pipe which is connected to the spray gun is available and makes it easy for you to reach your painting surfaces without much hassle. Also, changing the viscosity cup is simple and easy and, can be done by anyone.
Pros
It is easy to assemble.
Adjustable setting controls.
Simple to clean.
Lightweight, hence reducing the probability of getting fatigued
 Cons
 A bit complicated to use
 limited to the surfaces it can spray paint.
2. Wagner Spraytech 0529010 FLEXiO 590
The quality and design of the Wagner Spraytech FlexiO 590 HVLP paint sprayer is uncompromised, putting it among the list to choose from. It can handle a variety of projects – be it painting walls, ceiling, fences, and cabinets just to mention a few. With this paint sprayer, a user has access to two nozzles, the iSpray nozzle and detail finish nozzle.
The iSpray nozzle is used for large projects while the detail finish nozzle is used for smaller paint jobs where you require fine professional finishing. The X-boost turbine gives this paint sprayer enough power to penetrate un-thinned surfaces and stains.
When it comes to controlling paint flow, you can find adjustable 10-speed settings which will let you adjust paint flow hence allowing better precision, especially on small paint jobs.
The quart cup can hold enough paint to spray a 10 by 12 feet surface in one take. This reduces the need to keep on making refills thus saving you time. Compared to the other paint sprayers, this sprayer is lighter and quieter – making it ideal to work with. It's simple to assemble and cleaning can take around five minutes only.
 Pros
It is easy to assemble.
Adjustable setting controls.
Ability to change spray patterns.
It can be used to paint a wide variety of surfaces.
The spray gun is light and easy to handle.
 Cons
Small quart paint cup
limited to the surfaces it can spray paint.
Short power cable cord.
3. Wagner Spraytech 0518050 HVLP Paint Sprayer
This Wagner paint or stain sprayer with double-duty high volume low pressure has been developed to give users a comprehensive spraying experience. For a fine finishing on painting surfaces, this paint sprayer uses a stage two air turbines for both indoor and outdoor. On the spray gun, there is a regulator that aids in controlling the flow of paint depending on your preference.
With its tunable air cap, this Wagner paint sprayer offers you with three spray patterns, these are round, horizontal and vertical to fit the surface being painted. Using high volume low-pressure technology, the paint sprayer can apply thin materials such as lacquers, varnishes, sealers, and urethane's.
It is suitable for a variety of projects, be it large or small and comes with two paint quart cups to be used for either project. The spark arrester, which covers the motor, provides safety for the user.
It is also part of the reason why this exact model falls among the best option to consider. It covers an area of 4.9fl oz per minute and can be used to paint both indoor and outdoor surfaces. The handling for this paint sprayer is easy and it weighs less, hence it can be used by anyone.
Pros
Easy to assemble and clean
Spark arrester protects painters from fires caused by flammable paint fumes.
Suitable for any for small or big projects.
It can be used to spray thin materials.
 Cons
It's best suited for medium or small projects.
Limited availability.
4. Wagner Spraytech 0417005 HVLP Sprayer
This Wagner Spraytech stain and paint sprayer offers superior control and allows better efficiency. It is the best suitable for small painting projects both indoor and outdoor. It comes with a controllable finish nozzle that aids in achieving a smooth perfect finishing.
 Like many brands out there, you can accomplish three spray patterns with this sprayer. These are horizontal, round and vertical depending on the surface you are spray painting.
The sprayer trigger allows you to adjust the paint flow depending on how thick or thin you want the paint coating to be. Its simple design makes it easy to assemble and cleaning only takes you a maximum of 10 minutes.
Using the high volume low-pressure technology, this Wagner paint sprayer can spray small thin surfaces such as stains or varnishes just to mention a few.
It is light in weight and its handling is not complicated at all. The paint container size for this paint sprayer is 1.4t, this eliminates the need to keep refilling when doing small painting jobs. Therefore, when it comes to making your decisions, this paint sprayer falls on that list.
 Pros
Simple to set up and clean
Best for thin surfaces.
Gives a smooth finishing
Sprays 4.1 Oz per minute
 Cons
No extra nozzle
Too small for big projects
5. Wagner 0529021 FLEXiO 890 Paint Sprayer
This Paint sprayer comes with unique features and a sleek design that makes it stand out from the rest. Its portable paint system greatly aids in reducing its overall weight, since you can set it down on the ground as you use the spray gun to spray paint. The system also delivers airpower that helps in spray painting un-thinned surfaces.
Using the 11.5ft hose pipe, you can reach the furthest surfaces and greatly gives you the freedom to move without the need for moving the paint system. It can be used for different painting projects such as painting walls, ceiling, trim, and cabinets just to mention a few. Using the Xboost power dial, you can adjust the air pressure and increase or decrease the flow of paint.
It comes with two nozzles for both large and small projects and, perfect finishing. This paint sprayer can spray different patterns which include round, horizontal or vertical Cleaning the spray gun is easy and quick. When it comes to the storage of the nozzles and the hose pipe, the turbine base accommodates that.
This Wagner spay painter can spray a surface of 8 by 10 in just 5 minutes – making it ideal especially for big projects. The handling of this paint sprayer is simple and it is important to note that it is suitable for both interior and exterior painting jobs.
 Pros
Simple and quick to set up.
Fast in spray painting
High quality
It can be used by anyone
 Cons
6. Wagner 0525032 Painter Max Paint Sprayer
When reviewing Wagner paint sprayers, it is hard to skip this particular sprayer. Using the multi-direction sanction tube, you can be able to spray paint in any direction. It comes with two-speed electronic control that enables switching from large to trim surfaces. The 5-foot sanction lets you spray paint directly from a 1 or 5-gallon can.
The paint sprayer uses Optimus dual tip technology to give more control, reduce overspray and provide even painting on surfaces. To spray different patterns, horizontal or vertical, the Optimus dual tip rotates and it is made from tungsten carbide for a longer lifespan.
Another exquisite feature is the low-level paint indicator that alerts users in case the paint level is low. The indicator lights up when the paint level in the quart paint cup is low to allow you to refill. Also, a flexible sanction tube is available to enable the spraying of far to reach areas such as the ceiling.
Setting up this paint sprayer is simple and it takes only five minutes while cleaning it takes about 10 minutes. It's five times faster than the normal brush and if you are a homeowner and you want a perfect smooth outcome, this specific paint sprayer would be best recommended.
 Pros
It can paint at an angle
Low-level paint indicator
Paints faster and reduces overspray
No need for re-priming after refilling
 Cons
Bulky and heavy
It has a dull color
7. Wagner 0529033 Home Décor HVLP Paint Sprayer
This Paint Sprayer is perfect for home use. It is small in size, which makes handling easy and preferred as a furniture paint sprayer since it gives a flawless finish. It can use different finishing paints including decorating paints, furniture paints, sealers, and lacquers.
It comes with adjustable controls to adjust the spray pattern and paint or material flow. This helps in customizing the output of the paint according to requirements. Its stationary base which is usually placed on the ground eliminates the weight factor and the 6ft air hose allows easy maneuverability.
The spray gun connected to the stationary base is lightweight and this means less fatigue when working and you can spray paint even the far to reach small areas. When being designed, this Wagner paint sprayer was meant to be used by home users mostly, this being the reason for its small and compact size.
Therefore, if you want to save time while undertaking those small painting tasks, instead of using a brush, this paint sprayer would be an ideal choice. Storage for this spray painter stress-free since you don't need that much space to store it. Even though it is small in size, it is fast when in operation.
Pros
Saves time since it fast
It is light in weight
Easy to use
 Cons
It has Limited features
It has only one nozzle
8. Wagner Spraytech 0529031 Paint Sprayer
This Wagner paint sprayer brand is mostly used in spray painting automobiles. This means automobile enthusiasts have not been forgotten by the Wagner brand. Using the spray gun, you can apply low flash point coating on the exterior of an automobile. It can be used to apply both decorative and protective coatings.
The paint sprayer comes with two nozzles; an iNozzle and the detail finish nozzle. The detail finish nozzle is used to apply a smooth coat while the iNozzle is used to apply a thicker coat on vehicles. Using adjustable controls, it's possible to control the flow of paint or material and the pattern direction for better precision when spray painting automotive.
A 39ft hose is connected to the spray gun and this enables easy movement when undertaking your project. It weighs just 8.8 pounds which is an ideal weight to lift when the need arises. Since this paint sprayer has low over spray, it's easy to realize a smooth and perfect outcome.
Setting up this paint sprayer is simple and the paint cups separate easily hence saving you time. The versatility for this paint sprayer is shown by the availability of two spray guns that have different nozzles each performing a specific task.
Pros
Comes with two spray guns with different nozzles each
Its long air hose helps in maneuvering
Cleans easily, in less than 10 minutes
It is top quality and well-designed sprayer
 Cons
Too many attachments
Only compatible with protective and decorative paintings
How To Choose The Right Wagner Paint Sprayer
Doing proper research and analysis on a product before making an acquisition is usually highly recommended. This is because you need to have a proper understanding of what you need and how best the product will serve you before buying it. Therefore, how do you choose the most appropriate paint sprayer? Here are a few considerations that you should put in place to enable you to acquire a superior Wagner paint sprayer.
Intended use
As we have seen in the product review, we have different Wagner paint sprayers used for distinct purposes. There are paints spray used for big and small projects and, others are used for spray painting vehicles or furniture only. Therefore, how you intend to use a paint sprayer will determine which the best to go for is, and when you acquire the right paint sprayer, the outcome will be exquisite.
Design and size
The design for Wagner paint sprayers varies from one model to the other and in some instances, when it comes to the size, it might be directly proportional to the paint capacity. Also, enough emphasis should be put on how the paint sprayer handles and whether it is easy to set up or not. This will help you to buy a paint sprayer which you can handle.
Incorporated technology.
Advancements in technology have led to the incorporation of new technology in paint sprayers. This includes high volume low-pressure technology, low paint level detector just to mention a few. Therefore, it is important to put this into consideration since buying a paint sprayer that has new technology gives you an added advantage.
Power cable cord length.
Some paint sprayers come with long cable lengths and others short. Hence, depending on how you intend to use the paint sprayer, the length of the power cable should be considered. Also, you don't want to acquire a paint sprayer with a short power cable because this might restrict your movement.
Nozzles and controls.
Nozzles are the determinant of how your paint outcome will be. Some paint sprayers will come with two nozzles which perform different functions, one might be for big projects and the other for small projects. When you acquire such a paint sprayer, it gives you options while undertaking your projects.
Also, you will find paint sprayers that have adjustable controls that allow it to perform jobs. Therefore, you should be on the lookout for these features to be able to acquire a high-quality paint sprayer.
Other Considerations
The size of the quart paint caps or the amount of paint a paint cap can hold should be factored before deciding to buy a paint spray.
Safety should not be ignored either. Some paint sprayers come spark arrestors and this helps to deter any fire incidents from occurring when you are at work. Hence, it's imperative to consider the safety features of a paint sprayer before acquiring one.
What Are Wagner Sprayers Suited For Spraying
Wagner brand has different paint sprayer models that you can find in the market. These sprayers offer unique functionalities and it is significant that knowing them separately. Here is a detailed list of these model series.
List of the Product Series
Flexio series
Among Wagner's paint sprayers, this is the most common and is considered to be the most powerful. It's ideal for small home projects but can still be used for big projects.
– 10X faster than the ordinary brush- Minimal over spilling meaning better paint control- Sprays both water and oil-based paints- Cleaning takes just 5 minutes- It does well in both indoor and outdoor projects
Airless
This series is designed to take away the intimidation caused by many airless sprayers. By using this, you are assured of a professional outcome for your painting job.
– Reduces overspills by 55% compared to other airless sprayers- Its airless control gives a smooth finishing- It can spray both oil and water stains and paints- Ideal for outdoor projects- Sprays difficult to spray surfaces with much ease
Control Series
The control series has integrated ergonomics that allow the sprayer to do much of the job instead of you.
– It's faster and gives an even finish- Has a hands free capability- Great for furniture and decks- The sprayer can spray both stains and some types of paints
Paint ready series
This is best suited for a small indoor project around your home.
– Easy to clean and changing material is hassle-free.- Simple to understand adjustable controls.- It can spray stains, sealers among other materials.
Moto coat Series
As the name suggests, this type of sprayer series is specifically meant for spraying automobiles.
– Perfect for applying low flash coatings- It can spray protective materials and rubberized coating- It doesn't need to use a compressor to function
Troubleshooting Tips for Your Wagner Paint Sprayer
Sometimes Wagner paint sprays tend to fail one way or the other. You need to have first-hand knowledge of ways you can troubleshoot a Wagner paint sprayer just in case of any failure. Here are some common fails and troubleshooting tips.
Low pressure or no pressure at all.
Sometimes, the paint sprayer might have low pressure or completely lack pressure making spraying painting impossible. What could the problem be? There are three main reasons why you might be having pressure problems:
 Clogged valves
The paint sprayer's valves tend to block due to dried paint or sometimes, dirt particles. What you need to do is clean all the parts of the inlet and outlet valve using a cleanser and ensure that no paint or other particles are left behind.
Blocked spray tip
Being the paint's outlet point, the spray tip will block especially if not cleaned. Check whether this might be the reason the air pressure is not flowing properly and then clean the spray tip thoroughly if it is the problem.
Concentrated paint
When the paint is too concentrated, the Wagner paint sprayer will block the valves or the spray tip. Therefore, if the paint is too heavy, you should dilute it.
Leaking paint
You might find a Wagner paint sprayer leaking from the spray tip or the quart paint cups. If the spray gun is off and paint is still dripping from the spray tip, check both the seals.
If the seals are not the problem, then it is advised to check how the spray gun was assembled because there might be something loose or proper set up was not done and don't forget to check the manufacturer's manual. If the problem persists, you can contact the manufacturer to get the necessary help.
The sprayer not spraying paint.
In some instances, the Wagner sprayer may refuse to spray paint. Some probable reasons would be:
– You didn't adjust the controls well, if you don't understand how to operate the paint sprayer you can read the user manual where you can find instructions on how to operate it.
-The spray tip might be clogged up, so you should check this too and if it's the issue, clean it.
-The paints' viscosity might also be the problem, so check if the paint is too heavy.
If the issue persists, it's advised that you contact the manufacturer as a last resort.
Who Should be interested in buying Wagner Paint Sprayers?
The Wagner paint sprayer is meant for all who have an interest in spray painting. Looking at the different models, each model is meant to perform a specific project. Here are some entities that would be interested in buying the Wagner paint sprayers.
Homeowners
Homeowners don't have to use the traditional brush anymore since there is a machine that can simplify the job and it's easy to handle. Be it whether you are painting the walls, cabinets, furniture, you will find a Wagner paint sprayer that can undertake the task.
Vehicle enthusiasts
If you own a vehicle or you have major interests in automobiles, the Wagner paint sprayer would be recommended for you. You will find a specific model that is used for auto motives only and this can set you a long way when you need to do some spray painting job on a vehicle's body. Plus, with a Wagner paint sprayer, the outcome of the job is always perfect.
Final Verdict
With the detailed list for the best Wagner paint sprayer above, the Wagner paint sprayer that stands out from the rest is the Wagner Spraytech 0529010, Indoor/Outdoor Paint Sprayer. The reasons why I recommend this paint sprayer is, its unique design and it has a pocket-friendly price tag. It can undertake all projects whether big or small. Furthermore, this paint sprayer can be used for both indoor and outdoor painting projects.
Also, it satisfies all the considered parameters and with this paint sprayer, you get extra features such as the low-level paint indicator. Likewise, it paints faster and what's better than a paint sprayer which can paint at an angle? Hence, seeing how it's multi-functional, I suggest you go for this specific Wagner paint sprayer.