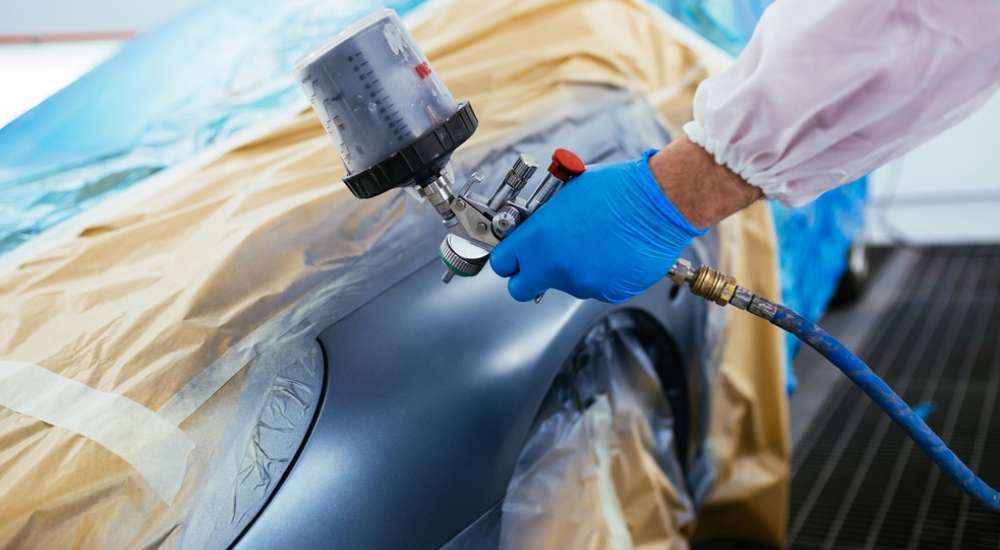 Painting a car is not like painting a piece of wood. Mechanics and even passionate homeowners need the right equipment just as they need the right paint to give a new color to their vehicle. That is why you will require one of the best air compressor for painting cars. A good air compressor for cars should be compatible with most paint sprayers and should provide the paint that you use with consistent air flow. Discover the best air compressor for painting cars in the following informational article.
The compressor is used to improve the performance of your paint sprayer, and the end product should be in the form of a nice uniform finish on your car that looks as if it came right out of the factory. In this review, we will be looking at ten air compressors from companies such as NorthStar, Rolair, Powermate and even DeWalt. They all have their own set of pros and cons, and you will get a rundown of each on this very page. Which is the best air compressor to paint your ride? You will surely find that out at the end of our extensive review.
Best Air Compressors For Painting Cars – Comparison Table
| Products | Name | Capacity | Editor Rating | Price |
| --- | --- | --- | --- | --- |
| Top Pick | Industrial Air ILA1883054 | 30-Gallon | | |
| | Industrial Air IL1682066 | 20-Gallon | | |
| | Campbell Hausfeld HS5180 | 80-Gallon | | |
| | Rolair VT25BIG 2.5 HP Wheeled | 5.3-Gallon | | |
| | California Air Tools 6010 | 6.0-Gallon | | |
Top 10 Best Air Compressor For Painting Cars in 2022
1. Industrial Air ILA188354 ILA1883054 30-Gallon Belt Driven Air Compressor
There are two air compressors from Industrial Air in this review. This first is their 30-gallon tank. It comes in a vertical black cast iron body with a pair of wheels. This compressor also has a one-horsepower motor. The cast iron twin-cylinder pump also comes with an aluminum valve plate and head to ensure that heat dissipates faster and doesn't attempt to wear the inner workings of the air compressor that long. This compressor weighs 185 pounds, but with its wheels and handle, you can maneuver this compressor around and take it to and from areas with ease. You will get free oil when you purchase this air compressor. This means you will have one more thing that you need to set your paint sprayer up and paint your car.
This Industrial Air compressor also includes a two-year limited warranty, which gives you a lot of time to ensure that the one you get is one that works 100 percent of the time. Should anything appear wrong with the compressor, be sure to get it sent in and replaced. The wheels are this air compressor's Achilles heel. These need to be filled with air from time to time, and if you get a flat, then the wheel will be hard to replace unless you replace both wheels at the same time.
Pros
Comes with free oil.
Comes with a two-year warranty.
Is built to last a long time.
Is easy to maneuver.
Cons
Wheels need to be filled with air.
2. Industrial Air IL1682066.MN 20-Gallon Belt Driven Air Compressor
This next air compressor shares a few things in common with the other one from the folks at Industrial Air. It is also an upright compressor with a black iron cast body, a set of wheels and a handle. The difference here, though, is that this has a 20-gallon tank, making it a more affordable option. This compressor also has the same competent parts to make it last longer than anticipated, including the twin cylinder pump, the aluminum head and aluminum valve plate. This compressor also has a one-horsepower motor in it, making it on par with its 30-gallon tank counterpart.
Like the other air compressor from Industrial air, this one is backed by a two-year limited warranty. If the unit that you get isn't working exactly right, you can return it and get a new one for free.
This is a lighter air compressor, weighing at 159 pounds, but it still requires wheels and a handle for you to maneuver. There is synthetic oil included with this pump, too. So automatically, it comes with an essential part in order to run so that you don't have to buy anything separately right away. This air compressor works and runs very similarly to the other model from Industrial Air, but for less money, so you have less air to work with. The one flaw remains the same, though, and that is that the inflatable tires need to be maintained and can be prone to becoming flat.
Pros
Comes with free oil.
Has a two-year warranty.
Is built to last a long time.
Is easy to maneuver.
Cons
Wheels need to be filled with air.
3. Campbell Hausfeld HS5180 Air Compressor
This next air compressor from Campbell Hausfeld comes in a beautiful blue cast iron body. It stands up vertically with three legs, so, unfortunately, this one doesn't have any wheels. With its oil-lubrication and cast-iron frame, Campbell Hausfeld guarantees 12,000 hours of use. If this product were to run indefinitely with no stoppage, it would take 500 days for it to finally give in. This is another electric compressor, and it also is capable of holding up to 80 gallons like the Powermate model. It also has above average power of 15 amps inside the motor, which means it can last longer than paint sprayers with proprietary compressors.
The warranty that comes with this air compressor lasts for three years. This is more than plenty of time for you to check for any defects or problems, and it's a warranty that every HS5180 owner is lucky to have.
This is another beast of an air compressor that weighs over 415 pounds, so it definitely won't go anywhere if you try to move it on your own. You may want to consider another air compressor if you need one that can move freely, such as one that has a pair of wheels.
Pros
Comes with a three-year warranty.
Has a powerful motor.
Gives a nice, even finish.
Is built to last a long time.
Is compatible with many sprayers.
Cons
4. Rolair VT25BIG 2.5 HP Wheeled Compressor
This next air compressor from Rolair of Wisconsin appears to be more user-friendly with a large handle, a set of wheels and a smaller body overall. It comes in a nice pine green body that makes it look of superb quality. It is also equipped with a 2.5-horsepower motor.
This is an air compressor that is more on the affordable side, which is great if you want to be able to paint cars without spending a fortune on all the essentials.
It can handle most paint guns that you might use for this compressor, which means that you should be more fortunate than not if you already own a paint sprayer and want to use it with this compressor.
The compressor weighs just over 100 pounds, but the wheels and handle make this is a cinch to control. Turning and maneuvering this compressor is a snap, and you can take it anywhere you go. Included with this air compressor is a one-year warranty. If anything goes wrong with the compressor within the year, you could be eligible to have a new compressor delivered right to your doorstep. The caveat to this air compressor is how noisy it is. It looks like a top-of-the-line compressor, but if it is too loud, then it is hard to enjoy. That noise can be greater amplified in a small setting like a garage or workshop, so we feel it would be fair to warn you before purchasing it.
Pros
Is easy to maneuver.
Affordable.
Comes with a one-year warranty.
Is compatible with many sprayers.
Cons
5. NorthStar Portable Gas-Powered Air Compressor
Northstar offers us this air compressor that looks very traditional but promises peak performance for the price. It comes in a black cast iron body and red engine courtesy of Honda. Like Powermate's air compressor, this one is high up there in price, but the durability well makes up for it. The V-style cylinder ensures that the engine is properly cooled so that nothing inside wears down over time. Many parts in this compressor have been selected to ensure the product has a long life overall, such as the dual crankshaft bearings. This is a super quiet compressor that runs very well. We have been able to record decibels as low as 72, which will still allow you to have a conversation with a person in the same room.
Furthermore, the compressor doesn't vibrate much at all, which is very good for its longevity. This is a heavy compressor, weighing 196 pounds, but thanks to its set of wheels, you can move it slowly and carefully from one location to the next. The warranty with this compressor lasts an astonishing four years, meaning that you have more than enough time to see if this product runs without any problems. You can extend this warranty to five years with a service protection plan, which protects you in the event of a spill or damage.
The problem with this compressor is that it can get quite difficult to start. Even if you add oil and gas, you'll need some patience to get it started.
Pros
Comes with a four to five-year warranty.
Is built to last a long time.
Is quiet while running.
Has reduced vibration.
Gives a nice, even finish.
Cons
Needs a few attempts to start each time.
6. California Air Tools 6010 Ultra Quiet Air Compressor
This next compressor is by the people at California Air Tools, which looks very basic like NorthStar's compressor, but is also one of the least expensive. This is also the lightest air compressor in this review, weighing just 46 pounds. It has wheels so that you can cart it around, but you can also lift it fairly easily, whether it is onto a vehicle or up and down a set of stairs. This compressor from California Air Tools doesn't require any oil, so you can run it, and it performs just as well as other compressors that do. This eliminates one step while you set up your paint to spray a vehicle.
Like Rolair's air compressors, this air compressor has a warranty that lasts for one year from the purchase date. If anything happens with the product within that one year, you could be eligible to get a new one at no added cost. However, this compressor isn't built to last. There is a reason why many popular compressors are made with oil intake, and that is so they can last a long time. Unfortunately, this model would be very lucky to surpass three years from regular use. We recommend this only if you need a backup to your primary air compressor.
Pros
Does not require oil.
Affordable
Comes with a one-year warranty.
Is easy to maneuver.
Cons
Will not last a long time.
7. DEWALT D55146 4-1/2-Gallon 200-PSI Hand Carry Compressor
When you see the black and honey yellow color scheme and that bold typeface, you know you're looking at a quality product, more often than not. DeWalt's air compressor is surprisingly more affordable than many air compressors that it is compared to. It is also smaller and promises around the same performance, making it a highly attractive piece of equipment. This compressor produces noise at 78 decibels. While not the best, it is pretty decent for its quality of work, and you will not be left driven crazy after an extended period of use.
This air compressor comes with a one-year limited warranty. Every DeWalt product has one year of not just a warranty but a "free service contract," meaning you can have your air compressor repaired or replaced at a participating location nearest you, should anything go wrong with it. The main problem with this air compressor is that the wheels are filled with air. It would have been great if the wheels were made of solid foam so that you won't be worried about getting a flat. When that happens, you won't be able to wheel the compressor around.
Pros
Does not require oil.
Affordable.
Comes with a one-year warranty.
Is easy to maneuver.
Is quiet while running.
Cons
Wheels need to be filled with air.
8. Master Airbrush KIT-SP19-20 Art Airbrushing System Paint Kit with Standard Compressor
This next air compressor from Master Airbrush is highly affordable. The compressor comes in a large kit and is ideal for airbrushing, decorating and arts and crafts. The motor has ⅙ horsepower. This kit comes with six colors of acrylic paint, which include red, blue, green, yellow, white and black. Cleaning solution and thinner also come with the kit in similar bottles.
The kit also comes with three airbrushes that each hold paint inside of a small cup. Each airbrush has a difference in appearance, material and nozzle size. At 59 decibels, this is the most silent air compressor in our review, and you can easily hear anything else that is going on in the same room in which you are working.
This air compressor offers a money-back guarantee. If you are not satisfied with the compressor within two years, or you are experiencing some issues with it, you can get either a replacement or a refund. The same can be said about everything else in the kit, except the duration is reduced to one year. Truth be told, this is not something that you would use to paint the entire exterior a car. You would need more horsepower, a bigger gun and more paint overall for that type of project. However, using this kit to detail and add accents is not out of the question, and you can consider it for an air compressor if your compressor of choice isn't ideal for use as a paint sprayer for small and fine work.
Pros
Comes with its own paint.
Is quiet while running.
Comes with a money-back guarantee.
Affordable.
Does not require oil.
Is easy to maneuver.
Cons
Is not ideal for painting a vehicle.
9. Senco PC1010 1-Horsepower Peak, 1/2 hp running 1-Gallon Compressor
Last but not least is this air compressor courtesy of Senco. Another economical option, this is more suited for small home improvement projects and arts and crafts; the latter that also relates to Master Airbrush's air compressor.
This compressor does not require oil to run, so that takes away one step in the long and arduous process of setting up your paint sprayer. The motor has one-half horsepower. Weighing only 20 pounds, this compressor is very easy to lift and carry for just about anyone.
You can take it with you in your car or truck without any hassle. However, it doesn't have any wheels. Being only as loud as 73 decibels, this is another very quiet air compressor. It doesn't sound too obnoxious, and it purrs like it's working well without guzzling too much power.
This air compressor is backed by a one-year warranty. For the price that this compressor goes for, we feel this is a decent amount of time for you to try it out and check for any problems. If you can't use it for whatever reason, send it in and get a new one. This compressor was not made with quality in mind. Many of the parts are cheaply made, and it would be lucky if this product lasted a couple of years. If it does last two years, then the odds are that there will be a part that you need to replace during that time.
Pros
Affordable.
Does not require oil.
Is easy to maneuver.
Comes with a one-year warranty.
Cons
Is made with subpar quality.
10. Powermate Vx PLA4708065 80-Gallon Electric Air Compressor
This air compressor is heavy and powerful, in a fire engine red cast iron body courtesy of Powermate. This is an electric compressor, capable of holding up to 80 gallons. It also has an above average power of 15 amps inside the electric motor, which means it can last longer than paint sprayers with proprietary compressors. You won't be able to tell by looking at it, but Powermate's compressor is also not that loud when running. All the noise is muffled, meaning that it won't feel like a rock concert from inside your garage or workshop. It also has an oil-powered pump and sturdy crankcase that ensures that the compressor can last a long time and not dry out.
When using this with your paint sprayer, you are sure to get even, uniform finishes that will look very nice on your car. This compressor includes a solid two-year warranty. That means you have two years to make sure that everything works when you first use it; otherwise, you can get a replacement compressor free of charge. The one takeaway from this air compressor is its heft. At over 350 pounds, you won't be able to move it, meaning that you have to take all your equipment and your car over to it to get painting. There are lighter and more portable air compressors out there. However, that may be more akin to what you are looking for.
Pros
Comes with a two-year warranty.
Has a powerful motor.
Gives a nice, even finish.
Is built to last a long time.
Is quiet while running.
Is compatible with many sprayers.
Cons
How To Choose The Best Air Compressor for Painting  cars
Air compressors exhaust power as air that becomes pressurized so that it can force a steady stream of paint onto your car. Since air compressors can be used for a number of different devices and equipment, you should consider purchasing one that is ideal for paint sprayers. But to further narrow down the criteria, there are more factors that you should consider.
Air Pressure
Measured in pounds per square inch (PSI), it's essentially the rate of airflow that the compressor gives out air. Airless paint sprayers require more PSI to use over HVLP paint sprayers, so if you are using an airless sprayer, make sure that the compressor has a decent PSI for the job. The same thing can be said for HVLP sprayers; these need compressors that have low PSI, and higher PSI should be off limits.
Cubic Feet Per Minute
Cubic feet per minute (CFM) relates to how much air a compressor can deliver at a certain pressure. This is one of the most crucial factors to consider for your product of choice. As paint sprayers need to spray paint continuously, they need higher ratings of CFM than most other products for air compressors.
If the CFM for your compressor is lower than the paint sprayer allows, you will end up getting paint that flows unevenly or splatters out of the nozzle when you go to spray it.
Tank Size
The size of the compressor is also an important factor so that you have the right power on a consistent basis. Painting vehicles can be a very demanding job, so a small and cheap compressor might not be able to cut it. Search for an air compressor that has 50 or more gallons capacity so it can be more efficient in this capacity.
Portability
Many air compressors come with a set of wheels and a handle so that you can tote it from one area to another. These compressors may be too heavy for you to lift on your own, but they are not as heavy to move compared to others that you can buy. Some air compressors weigh as much as 300 to 400 pounds and do not have a set of wheels.
It is very hard to move these compressors without having two or more people helping you. On the plus side, many of these heavier compressors are upright compressors that save space in your garage or workshop.
Common problems Associated with Air Compressors And Spray Guns
When using air compressors and spray guns for painting, you will most certainly encounter several problems. Understand that you are dealing with machines and there are bound to be certain challenges every now and then. This guide will help you understand the common problems that you might encounter and how to deal with them adequately.
Spray gun producing bubbles
When you see bubbles coming out of the spray gun, then there is certainly a CFM problem. This means that the spray gun and air compressor are not delivering the correct CFM for the job due to leakage.
You should ensure that you check your regulator and connectors thoroughly in order to find the source of the leakage. Once you identify the source of the leakage, ensure you fix it and your problem is solved.
Low-pressure problem
Most of the time, people experience a low-pressure problem and this is usually caused by the hose length. A long hose will certainly interfere with the pressure causing it to drop due to the distance traveled.
Reduce the length of your hose and the pressure should be sufficient enough to get the job done. Alternatively, you could wait for a few minutes and the pressure will be restored but this is not a permanent fix.
If you have a large unit, then the low-pressure problem might be caused by the regulator or leaking connectors. Ensure you fix the leaking connectors and check the regulator to fix the problem.
Dripping
The most common cause of dripping is water trapped in the line. Should your compressor have a moisture trap, then ensure it is empty and dry. Wipe the compressor moisture trap with a cloth or use a dryer for better results. This is a common problem when working in a tense environment with a lot of heat and humidity.
Tailing
This is a common issue especially when the air from the air compressor and the type of work simply fail to match. With this issue, you have to wait until the compressor is able to produce the right amount of pressure and air required for the task.
Uneven finish
A very common problem associated with painting using air compressors with spray guns is failing to achieve an even finish. This is usually an indication of three things; you either are new at the job, you have poor technique, or you didn't clean the surface adequately before the job.
With the technique, all you require is practice before attempting the job. On the other hand, if you did not clean the surface properly, then you will have to start the work all over again. Strip down the paint and clean the surface vigorously before attempting to paint again.
Most of the problems experienced when painting using an air compressor and spray gun are pretty simple to fix. It is also vital that you ensure you have the proper equipment and that it is well maintained to reduce the number of problems you encounter.
What Size Air Compressor Do You Need To Paint a Car?
Size definitely plays a role in your choice of air compressor, and normally, the bigger your air compressor is, the more gallons it is capable of providing for a paint sprayer for cars.
No matter what kind of car you have, you should get an air compressor at least a gallon capacity, as anything smaller will force you to take longer than you would have in mind for painting the body of your car.
If you have a coupe or sedan that you are looking to paint, you should purchase an air compressor that has 30 to 50 gallons of air, as this should be enough to cover the cars' exterior at a given time. If you own an SUV or van, you should get an air compressor with closer to 50 to 60 gallons. For vehicles such as trucks, you will need 70 or more gallons in order to cover the outer trailer in one go.
If you have an air compressor with a small gallon capacity, that means you could run out of air in the middle of your spray, meaning that paint will stop spraying due to a lack of air. To ensure this doesn't happen, get a robust air compressor that has more than enough capacity for your paint job.
How To Set Up an Air Compressor with A Spray Gun for Painting
When you want that perfect finish when spray painting your car, garden fence, or wall, you need to properly understand how to set up an air compressor with a spray gun. Both professional and DIY work is performed by (high volume low pressure) HVLP spray guns. A slight volume or pressure drop leads to a poor paint job and proper set up will help you avoid such events.
With the right equipment and proper setup, painting using an air compressor with a spray gun can be rather simple. This guide will help you with all the things you need to know in order to set up an air compressor with a spray gun for painting.
Requirements (Essential)
Compressor Regulator/ filter Air hose Regulator Spray gun
Step 1 : Ensure the air hose is wide enough
Pressure drop is frequently caused by a narrow air hose. When the inside diameter (ID) is small, then the air getting through it may not be sufficient. Subsequently, less air pressure will be transferred to your spray gun. A hose with a wider diameter will most definitely deliver more pressure than a small diameter hose.
When it comes to spray guns, always ensure that you use a hose that has an inside diameter of at least a quarter inches to ensure the painting job is satisfactory. HVLP spray guns, however, have large volume requirements and a hose bigger than 5/16 inch internal diameter is required for best results.
Step 2 : Ensure the air hose is not too long
The distance from the air compressor needs to be as short as possible in order to ensure that the maximum pressure is achieved. The hose length and internal diameter need to be properly balanced in order to reduce the air supply restriction.
For example, a 10m rubber hose needs an 8mm diameter while a 15m rubber hose will require a 6mm diameter. Ensure you do enough research to ensure you have the right air hose with a balanced length and internal diameter.
Step 3 : Minimize the number of QD'S (Quick Disconnect Fittings)
Numerous air connectors will lead to a pressure drop and they might not even be necessary, to begin with. You don't need to use several air connectors especially when the air hose is hardly removed from the gun. Pressure drops from the QD's( quick disconnect fittings) range from 1 to 25 psi depending on the volume requirement and design.
Always ensure you choose a QD with a large diameter to ensure minimum pressure loss. QD'S with big diameters are considered as the least restrictive and more practical when you want to get the best results.
Step 4 : Use good quality air regulators with high flow
The air regulators ensure that you get consistent results since they provide precise adjustment of the airflow and pressure. The common types of air regulators are gun-mounted and wall-mounted. The wall-mounted air regulators are generally preferred because they ensure constant air pressure.
Now, in order to determine whether the air regulator you are using is too restrictive, you need to compare gauge readings when not in use and when it is being used. The difference between reading one and reading two should be less than 5 psi if you are using a good quality air regulator.
Step 4 : Check the air compressor performance specification
The air compressor used for painting needs to efficiently supply clean dry air. Clean in this instant means oil-free while dry means water-free. It must also be the correct size to ensure both the volume and air pressure requirements of the entire system are met. You should ensure that the air tank is properly cleaned and that it is functional.
Setting up an air compressor with a spray gun for painting is rather simple when you follow the step by step guide provided. Ensure that you take the smallest of details seriously because they might just be the reason you get that perfect finish that you deserve.
It is also important that you buy high-quality equipment for the best results. Visit the local stores and paint shops for more advice before settling on a particular brand of tools and equipment. I hope this guide will help you achieve your painting goals.
How To Paint A Car by using Small Air Compressor Tanks
Using a small air compressor tank to paint cars can be rather difficult due to the fact that they have a low CFM (cubic feet per minute) rating. A low CFM rating indicates that less air is pumped out at the given PSI reading. The small compressor tanks are not able to paint an entire car at once because they run out of air and you need to be prepared.
However, if you're smart enough to adjust accordingly and counter the pressure drop, then you can most definitely use the small air compressor tanks for car painting. There are two commonly used techniques and both are extensively discussed to ensure you pick the best suited for you.
This guide will help you effectively paint your car and get the perfect finish even though you are dealing with a low CFM compressor tank.
Drain the water frequently
When using a small air compressor tank, you are bound to experience what is most commonly referred to as the condensation problem. Now, draining the water once will not be enough to finish the job.
You will need to drain water from your tank after every 2 passes. This probably sounds quite hectic but it's the safest way to ensure you get the job done effectively with the best results and an even finish.
Some individuals wait for 3 passes but I would advise 2 passes if you want to ensure you get the job done correctly. Draining water from the small tank will only take a few minutes and the paint job will most certainly be satisfactory. Ensure you use a dry cloth to completely wipe out all the water or use a dryer for better results.
Frequently draining the small air compressor tank will ensure you finish painting your car at once rather than doing it in steps. This is especially convenient because working in steps may lead to over-spraying especially on the clear coat phase.
Over-spraying will turn the glossy parts dull and you will end up with an uneven finish. This will, in turn, lead to you having to completely sand and buff the uneven areas which can be rather difficult.
Use the three-day trick
Should you have enough time in your hands then you could always use the three-day trick. This trick is quite simple and all you need to do is exercise patience. In this guide, I will walk you through it day by day to ensure you get an even finish. This technique will ensure your air compressor does not get hot and that there are completely no uneven surfaces once you finish painting your car.
Day 1
Start by painting the hood, front bumper, and two front fenders of your car in that order. Ensure you do it at once and that you finish two base coats and two clear coats. This work won't take long but you should not get tempted to paint any other areas of your car. It is also important that you paint your car parts in the order listed above.
Day 2
Mask paint all the parts that you did on day 1 first. Then paint your doors and the roof with two base coats and two clear coats. It is also important to start with the doors before the roof to ease your work and make it more even. Ensure that you use the same technique as used on day 1 and that you stop the work at this given point.
Day 3
Paint the remaining part. Now, if you haven't figured it out, by day 3 the remaining part will just be the rear end of your car. Ensure that you equally use two base coats and two clear coats to ensure the work is even.
It is possible to evenly paint your car and get a perfect finish even when using a small air compressor tank. Both the two techniques discussed are effective and will get the job done. It is, however, advisable to use the three-day trick should you have the time because it produces better results. Clearly, a small air compressor tank should not be an excuse for uneven car painting work.
Who Needs This Particular Products?
There are a number of different individuals and businesses that need an air compressor for one reason or another, as they serve many different purposes from inflating tires to spraying paint. People that use air compressors for painting cars span from everyday homeowners that want to paint their own car to body shop owners that make cars over for a living.
People who only have one car to paint tend to buy a cheap compressor, whereas people who paint cars for a living should get a higher quality compressor with better durability.
Final Verdict
This was not an easy decision, but our best air compressor for painting cars is none other than the  Industrial Air ILA1883054 Air Compressor. If you are serious about painting multiple cars, or you are a body shop specialist whose job revolves around cars for a living, Industrial Air ILA1883054 air compressor is one you should get.
It is certain to last through hundreds if not thousands of paint jobs for different cars, making it highly reliable and well worth the money. It's immensely heavy for a compressor, but odds are, you likely don't want to move it if you have a designated work area in your garage.
Frequently Asked questions
Which compressor is better between a constant and stop and start ?
Commercial businesses need air compressors that run on a consistent basis, meaning that the "constant" type is more favorable. The choice also depends on what you use the compressor for and how often. Smaller compressors are generally "stop and start" and are more ideal for homeowners.
How often should I change the oil in an air compressor?
Just like a car, you will need to change the oil in a compressor at regular intervals. For reciprocating compressors, they need to be changed every 90 days. For rotary screw compressors, they can go 7,000 to 8,000 hours of continuous use before you need to change the oil.
How often should I change the filter in an air compressor?
Filters for air compressors must be changed by the week. If your filter is not as dirty or you use it less often, then replacements will be less frequent.
Can I use a generator to power an electric compressor?
Technically, you can use a generator, but we don't recommend doing so. A compressor requires a consistent flow of energy to run safely. On the other hand, generators tend to change the flow of power rapidly, meaning that your compressor can end up powering on and off randomly. If you have a big generator, you should feel more confident using it for your air compressor.