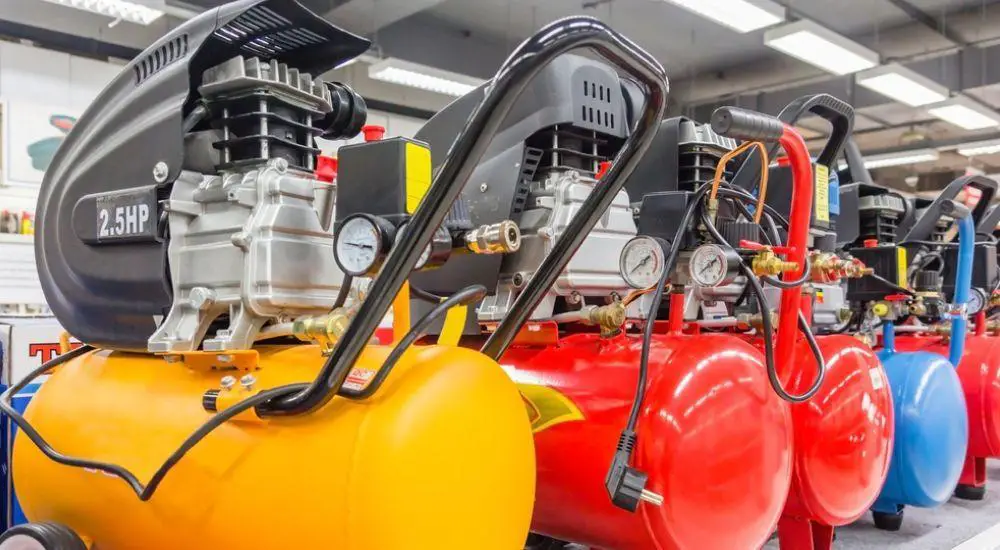 If you have an interest in carpentry, crafts, and building things, then you need an air compressor! This great tool will be really useful in lots of projects, and is very cost-effective. It makes spray painting a breeze, makes using a nail gun really simple, and will even make DIY auto repairs a possibility.
It has so many different uses that you won't know which project to get started on first! There are lots of different kinds of air compressors on the market right now, with different features and uses. Here are some of the best shop air compressors for sale right now!
Best Shop Air Compressors -Comparison Table
| Product | Name | Capacity | Editor Rating | Price |
| --- | --- | --- | --- | --- |
| | DEWALT DWFP55126 | 6-Gallon | | |
| | 2340L5 5 HP 60 Gallon | 60-Gallon | | |
| | California Air Tools CAT | 10-Gallon | | |
| Top Pick | Quincy QT-54 Splash | 60-Gallon | | |
| | Industrial Air ILA4546065 | 60-Gallon | | |
| | PORTER-CABLE C2002 | 6-Gallon | | |
Top 6 Best Shop Air Compressors Reviews in 2022
1. DEWALT DWFP55126 6-Gallon 165 PSI Pancake Compressor
This great air compressor has an oil-free pump to ensure maintenance-free operation at all times. It is made with a 75.5 dBA noise level, which basically means it's a really quiet tool, perfect for quiet work environments. Its high efficiency motor will help you start it up in cold weather, and its built-in extension cord makes it possible to use in a very large work space.
It is only 30 pounds, so it's really easy to lift and to store in a small space. Its high flow regulators and couplers maximize air tool performance. It even has a protective rubber leg cover to prevent marring! It is truly a great little compressor with an array of high quality features.
The DEWALT 6 Gallon Compressor is perfect for smaller sized every day projects. It is small enough so that you can carry it around and lift it with ease. It even comes with a cord wrap for easy storage, and also has a console cover to protect its control.
This is meant to prevent damage, but also to allow easy repair if there ever is damage. Its tank has a ball drain valve to make tank draining fast and thorough. This compressor was really made with your convenience in mind! You won't have to worry about spending lots of time cleaning it after a project, and you won't have to worry about it breaking after a few uses. It is a sturdy compressor that is meant to last for a long time.
Pros
Very quiet
Has a high efficiency motor
Easy to lift and maneuver
Has a cord wrap for easy storage
Includes a ball drain valve for easy cleanup
Perfect for DIY projects
Cons
Not meant for industrial use
Small tank
2. 2340L5 5 HP 60 Gallon Two-Stage Air Compressor
This durable cast iron-made air compressor is made to be used for over 15,000 hours of trouble-free use. The synthetic lubricant in its tank allows it to be used for 2,000 hours of service between changing. This is a 60-gallon air compressor designed for heavy shop and industrial use.
It delivers with a force of 5 horsepower, and it is meant to handle lots of different projects all at one time. Use it in body shops, production lines, woodworking shops, farms, dry cleaners – you name it! Whatever project you have or setting you use it in, the Ingersoll Rand compressor will perform beyond your expectations.
If you own a crafting shop or an auto body garage, this is the air compressor that you're going to want. Internal radial fins allow for 360 degree cooling of cylinders, which completely eliminates overheating, even in the most extensive projects. Despite its design for heavy duty projects, it is also designed to be quiet and smooth. So, you can get your most tedious projects done without bothering anyone. After using this compressor time and time again, replacing its pieces will be simple. It's so easy, that you can order them online and replace the yourself. The Ingersoll Rand compressor is an amazing price for this style air compressor. It is extremely cost-efficient, as just one purchase will allow you to complete thousands of projects over the course of thousands of hours. This compressor is a great investment to any business and will certainly improve productivity.
Pros
Made to use for hours of work
Perfect for auto body shops and garages
Quiet and smooth
Parts are easy to replace
Very cost efficient
Cons
Too big for some DIY projects
Not easy to lift and maneuver
3. California Air Tools CAT-10020 Air Compressor
The California Air Tools Ultra Quiet Compressor is designed to be the quietest air compressor you've ever used, as it has only 70 decibels of sound. It has a 10 gallon tank with wheels, so it's really easy to store and move around. It has an oil-free dual piston pump which is designed for durability and high performance, and allows you to use this tool in all different temperatures and surfaces.
This air compressor's quiet design has no negative bearing on its performance – it is one of the most powerful and maneuverable compressors on the market right now. If you work in a shop or garage where noise is a problem, this tool will be perfect for you.
This compressor is built to last, and won't let you down even in the most tedious projects. It is on the larger side, so it will last you for thousands of hours before you may need to replace it. Its oil-free tank and pump makes it even more cost efficient, because it will require less maintenance and less repairs. It even has wheels on it, which makes it super easy to move and use in a large space.
Whether you work in a shop, or are using this from home DIY projects, it is a perfect fit. It will be a great asset to use in any project and will also leave flawless results in any auto body project.
Pros
Very quiet
 Has wheels for easy movement
Has an oil-free pump
Reasonably priced
 Cons
Small tank
May not withstand all industrial projects
4. Quincy QT-54 Splash Lubricated Reciprocating Air Compressor
The Quincy Splash Lubricated Reciprocating Air Compressor is designed to last for a lifetime. It is a high-efficiency, lower horsepower compressor. It runs at a slower RPM than most compressors, but it actually produces more air. The makers of this tool say that it will last for over 30,000 hours, and it also comes with a one-year warranty.
You can get an extended warranty at the time of purchase. It has a 60 gallon tank, so it is perfect for industrial projects. It is a very cost-efficient tool, as it will complete thousands of projects over the course of thousands of use time. If you work in a shop or auto body garage, this tool is perfect for you, because it can handle the most time consuming projects.
If you are an avid DIY-er, this tool will also be perfect for you. If you complete a lot of projects on a regular basis, the last thing you want is to have to buy a new air compressor every so often. With the Quincy compressor you won't have to worry about buying a new compressor for a very long time.
Use it for painting, wood working, auto repairs -you name it! Its versatility and durability will bring ease to any DIY project. This is a tool that will be a great investment to anyone with a love for crafting and design.
 Pros
It will last for thousands of hours
Very large tank
Comes with a one-year warranty
 Cons
Large tank might be too big for some DIY-ers
Runs at a slower RPM
Expensive
5. Industrial Air ILA4546065 60-Gallon  Air Compressor
The Industrial Air Cast Iron Air Compressor is a 60 gallon air compressor, made with cast iron and aluminum. These materials ensures overall cooling the tool is in use, so there is no chance of overheating. It has a tank pressure gauge to use for control and convenience. This air compressor can easily handle the most time consuming projects, and is designed for professional and contractor use. The serious DIY-er can of course still use this tool to complete heavy duty projects.
It's also designed to use with high consumption air tools, like sanders, paint sprayers, and nail guns. It is a durable and long-lasting air compressor that can be used to complete projects in a very short period of time. It won't overheat, and will maximize your time and money.
The Industrial Air Cast Iron compressor is an unbelievable price for the thousands of hours you will use it for, and the thousands of projects it will complete. This is an air compressor that is meant for industrial use, so you can be confident in its lifespan. It has a sturdy design that will withstand heavy usage and a large tank that won't have to be filled very often. It is a very cost-efficient tool, and will be the perfect addition to any shop, auto body garage, or DIYer's tool collection. After buying this air compressor, you'll wish you had bought it years ago!
Pros
Made with cast iron and aluminum
 Large tank
Tank pressure gauge
Versatile
Great price
Cons
Large tank might be too big for some DIY-ers
Not designed for DIY projects
6. PORTER-CABLE C2002 Oil-Free UMC Pancake Compressor
The Porter Cable Pancake Compressor is a 6 gallon pancake compressor that is a big tool in a small package. It has an induction motor to ensure a long lifespan, and can hook up to home circuits, so you can use it for all of your DIY projects. Its durable pump is designed for little to no maintenance on your part, so you can continue to use this air compressor for tons of projects.
Its pancake-style tank and rubber feet offer stability while you use it, and its built-in wrap cord makes it easy to put away and store. It only weighs about 30 pounds, so it's really easy to maneuver and carry around if needed.
This air compressor is truly designed with DIY-ers in mind. It's perfect for doing things like filling tires and mattresses, firing nail guns, installing trim, and spray painting. It is lightweight enough for anyone to lift and transport it, and has an oil-free pump to no maintenance and easy cleanup. It costs no more than others, so buying it to use for DIY projects is a no brainer! If you have a budget and don't want to spend a fortune on tools, this air compressor is perfect for you. It is durable, and will last you many hours, but won't break the bank. It even comes with a one-year warranty, in case you need to replace a part on it. This is a very versatile tool with a wide range of uses, and it will be the most cost-efficient purchase to any DIY-er.
Pros
Perfect for DIY-ers
Can hook up to home outlets
Has a built-in wrap cord
Versatile
Lightweight
Cons
Too small for industrial projects
Very cheap in both cost and design
Doesn't last as long as other air compressors
How To Choose The best Shop Air Compressor
An air compressor is one of the most important tools in any workstation. Thankfully, the growth in technology has seen to it that these tools are readily available for the taking. An air compressor makes work easier and allows you to finish your projects on time.
Additionally, an air compressor helps give your projects a touch of profession. However, you will only enjoy these great services if you acquire the right air compressor. It will takes you through the process of how to choose the right air compressor.
Tank Size
Even though many people/ technicians do not regard the tank size of an air compressor as an important factor when picking your tool, it appears that they may be wrong. If anything, a bigger tank reduces the chances of "cutting out" in the middle of your project. Additionally, air compressors with smaller tanks tend to overheat thereby slowing you down because you have to take regular breaks for the compressor to cool down.
PSI Ratings
For starters, PSI loosely translates to the amount of air pressure that a particular air compressor can release at a given time. The type of air compressor that you pick basing on its PSI hugely depends on most of your projects. It would be illogical and financially draining if you pick an air compressor with huge PSI ratings if you are only going to deal with small projects. The vice versa is also true.
Portability, Size and Shape
For various projects in your workshop, you may need to move your air compressor regularly to fit your needs. You will therefore need a size-able one that you can easily lift and move. Luckily, today there are many varieties of these products in the market. You can choose from the various shapes and sizes that are available to suit your needs.
Corded or Cordless?
Both corded and cordless air compressors have their advantages and disadvantages. For instance, corded air compressors will limit your movements and portability. However, corded air compressors have more power since it consumes energy directly from the power source.
On the other hand, cordless air compressors are easy to move around and ensure that your projects do not stall especially in regions where electricity is an issue. However, you may need to recharge the batteries regularly or risk stalling your projects.
Oil or Oil-Free Tanks
Again, here, you will have to make your decision basing on the pros and cons of each product. Oil free tanks have low maintenance costs, less running costs, produce less noise, have more adaptability and are safe for the environment. On the other hand, oil tanks guarantee more power, have a higher durability rate and are capable of completing big tasks. Your choice here will mainly depend on most of your projects.
Budget
How high is your budget for your air compressor? Some of these tools are really expensive. It's important to find one that is in your price range, but that is also high quality.
So It is clear that an air compressor is one of the most important tools in any workshop. It makes the work less tiresome, gives it a professional touch and allows you to finish your projects on time. It is therefore important that you pick the right product to enjoy the above benefits.
Luckily for you, this article gives you all the information of how to choose the right air compressor. Simply consider factors such as, the size of the tank, its portability, PSI ratings and whether you will need oil or oil-free tanks.
The Five Crucial Specifications of an Air Compressor
Air compressors vary in size because different compressors are made for different projects and different time spans. If you are going to install an air compressor in your garage, there are five main things you should consider before you make the purchase.
1. Cubic feet per minute
The most important element of an air compressor is its cfm rating, because this factor determines how much air is made by the compressor. All power tools demands a particular cfm level, and an air compressor needs to have a certain cfm in order to be used with the majority of tools.
2. Pounds per square inch (psi)
The pressure at which the air comes out of the compressor is measured in "psi" and is a very important factor when choosing an air compressor. The psi will determine what kind of tools you can use the air compressor with. Certain tools require a higher or lower psi than others, and an air compressor must meet the right psi to use it with those tools.
Overall, average power tools require 90 psi. But, keep in mind that psi numbers are always in conjunction with cfm numbers, because the cfm is a closer indication of whether or not the particular tool you're using will work with your air compressor. The bigger the cfm and psi numbers are, the more tools you can use the air compressor with.
3. Horsepower
Horsepower is essentially the measure of an air compressor's motor output. As the cfm and psi numbers increase, so does the horsepower.
4. Tank volume
The amount of air that an air compressor tank can hold is also an important factor. The larger the tank, the less work the motor has to do, especially during long projects. Having a large tank will also be useful if you're doing a project where you'll be using both active and idle modes, as it will also take stress off the motor in this situation as well.
5. Duty cycle
The last important factor is the amount of time an air compressor can be used before needing to turn it off. On average, an air compressor should have a "duty cycle" of 50% or more in order to use it with tools for long projects, like grinders and saws. A compressor also needs a decent sized motor and tank to be able to remain in use for a long period of time.
You should also keep your garage's power rating in mind in air to choose an air compressor that can operate to the amount of voltage that is available to you. It will also be a good idea to consult with an electrician to make sure your garage has the installation requirements. Considering these five details will definitely help you when deciding what kind of air compressor to buy! You will be glad you took these elements into consideration before making your
How To Setup an Air Compressor in Your workshop
Once you have purchased an air compressor that suits your needs, you will have to set it up! It won't take very long. There are some key safety precautions that should be taken, and some details that need to be verified by your air compressor's user manual. Setting up your air compressor can be broken down into these few steps.
Wear safe gear
First of all, before you begin the setup, you need to make sure that you're wearing the proper safety equipment. You should wear goggles or hard glasses to protect your eyes, and thick gloves to protect your hands.
You should also wear a hard hat and hard boots, just in case something pops off the compressor or something unexpectedly malfunctions. To protect your ears, you should wear earmuffs or earplugs.
Some air compressors are very loud, and using them without ear protection can cause hearing damage later in life. It only takes a few minutes to put this equipment on to protect yourself, and it will definitely put your mind at ease as you use your air compressor now and in the future.
Don't use an extension cord
Air compressors are only made to work with a certain power cord length. If you use an extension cord with it, and the cord is too long, it will cause voltage drops. It may even make the entire unit burn out. You should stick to using the cord that your air compressors comes with.
You will need to set up your project near to a power outlet, but that shouldn't be too difficult. Clear a space in your garage to use for all projects you will be completing with your air compressor.
Attach the air filter
The air filter is a vital part to any air compressor. It ensures that debris doesn't go inside the air compressor, which in turn ensures a smooth finish while spray painting. It also prevents clogging and malfunctioning. Your air compressor will last much longer and won't need many repairs if you use the air filter properly.
Plug it in
You can now plug in your air compressor! Just plug it in to any outlet in your garage. For safety precautions, make sure that the power cord isn't laying in the way of anything or anyone. Now, turn the air compressor on.
Fill the tank
As soon as you turn on the air compressor, it will begin to fill. The tank size will vary depending on whether the compressor is stationary or mobile, and whether it runs on gas or electricity. The larger the tank, the longer it will take to fill up, but the faster it will work. Smaller tanks are quicker to fill up, but are best for small projects and in continuous use.
Connect the air hose
 Connecting the air hose to the air compressor only takes a moment. To ensure it stays intact, you might want to use some electrical tape around the base of the air hose, where it meets the air compressor. This will allow a firmer attachment without any air coming out.
Connect the air tool
 The air tool connects to the end of the air hose, on a connector that should already be there. This part is also simple, because all you have to do is plug those pieces into each other.
Set the regulator
This step depends on what kind of air compressor you have purchased. You will want to consult the compressor's user manual to determine what pressure setting is best for the compressor.
This also depends on what you're going to use the air compressor for. The settings will be different if you are going to use the compressor for an extended project versus a short one. So, make sure you check the manual while completing this step.
Go ahead and use it!
That's all you have to do to set up your air compressor! Now, you can begin to use it. While you're working on your project, make sure all of your safety gear stays on. Air compressors are power tools, and although they don't seem dangerous, they can pose a threat if something malfunctions. It's just better to be safe than sorry when it comes to using power tools like this one. Also, while you're using your air compressor, make sure those around you are safe as well. People shouldn't be too close to the machine while you're using it, and if they are nearby, they should be wearing safety gear as well. Make sure electrical cords are down flat on the ground so no one trips over them. These small details will ensure that no one gets hurt while the air compressor is in use.
Maintenance Tips For A Shop Air Compressor
Air compressors are power tools that need to be used properly and need to be taken care of. They will need repairs from time to time. However, you can avoid any serious damage by taking good care of your air compressor, and doing a few maintenance steps.
Drain moisture from tanks
The air compressor's tank will collect moisture from the air that comes out of it. The tank has a small valve for draining, so make sure you take some time to drain that excess moisture.
Clean the air filter
The air filter is probably the most important part of an air compressor, because it ensures that the compressor does a smooth job on any project. You should clear the air filter often to make sure that no dirt or dust is inside. You can also change the air filter if you use the air compressor a lot.
Check hoses often
The hoses are probably the second most important element of an air compressor, because if they leak, the compressor won't work at all. Check the hoses frequently to make sure that they aren't damaged. If they are, you will need to replace them as soon as possible. It's not safe to use the air compressor without proper hoses.
Use the manual
If you have any questions about your particular air compressor, you can simply check your user manual. This guide has all the answers to any issues you may have with your compressor. If you notice something isn't right, check the manual right away to see if there is anything you can do to fix the problem.
You might need to replace a part or get it looked at by a professional, but it's always a good idea to try and fix the problem yourself. These few tips will definitely prolong the life of your air compressor, and allow you to use it for years to come.
Final Verdict
After doing research, I would recommend buying the Quincy QT-54 Splash Lubricated Reciprocating Air Compressor & Industrial Air ILA4546065 60-Gallon is The best shop air compressors, who have a larger shop and need a high-powered machine that can run different type of tools smoothly. It is very versatile, and is made for both industrial and DIY use. It is very quiet and smooth, yet durable and powerful. Plus, it is reasonably & much more efficiently priced . This is the air compressor you are going to want for all of your projects!