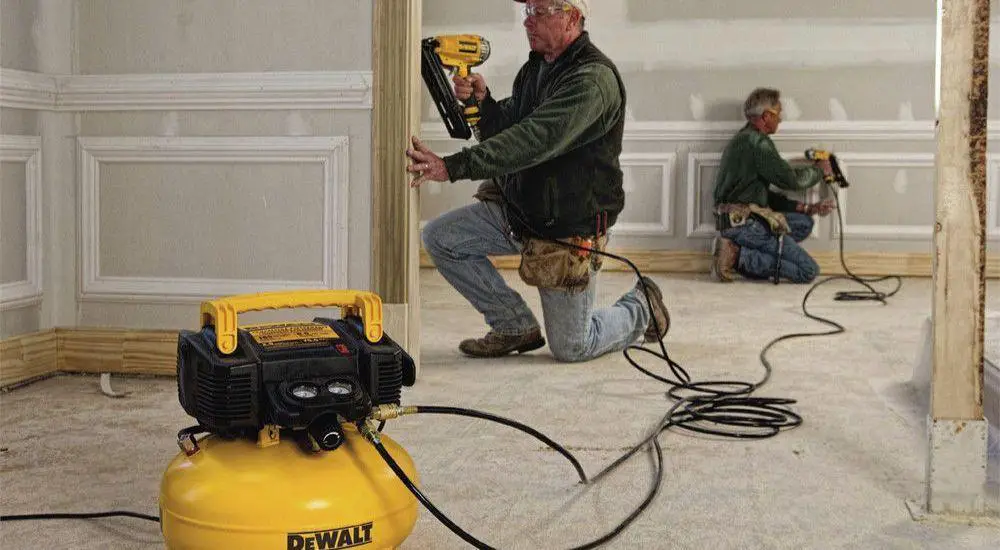 Are you in the lookout for the best small air compressors? Do you quite understand the importance of small air compressors? Small air compressors are machines that offer some technical ability and can be used in industries as well as homes. They come in handy when doing some light to medium errands around your home.
Many people find it hard to make a choice when buying a small air compressor because of the wide variety of features and specifications that come with these compressors. Unless one is up to date with the different air compressors out there, it can quite be confusing in decision making. Therefore, one must be conversant with air compressors before venturing out to acquire one.
Best Small Air Compressor – Comparison Table
| Product Image | Name | Max Pressure | Editor Rating | Price |
| --- | --- | --- | --- | --- |
| | DEWALT Pancake | 165 PSI | | |
| Top Pick | California Air Tools 10020C | 40 PSI | | |
| | Makita MAC700 | 130 PSI | | |
| | California Air Tools CAT-1P1060S | 90 PSI | | |
| | Rolair JC10 Plus | 90 PSI | | |
Top 10 Best Small Air Compressor Reviews in 2022
1. DEWALT Pancake Air Compressor, 6 Gallon, 165 PSI (DWFP55126)
The DeWALT DWFP55 pancake model is the ideal air compressor for individuals on the lookout for a compressor with a powerful operation. This model can deliver a pressure of up to a maximum of 165 PSI from its air tank with a holding capacity of 6 gallons. This gives an allowance for the air compressor to run double air tools concurrently and enhance its quick recovery. The DeWalt Pancake Air compressor is designed to have a round body shape. This particular design enhances its capacity of storage as well as its visual outlook. It is also very compact and lightweight which means that it can be carried around and stored in a favorable spot in the garage. This is also enhanced further by its convenient cord wrap.
Its motor is of a very high efficiency which in turn makes it easy to start it up even during cold weather or cord application. It also comes with an oil-free pump that enhances its life cycle offers operation that requires no maintenance at all. It features an outlet tube that can be rerouted to avoid it being a catch point. It comes with two couplers that are universal to easily support two users at a time. The couplers together with the high flow regulator can improve the air tool performance as well. Its console cover help to protect the air compressor's controls and can also be removed to enable repairs to be done easily. It also features the ball drain valve that is mainly useful in a quick and thorough draining of the tank. This air compressor also comes with leg covers made of rubber that help in the prevention of marring.
 Pros
Works efficiently in cold weather
Easy to store
It is lightweight and of heavy-duty
 Cons
It is noisy
Smaller ball bearings
2. California Air Tools 10020C Ultra Quiet Oil-Free and Powerful Air Compressor
The California Air Tools 10020C Air Compressor has been specifically designed to be a small air compressor in the modern-day industry that is very quiet. It has a powerful 2.0 HP motor that can operate even at 1680 RPM only which makes it emit less noise and does not wear out easily.
The newest motor series for the ultra-quiet air compressors comes with a unique design that helps enhance its duty cycle as well as allow for the run time that is long and continuous.
This particular air compressor comes with a piston pump system that is dual and oil-free. This system has been engineered to guarantee both durability and high performance.
The oil-free dual-piston pump is known to offer a long life cycle before it can completely wear off and it is approximated to be more than 3000 hours compared to other air compressors with approximated life cycles of less than 500 hours. This pump gives an allowance for the air compressor to be used in a wide range of temperatures as well as uneven terrains. It also has a feature of an easy-start valve that makes it easier to start up this air compressor while using fewer amps in starting. The start valve lets out the air in small amounts from the pump during start-up which produces a condition known as no-load that allows the motor to have a free spin. This particular model known as no-load uses fewer amps when starting even in cold temperatures. The compressor also comes with a large air tank made of steel and has a holding capacity of 10 gallons. The tank has a wheel kit that makes movement easy.
 Pros
It is super quiet
It is lightweight and portable
Long life cycle
Easy start-up
 Cons
3. Makita MAC700 Air Compressor- Electric
The Makita MAC700 Air compressor is considered to be the beast of air compressors and mainly recommended for use by professionals. It comes with powerful tools that translate to its amazing performance and ranks on top of all the others in terms of durability, performance, efficiency, and value for one's money. The compressor has been built to feature a cast iron that is solid which provides for maximum toughness for its users. It comes with an HP motor that performs all work at once and the solid piston enhances its overall performance. It comes in a size that is compact and lightweight to enhance convenience to its users while carrying it around.
Its pump is highly powered and is usually oil- lubricated to make its operation and running to be smooth. It has a large tank size that can accommodate up to 130 PSI of pressure which is used to run any kind of tool with no hitches.
The air compressor can run on a low AMP which prevents machine failure during voltage drop. It is also able with less noise. The air compressor comes with sturdy components as well as tools that improve its strength and therefore can work efficiently for long periods. It also comes with a feature of a portable handle and valves for draining water and oil as well as a discharging tube that helps in dissipating the heat and cooling it.
 Pros
Quality is guaranteed
Its performance is unrivalled
Runs with less noise thus offering comfort
 Cons
4. California Air Tools CAT-1P1060S Light & Quiet Portable Air Compressor
The California Air Tools CAT- 1P1060S Air Compressor is known to be one of the quietest air compressors in the modern industry. During operation, it can only produce a sound of approximately 56 decibels. It comes with a 6 HP motor that can work at 1680 RPM only which makes it emit less noise and doesn't wear easily.
The design of the single-piston pump is uniquely designed to offer high performance as well as durability. It has an air tank made of steel and with a holding capacity of approximately 1.0 gallons. The tank is lightweight which makes it easy to move around. It comes with a single-piston pump that is oil-free and specifically built to have a long life cycle of approximately 3000 hours compared to other air compressors with life cycles of less than 250 hours.
This particular oil-free pump gives an allowance for use of the air compressor in a wide range of temperatures and terrains that are not uniform. The compressors have a 90 PSI pressure value which makes it easy to use airbrushes, staple guns, blowguns and other types of guns.
The California 1P1060S Air Compressor is best suited for use in garages and is very ideal for tire inflation and cleaning and balls for sports. It is highly recommended for individuals working inside and do not want any noise pollution.
 Pros
Emits less noise
Requires minimal maintenance
It is lightweight making it easily portable
It is oil-free
 Cons
Low capacity tank
Less powerful
5. BOSTITCH Pancake 6 Gallon Air Compressor- Oil-free
This air compressor is best suited for workspaces located at home and any other small scale projects. They are relatively smaller in size and quiet during operation offering a quiet working environment. The compressor comes with a huge power capacity. Its tank capacity is quite large as well as its PSI value. It is usually coded but still, it tends to be a bit light and as a result, it is portable enough to fit at different workplaces if the need arises.
This air compressor also comes with a motor that offers high-efficiency levels. This makes it easy to start up the compressor even during cold weather in winter or when in need of an extension cord. It has a regulator for controlling high flows and a coupler that is used to improve the performance of the air tool.
The oil-free feature of this compressor makes it long-lasting while its pump offers many conveniences for use as it doesn't require any maintenance. This compressor also comes with double hoses for multiple tool usage and connectivity.
 Pros
It is noise-free
It is oil-free
Durable
Offers convenience for use
 Cons
Doesn't come with a hose or gun kit
6. Makita MAC5200 Big Bore 3.0 HP Air Compressor
This particular air compressor is very versatile and comes with features that make it easy to use and convenient in handling different tasks. Its performance is greatly improved by its features of a cast iron pump together with a cylinder that is of a big bore. This also provides for quick recovery time. It comes with a powerful motor that enhances its productivity. The Makita big bore air compressor has a pump that is mainly lubricated by oil to create cooler temperatures for efficient running and this is also important in reducing wearing off. The cast-iron cylinder that is also very durable is also able to reduce the wearing off and improve the pump life. The cylinder can be removed to enable easy maintenance.
It features a handle that is foldable and built with a low profile design to enable easy storage while the handle is folded. It has rugged wheels that make it easily portable between different job sites.
It has a storage compartment that is inbuilt and can store one's accessories and air fittings conveniently. It also has an industrial air filter that enhances its air intake making it very efficient. The oil sight glass allows for the convenient and easy maintenance of this compressor.
 Pros
Rugged wheels make transportation easy
Comes with a versatile design
It is very affordable
 Cons
7. DEWALT D55140 Air Compressor
The DeWALT D55140 Air Compressor is usually gas-powered and has a tank with a holding capacity of 1 gallon. It is also oil-free and somehow quiet. It comes with a construction that is lightweight and highly durable and the hand-carry compressor offers convenience in handling as well as makes to be highly portable. It is considered to be a one-person tool and can be depended upon for great efficiency.
It comes with a motor of 2.6 amps that offers high performance as well as quick recovery. The motor is also able to offer easy start-up and reduces chances of tripping in breakers. The high flow regulator offers air pressure to a maximum point which increases its performance in doing tasks.
The pump feature which mainly oil-free and long-lasting guarantees operations with minimal maintenance. The unique design of this air compressor ensures that it is highly durable and can last for a very long time. Its design features a roll cage and a protection frame that is made to prevent it from wear and tear or any other damages that may be accidental.
The DeWALT Air Compressor also features four-legged support that offers it balance and stability and therefore it can be used on any surface on its own.
 Pros
Compact and lightweight
Easy to store
Stable leg support
Unique design
 Cons
Doesn't come with any accessories
8. Rolair JC10 Plus Oil-Less Air Compressor
This is another small air compressor that is very quiet and offers much portability thanks to its lightweight nature. It is built to have a compact design with a cylinder base. It is ideal for powering air tools that are pneumatic around workplaces and indoors. This particular air compressor comes with the power and portability that is mainly associated with the oil-less compressors of the past years. They come with a control system that is very unique making them easy to use and can be moved around with many conveniences.
They feature a cast aluminum cylinder which is oil-free and therefore the compressor can operate efficiently with very minimal maintenance. This makes it very ideal for use by individuals daily.
 Pros
Compact and portable
Lightweight
It is oil-free
Produces less noise
 Cons
9. Senco PC1010N Finish Portable Compressor
This particular air compressor is very compact, lightweight and is built from sturdy material. It is specifically designed while keeping in mind the needs and demands of any professional contractor. It is an oil-free and very powerful compressor with minimal maintenance required for it to operate. Its time figures are impressive with 102 seconds for pump uptime and 27 seconds for recovery time.
Its compact design enables it to be easily portable and the gauges on the control panel can be read easily while the control is made to be easily accessible. This compressor is considered to be ultra-quiet with 68 dBA noise levels. It features a coupler with a universal design that makes it compatible with a wide range of air tools.
The oil-free pump and the induction motor bypass the need of having regular maintenances. The motor features a protective breaker located on the pump which can trip when the amperage draw is excess.
This helps protect the operator as well as the motor. The safety relieves valve feature ensures that there are no system failures by doing the pressure relieved from the system when the compressed reaches a set level.
 Pros
Can handle different small tasks
It is quiet
Offers value for money
Lightweight and compact
 Cons
10. DEWALT DCC2560T1 FLEXVOLT 60V MAX 2.5 Gallon Cordless Air Compressor Kit
This is one of the small air compressors that are cordless but still very powerful. It features a motor that is brushless and can be combined with an oil-free pump that offers a cordless convenience similar to that of a corded tool.
Another notable feature of this particular compressor is its regulator that is one turn and offers pressure adjustment in a faster and accurate way. The knob is easily adjusted to face a PSI that is desired by the user. The compressor can self-regulate on its own after that. This compressor comes with a roll cage that is highly durable and able to offer protection to the tool. The rubber feet ensure that the tool doesn't move around during use. The maximum tank pressure of this compressor is approximately 135 PSI which offers the most ideal pressure and flow of air for use in particular applications such as trimming.
This model is considered to be very compact and lightweight which enhances its portability and is very ideal for many applications such as molding projects and other cabinet or furniture finishes.
 Pros
Lightweight and portable
Highly durable
Oil-free pump requiring minimal maintenance
 Cons
A bit noisy compared to other models
How To choose The best portable small Air Compressor
The following are some of the key factors that you need to take into consideration when looking for small air compressors,
Size of the tank
The tank size of small air compressors is a really important factor to note about. Most small air compressors come with tanks of about 1-8 gallons. If you need a compressor that can hold air for longer then you should go for one with a large tank.
This will translate to longer working hours without the need for refilling. However, for small applications, you can go for a compressor with a small tank size for effective functionality.
Portability
There is no single individual who wouldn't want a small air compressor that offers many conveniences during use. The ease with which you can carry the compressor and move around with it contributes a lot to its portability.
The design and shape of the compressor will most definitely determine how portable a compressor can be. A handle and movable wheels are also essential in making any compressor portable. Having a portable compressor is important as it makes it easy and convenient to use it anywhere.
Levels of noise
This is one of the major factors when looking for a small air compressor. How much noise a compressor will emit and how much that will affect you and others is very important. Most of the small air compressors can function quietly but some are very noisy.
Therefore, when shopping for a compressor it is good you check its noise levels more especially when you will need to use the compressor in a closed place or indoors.
CFM capacity
CFM is simply cubic feet per minute which stands for the speed a small air compressor takes to provide air. This means that small air compressors are not ideal for tools that may require a lot of air.
When you want to use multiple on a small air compressor, you should buy a compressor with a high CFM to cater for this. When using a tool that requires a lot of air supply, you will have to stop midway through your work to allow the compressor to accumulate air.
PSI rating
PSI rating stands for pound per square inch. Each small air compressor comes with its PSI rating. The PSI rating of a small air compressor helps determine the type and number of tools that can be used on the compressor. A high PSI rating will mean that powerful and multiple tools can be used on the compressor at once and vice versa.
Others considerations when looking for a small air compressor include; Usage Price Source of power
Advantages of small air compressors
Small air compressors operate on simple mechanisms and are easy to use. They come with a lot of advantages which make them an essential machine for a lot of people. Some of these advantages include the following;
A. Versatility. A single air compressor can be used in a wide range of applications and serve different purposes in the workplace.
B. Efficiency. An air compressor is simply very efficient in performing any work. Its wide range of features and parts enable it to perform work easily and offer the desired results.
C. Affordable. Most small air compressors are very affordable because of their size and functionality. They are budget-friendly to many individuals looking to buy one for residential use.
D. They are durable and long-lasting machines. This is mainly because they are built from strong and heavy-duty materials.
E. They offer much flexibility and convenience during use as a result of them being portable and lightweight.
F. They are best suited for most work environments.
G. Most of the small air compressors require very minimal maintenance
H. They do not cause noise pollution to the environment.
I. They tend to save a lot of time and energy.
What small air compressors used for ?
As I have already said, small air compressors are very versatile machines that can be used for a wide variety of applications that cannot be exhausted entirely. Different air compressors are used for different applications. Some of these essential uses of small air compressors include;
Small air compressors are used to inflate car tires and other inflatable products in garages and service stations. They can also be used to blow up balloons and sporting balls.
When a compressor is attached to a nail gun, it can be used by carpenters to build up furniture in their workshops.
Air compressors are used together with a paint sprayer and an airbrush to paint large surfaces such as vehicle bodies and bicycles with a lot of precision.
Air compressors can be used in farms to get rid of unwanted weeds and plants by blowing them with the pressurized air from the compressor.
Air compressors are used to clean equipment, tools or tight surfaces on machinery or durable materials in a workplace by directing the air pressure from the compressor to these items.
Water pumps can work effectively in pumping water when used with small air compressors. They are useful in pumping water for irrigation or cleaning purposes.
They are used to perform sanding in an auto shop or wood workshop
They are also used in making snow for entertainment purposes at ski hills.
They can be used in pneumatic nail guns to perform roofing of houses
They are useful in powering different air tools that are used in a repair shop for automotive.
They can be used for agricultural purposes to help in moving feeds for animals through the conveyor belts, power the dairy machinery as well as the ventilation systems of glasshouses.
Final verdict
To sum up, I recommend the California Air Tools 10020C Air compressor from the above list of the best small air compressors. This is mainly due to the fact it is ultra-quiet, oil-free and very powerful as well. This particular compressor can be used in different temperatures as well as in a wide variety of surfaces simply because it is oil-free.
It is also very light and it can be as portable as one would want it to be. This makes it easy to fit in any workplace. The most stand out feature of this compressor is that it is very powerful and has a very long life cycle as compared to the other small air compressors
Frequently Asked Questions
What amount of electricity do air compressors consume ?
The amount entirely depends on several factors which include; for how long do you use the air compressor and the technical specifications of that particular air compressor being the main ones. However, most small air compressors tend to be energy efficient.
Is the PSI rating important in an air compressor ?
In the case of small air compressors. The CFM tends to be more important than the PSI value. This is because air compressors can generate enough pressure for most jobs.
Is refilling important for air compressors ?
Yes, simply because they need enough air inside the tank to function efficiently. However, most air compressors refill their automatically and can stop midway in a task to do that.
What is the PSI range for inflating a car tire ?
The tire pressure for car tires is usually given in a sticker located in the driver's door. Most car tires are inflated at a PSI range of 32 to 35.
Oil or oil-free air compressor, which is the best ?
We have given a reference video to clear about this. However The main difference between these two air compressors is the use of oil to lubricate the piston pump.
Oil-free air compressors minimal maintenance to function and tend to be affordable while on the other hand, oil air compressors require regular maintenance but they are very durable.