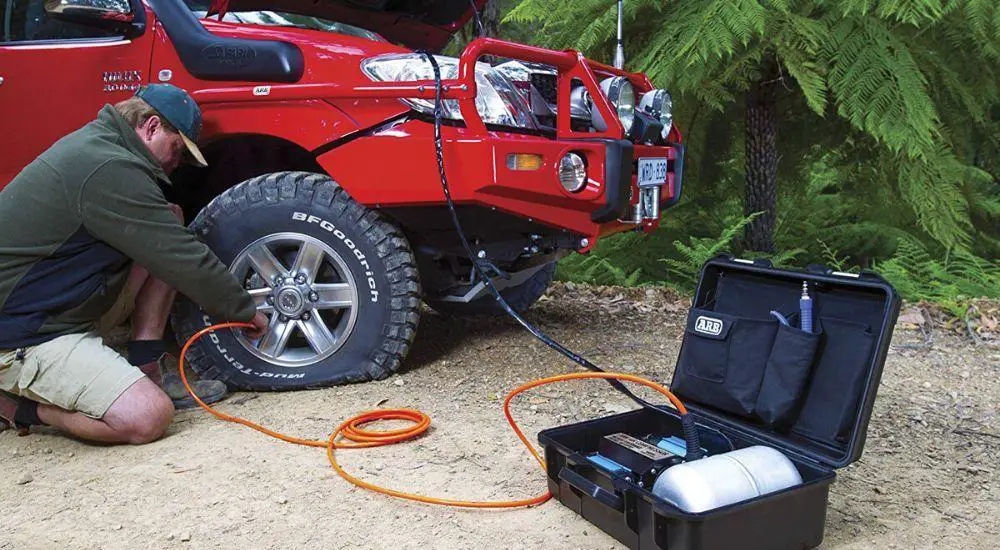 If you are a driver, you are bound to have experienced a tire puncture one time or the other. This might catch you unaware especially if it's a slow puncture. It's not the best of experience, and if you have gone through it you can attest to that.
A solution has been created for you in the form of a portable air compressor. These air compressors are small, light-weight and they offer the same functionality as the cumbersome traditional air compressors. But which are the best off road air compressors that you will find on the market?
Best off Road Compressors – Comparison Table
| Product Image | Name | Max Pressure | Editor Rating | Price |
| --- | --- | --- | --- | --- |
| | ARB (CKMTP12) 12V Twin Motor | 150 PSI | | |
| | VIAIR 400P Portable | 150 PSI | | |
| | California Air Tools CAT-1P1060S | 120 PSI | | |
| Top Pick | Makita, MAC700, Electric | 130 PSI | | |
| | EPAuto Portable | 70 PSI | | |
Top 5 Best off Road Compressors – In Detail Reviewed
1. ARB (CKMTP12) 12V Twin Motor High Performance Portable Air Compressor
The ARB (CKMTP12) twin motor portable air compressor makes the list of the best to look at. This air compressor has twin motors with a dual cylinder that makes it top the list with its fast airflow. Its compressor tank is made of strong and durable aluminum material and you will find a knob switch that allows you to regulate air pressure according to your needs.
Being a portable air compressor, a medium for carrying it around has been provided. This case is made of a polymer material that is impact resistant. It is waterproof thus protecting the compressor from coming in contact with water.
The case has compartments that to store the air hose pipe, battery plugs and other accessories which come with this compressor. It is important to note that the air compressor is mounted in the case and all you will need is to connect the plug and air hose.
To keep the motor cool, it is fitted with a ducted IP55 cooling fan and some aluminum brackets that effectively and efficiently aid in dissipating heat. It has a wonderful design and it is made for both commercial and personal use.
 Pros
Twin motor and dual cylinder
Fast airflow.
The case is impact resistant.
Easily dissipates heat.
Strong aluminum tank.
 Cons
The spare parts might be difficult to find.
It can only be bought on specific platforms.
2. VIAIR 400P Portable Compressor
The best air compressors will always have some special features and capabilities in order to fall into this category. The VIAIR 400P portable air compressor is not any different. It has a stainless steel valves with a piston ring that is dust and moisture resistant.
A thermal protector is fitted in the compressor that automatically resets itself. The motor is gearless and uses the direct drive principle. This air compressor has an input of 12 volts and for it to work properly you are advised to keep your engine on when you plug it in.
The plugs are heavy duty with full rubber insulated handles to protect against electrical shock. To protect the plug, a 40 amp fuse is fitted. It gives a maximum pressure of 150 PSI and its air hose measure 25 feet in length which allows you to reach your tires with very little ease when inflating them. You also get a 5 in 1 inflator of deflator.
The cylinder is made from aluminum alloy and to offer more protection, it is anodized. It weighs just 8.5 pounds making its portability hassle-free. Also with this off road air compressor you get a heavy duty carry bag with an aluminum tray that minimizes vibrations hence aiding in extending the life of the air compressor.
The price of the air compressor is pocket friendly and you with its features and performance, you are assured of the quality of product you are buying.
 Pros
Stainless steel valves.
The battery clamps are fitted with a 40 amp fuse
A 5 in 1 inflator of deflator nozzle.
An anti-vibration sand tray.
A deluxe heavy duty carrying compartment.The price is fair.
 Cons
The air pressure might be less.
It has a small compressor tank.
3. California Air Tools CAT-1P1060S Portable Air Compressor
If you need an air compressor with superior features, the California air tools CAT-1P1060S portable air compressor should top your list. This air compressor is lightweight and has a capacity of 1 gallon and, it can be filled in just 50 seconds. It has a powerful 0.6 horsepower pump that produces a maximum pressure of 120 PSI.
The air compressor is oil-free which means less maintenance is required and this allows the air compressor to produce clean air. With an oil-free pump, this air compressor can produce both cold and hot air.
Another feature that makes this air compressor fall in the list of the best, is that it's very quiet when in operation and produces just 56 Decibels. This is made possible because the pump operates at 1680 revolutions per minute. The air tank is made from steel material and weighs just 29 pounds. It draws a current of just 4.5 amperes and needs a maximum voltage of 100volts.
It has two pressure gauges for better control and a ¼ inch universal connector which has multiple uses. The air compressor produces heat and dissipates it efficiently. To protect it from overheating, it comes with a thermal overload protector.
It can increase its pressure output from 90 to 120 which is the maximum, in only 15 seconds which is impressive. The cord length measures 72 inches in length accommodating better movement.
 Pros
It's a heavy-duty pump.
It has is fast in inflating.
Dissipate heat fast
Low noise decibels
The maximum pressure is high.
 Cons
Its design can be cumbersome.
Too big.
4. Makita, MAC700, Electric Air Compressor
The Makita MAC 700 is fitted with Makita's big bore cylinder that enables it to give you maximum performance. This means you get increased air compression and fast recovery time with the big bore cylinder pump. It has a large exterior filter for large air intake thus consequently increasing the amount of air pressure output.
This tank has a 2.6-gallon capacity and it can provide a maximum air pressure of 130 PSI. When pondering on which features you should not miss in the off road air compressor, heat dissipation should be considered.
Its discharge tube is made from copper which is a perfect material when it comes to heat dissipation. For better portability and better protection, a roll bar is installed. The air compressor consumes minimal current and this reduces the risk of motor failure in case of an electrical fault. The pump is oil lubricated which reduces wear and tear of the off road air compressor hence increasing its life.
For ease in maintenance, an oil sight glass is fitted to show you how much oil the compressor is consuming and whether you need to refill it. The Makita, MAC700, Electric Air Compressor produces low noise when in operation.
The pump is large and rotates at 1720 rotation per minute and this gives it greater air displacement. It needs 120 volts to operate and weighs just 57 pounds. This off road air compressor offers versatility when it comes to using it.
 Pros
Large tank capacity.
Low current consumption.
It produces low noise.
It gives a maximum of 130 PSI.
A roller bar for protection and handling.
 Cons
It can be a bit heavy.
The price is on the higher side.
5. EPAuto Portable Air Compressor Pump.
Lastly, you will find the EPAuto Portable Air Compressor Pump in this list. This air compressor requires 12 volts direct current, draws at least 12 amps and needs 120 watts power to operate. It is equipped with a cigarette plug that you can conveniently connect it to a car.
For compressed air output, you are provided with a universal valve connector and additional adapters which make it versatile. It is best suited for small duty applications and it can perfectly inflate small cars and SUV tires just to mention a few.
It has a digital display reader that lights up which is ideal especially when you need it at night and you also get a flashlight as an additional gadget. It automatically shuts down to avoid over-inflating the tires when it reaches your preferred air pressure.
Also, with the EPAuto Portable Air Compressor Pump, it will shut down automatically in case of overheating due to overloading the air compressor.
The power cable is fitted with a 12 amps fuse to offer protection against power surges. It produces a maximum pressure of 70 PSI with an inflating speed of 1.06 CFM. This air compressor weighs just one pound and it is important to note that it needs a triple A battery for it to operate.
It has an exclusive design and to measure tire pressure, you are provided with a digital tire gauge that is simple and easy to use.
 Pros
It is lightweight.
The air compressor is digital.
Overheat protection.
Easy to read display.
The price of the compressor is friendly.
It comes with additional adapters.
 Cons
It's too small to inflate truck tires.
The inflating speed might be slow.
How To Choose The Right off-Road Air Compressor For Yourself
It is recommended that before you buy an off-road air compressor, you should make a few considerations that are vital in enabling you to acquire one with superior qualities.
The tank capacity.
For you to realize high air pressure, you need it to have a large tank capacity or at least big enough to properly serve you. This is a consideration that most manufacturers will put in place because they want to create an air compressor that stands out and is suitable for you. Why would you need an air compressor with a large tank capacity you might ask?
The air compressor pressure is directly proportional to the size of the tank. Therefore, if you need an air compressor that will give you higher pressure, then you need one that has a large tank capacity. As we have seen from this review, you can get an off road air compressor that has a 2.6-gallon tank and it gives a maximum of 130 PSI.
The size of the air compressor.
The size of the air compressor is mostly deliberated depending on how you intend to use it. There are different air compressors on the market today and they vary in size. If you need an air compressor to inflate cars, balls, bikes, inflatable boats among other small duty types of equipment, you should go for a small air compressor.
If you intend to inflate truck tires and other heavy-duty equipment, there are big air compressors that can handle heavy inflating tasks with much ease. Therefore, it all depends on how the purpose you need the air compressor to consider the size.
Type of power input.
When searching for off road air compressor, the type of power input should be emphasized. Air compressors come in two power input options that are direct current and alternating current. For the simple to use air compressors which can be connected to a vehicle as a power source, they usually need 12v direct current.
But other air compressors man need 110-120 volts power for them to operate. This type is always used for heavy pressure tasks hence it is important to consider the power input the air compressor is designed for.
The noise level.
The noise levels should practically be minimal. Most air compressors have been designed to produce less noise. Using an air compressor that produces less noise gives you peace of mind when you are undertaking your tasks. Hence be on the lookout on the decibels an air compressor produces since this is another consideration that determines whether you will buy the off road air compressor.
Price and weight.
For any product you buy, the price should always be pocket-friendly. You do not need an air compressor that is exorbitantly priced hence causing a dent in your pocket. Another factor to consider is the weight of the air compressor. Different air compressors will weigh differently. Depending on how you intend to use it, you will need one that has the right weight to accommodate better maneuverability.
Heat dissipation capabilities.
Air compressors are bound to heat up since they are machines. With a motor rotating to operate the pump, sometimes overheating might occur. This can be dangerous for the air compressor since it can make it faulty. Therefore, the rate at which the air compressor dissipates heat is vital. Some of the off road air compressors will automatically switch off when they detect overheating and this is an added advantage.• The pressure gauge of the air compressor.• Extra accessories that come with the air compressor.• The air compression speed.• The refill speed of the air compressor
Who Needs This Particular Product ?
Off road air compressors have a variety of applications and it's a type of machine that offers versatility on its use. But who needs this particular product you might ask? Well other than inflating automobile tires, it can also come in handy back at home, workshops and even in the playing field. Here is a list of who needs this type of product.
Drycleaners.
In dry cleaning, hot air is required to dry clothes. This air is produced by air compressors which have been designed to produce both hot and cold air. Therefore, this product can be very useful for dry cleaners and with its functionality it can save you time and money.
Automobile and homeowners.
This is the most common use of air compressors, inflating tires. If you own a vehicle or a bike, you should buy this product. Since they come in different sizes, you can get smaller portable air compressors which you can carry around in your vehicle. Thus, in case you need to inflate a tire, you can be able to do so hassle-free. For homeowners, you can use an air compressor to inflate balls, kayaks, and inflatable swimming pools just to mention a few.
Farmyards.
Another place where the air compressor can come in handy is in farmyards. This compressor can be used to move pneumatic machines around the farm. This may include dairy and spraying machines that you find on farms.
Business and home workshops.
In workshops, air compressors are required. They can be used to move pneumatic tools such as hammers, saws, wrenches and it can be used to blow dust from the workshop after completing your job. Therefore, if you own a workshop, the air compressor is a wonderful equipment to have.
Which Is The Best Air Compressor Option Off Road ?
Using this comprehensive review, you can be able to realize the best off road air compressor that will effortlessly serve you. The features are properly detailed but which is the best on this list?
The Makita, MAC700, Electric Air Compressor tops the list. This air compressor gives you a maximum pressure of 130 PSI and has a cylinder capacity of 2.6 pounds. Using the Makita's engineering technology enables increased air compression and its recovery time is like none other. It has a copper discharge tube that aids in the quick dissipation of heat. It consumes minimal power and it is important to note that the pump is oil-lubricated hence the reduction of wear and tear.
To gauge the level of the oil, you will find an oil glass sight hence enabling you to do refills when the need arises. It produces less noise and needs just 120 volts to operate. This air compressor gives you versatility and with all this, it stands out from the rest.
You may Like Also, best compressors for paint spraying
Final Verdict
It is right to say that an off road air compressor is a crucial machine to have especially if you intend to take an off-roading trip. Since off-roading is unpredictable and any event can occur, having an air compressor by your side gives you a bit of assurance. This being the reason we would highly recommend this equipment for you.
Air compressors come with different features and functionality thus giving you versatility. They vary from one model to another and using this review, you can be able to buy one that is tailored to your needs. Therefore, to emphasize, make sure that you deliberate carefully on the features and things to consider in order for you to buy a superior product.