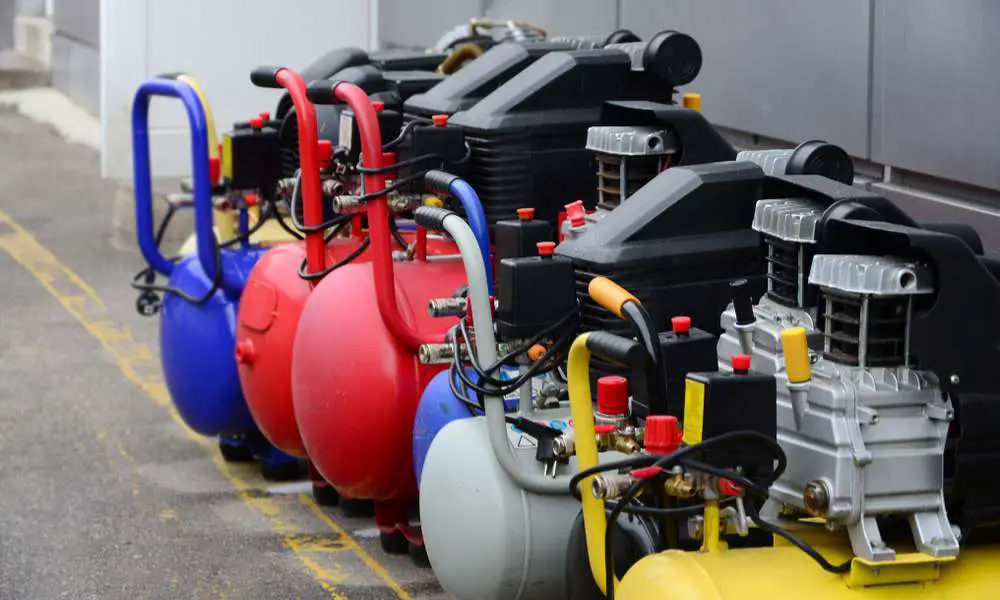 You have probably noticed that air compressors come in all different sizes. However, did you know that size doesn't always dictate the power of an air compressor? Well, understanding this small fact is the first step in finding the right size air compressor for your air tools.
Regardless of whether you are a professional, weekend warrior, or DIY mechanic, it is vital to understand the right size of air compressor for you. In this article, we will take a comprehensive look at air compressors to determine the right size for you.
What Size Air Compressor is Best for Me?
Before heading out to the local store or clicking on the purchase button, you must understand what you need from an air compressor. What makes a certain air compressor suitable for your needs? Well, here is a more comprehensive look at a few basic questions you must ask yourself.
Which Projects will I major on?
Are you constantly working with big construction projects or maintenance tasks? Will you be working on home upgrades or automotive repairs? Take your time and figure out the type of tasks that you frequently work on while at home or in the workshop.
You can start by making a list of all the projects you need to work on within the next couple of years. Having such a list will help you determine the right size of air compressor for you. You will get an air compressor that will suit all of your projects.
Which air tools do I have?
Specific tools, like sandblasters, need a constant supply of air. Such tools will, therefore, need a compressor with a large tank and increased airflow. Note that other small tools such as a brad nailer will work with any size air compressor.
It would also help if you considered the possibility of making upgrades. Take your time to figure out whether you might need to upgrade your air tools soon.
What power source do I have?
Although most compressors work well with the standard outlets, some large compressors need a 240-volt power source. Note that a few air compressors use gasoline as an alternative to an electrical outlet. Having such an air compressor will get you more flexibility and convenience.
What kind of space is available?
Note that the large air compressors have big tanks that eat up a lot of room. Ensure you purchase an air compressor that fits within your storage facility. Look at it from this perspective, a 30-gallon compressor cannot fit in your small garage.
Where will I use my air compressor?
When you do all your work in one place, the design of your air compressor doesn't matter. However, if you plan on moving the compressor around, you will need a lightweight and portable design. An air compressor with wheels is an excellent choice when you move frequently from one point to another.
An air compressor with an upright design will take up less space than one with a horizontal design. Carefully consider such small factors when shopping around for the best air compressor. Saving up space means you get more space to work on your projects and store other tools.
Air compressor tank size
The tank size of air compressors ranges anywhere between less than 1 gallon to 60 gallons and more. Note that the tank size dictates the amount of time your compressor can run before needing to generate more compressed air.
The tools that need a continuous supply of compressed air, therefore, need a large tank air compressor. Other tools operate in short bursts and can work effectively with small tank air compressors. However, note that an air compressor with a large tank has a longer lifespan than one with a small tank.
With large tanks, the motor won't need to constantly cycle on and off. You will, therefore, get long-lasting services from your equipment. A small tank means that the motor is probably overworking, especially when working on large projects.
For example, think of someone setting up one of those large inflatable pools with a small-size compressor of less than 1-gallon. The air compressor will run constantly for a long period, which means that the motor might break down. It will also take about three hours before you have your pool all set up. However, a 30-gallon compressor will have the task completed within a few minutes.
Note that a large air compressor needs a good quality air hose reel to ensure ease of organization and use.
CFM requirements for your air tools
The CFM rating needs to be a vital consideration when shopping around for the best air compressor to suit your needs. Note that it can be abbreviated as SCFM by other manufacturers. This rating needs to at least match the minimum CFM requirement of your air tools.
However, CFM will change depending on the pressure set on the compressor. Always use the CFM at 90 PSI when comparing different units. It would also help if you took the time to look at the horsepower rating.
Although the HP rating is not as important as the CFM rating, it will give you a good idea about the power of an air compressor. The HP will show you the amount of time your motor will need to refill the tank. The CFM, on the other hand, dictates the amount of power provided to your air tools.Notice that all your air tools have a recommended CFM rating from the manufacturer. Check which air tool in your possession has the highest CFM rating. Multiply that number by 1.5 to determine the CFM rating you need from an air compressor.
Multiplying by 1.5 gives you a little bit of wiggle room considering CFM varies slightly when dealing with a project. you could also get a model that lets you run multiple air tools simultaneously.Note that having an air compressor with a high CFM rating is always a huge plus. Understand that you might want to upgrade your air tools soon. A large air compressor will ensure give you room to upgrade your tools.
Air Tools CFM Chart
Below is an existing Air Tools CFM Chart to help you determine the amount of CFM that is suitable for any of your tools. Understand that our guide gives you the basic CFM requirement for a majority of tools in the market.
| Air Tool | Avg. CFM 90 PSI | Avg. Operating PSI |
| --- | --- | --- |
| Air Hammer | 4 | 90-100 |
| Angle Grinder | 5-8 | 90-100 |
| Blow Gun | 2-3 | 90-100 |
| Brad Nailer | 0.5 | 70-90 |
| Die Grinder | 5 | 70-90 |
| Disc Sander | 20 | 90-100 |
| Drill | 4 | 70-90 |
| Framing Nailer | 2 | 100-130 |
| Grease Gun | 3 | 120-150 |
| Hydraulic Riveter | 4 | 90-100 |
| Impact Driver (1/2″) | 4 | 90-100 |
| Impact Driver (3/4″) | 7 | 90-100 |
| Impact Driver (1″) | 12 | 90-100 |
| Impact Wrench (3/8″) | 3 | 90-100 |
| Impact Wrench (1/2″) | 4 | 90-100 |
| Impact Wrench (1″) | 10 | 90-100 |
| Orbital Sander | 6-9 | 70-100 |
| Paint Spray Gun | 4-8 | 90-100 |
| Ratchet (1/4″) | 3 | 90-100 |
| Ratchet (3/8″) | 4 | 90-100 |
| Speed Saw | 4 | 90-100 |
| Staple Gun | 2 | 70-90 |
| Tire Inflator | 2 | 125-150 |
CFM chart from garagetooladvisor.com
Narrowing down our choices
Once you determine the right tank size and CFM rating of your ideal air compressor, it is time to narrow down the choices. Understand that there are different types of air compressors in the market. Let us take a comprehensive look at everything you need to know.
There are two basic classifications of air compressors: 2-stage and single-stage air compressors. Ideally, the two-stage variants are best for car painting than the single-stage counterparts. This is something that you need to look at if you plan on using your air compressor for car painting.
Note that a two-stage compressor will get you around 4 CFM for every horsepower, while the single-stage model will get you around 1 CFM with every horsepower. What this means is that the total power you get with your device comes down to horsepower.
The single-stage compressors are available in online shops and hardware stores. However, their low CFM rating is not ideal for large tasks and workshops. These models are ideal for regular DIYers who work on small home projects.
However, the two-stage air compressors feature two distinct categories: rotary screw compressors and reciprocating compressors. The reciprocating models are much more effective than their rotary screw counterparts.
If you want a low-maintenance model, then the rotary screw compressors are an excellent choice. The reciprocating variants need regular maintenance, especially when used frequently. The good news, however, is that they are quite long-lasting.
Finally, the reciprocating air compressors are quite expensive and will cost you're a fortune. They are, therefore, ideal for workshops that regularly use air tools. Regular DIYers are better off with the cheaper rotary screw models.Determining your budget
Before purchasing any piece of equipment, you should always come up with a suitable budget. Note that you don't need to spend a fortune, especially when you are on a budget. What you need is an air compressor that suits your needs at an affordable price.
Ensure you find an air compressor that works with all your air tools without breaking the bank. Carry out extensive research to find a suitable model at the best price. The good news is that there are so many options in the market.
Although you need to consider your budget, the cheap choices are never an excellent idea. Note that most of the cheap models are designed with low-quality materials that will need regular replacements or repairs. Understand that these regular repairs will cost a fortune in the long run.
Conclusion
Are you looking for the best size air compressor? Well, our extensive guide should help you find a suitable model that works for you. An ideal air compressor will suit all your air tools, fall within your budget, and have a suitable size tank. Note that a high-quality compressor will get you long-lasting services, making them worth the purchase. Use our guide to pick out the right size compressor for you.