If you are looking for the best paint edger, this guide will help you find one. As someone who does a couple of paint projects here and there, you will want to be able to find one that does a good job. We all know not all paint edgers are created equal.
So it's important to find one that will fit your budget. At the same time, you'll want to find one that will allow you to make a paint job look high quality. Finally, you also want it to be easier to control.
While there are many paint edgers out there, some of them may not do such a good job. It may be due to poor quality, or it could be too difficult to move from one end to the next. We will explain what a paint edger is, how it's used, and what you need to do to find one for your next painting project.
You will also find out about the advantages of having a paint edger. You may be surprised what it can do compared to a brush and painter's tape. 
With that said, let's get right to it.
What is A Paint Edger?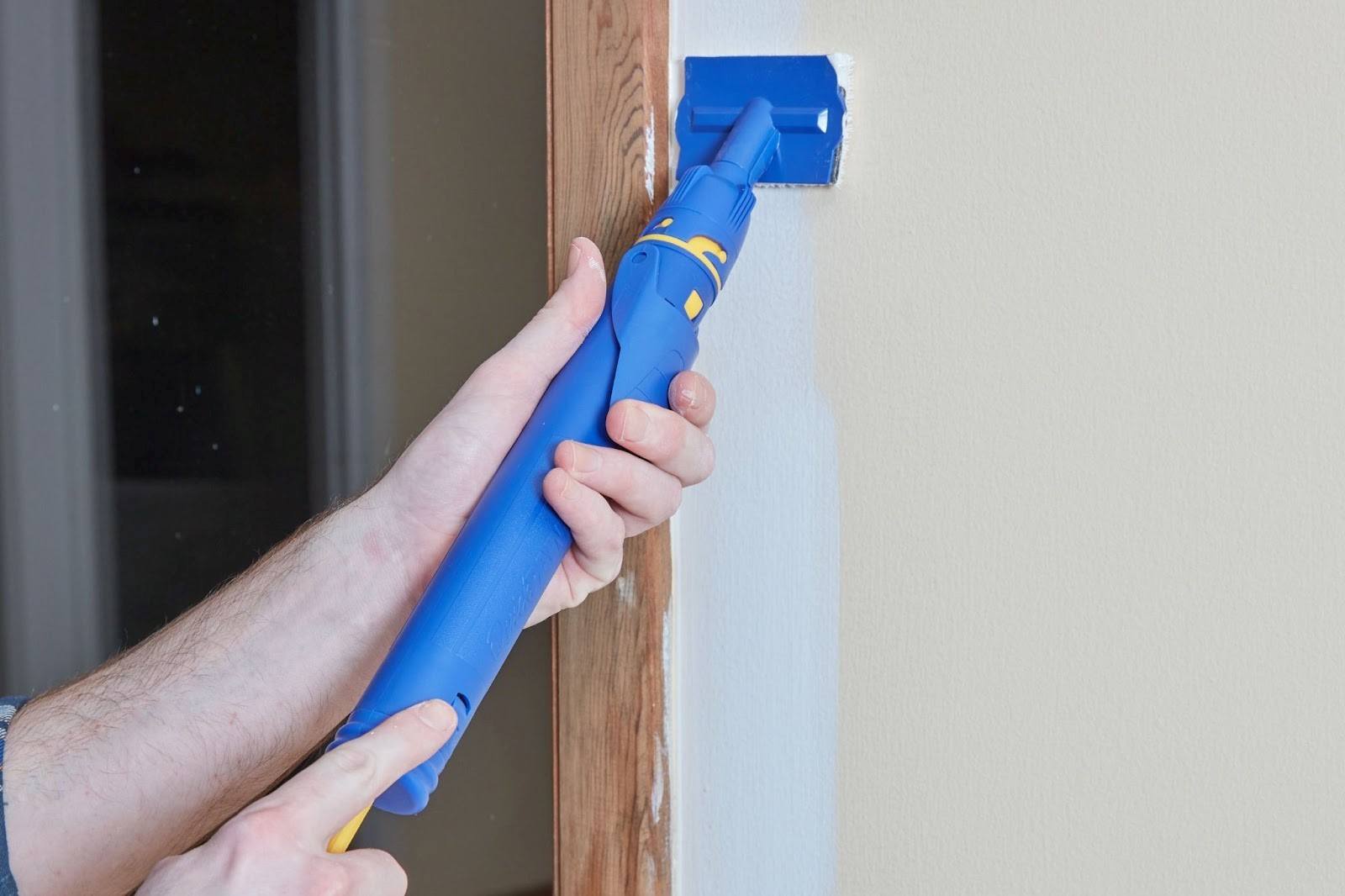 A paint edger is a tool used to apply paint in areas where a wall meets the ceiling. It may also be used when the wall meets a baseboard or window frame. 
This tool consists of a small pad, small wheels for movement, and a handle for excellent control. Most of these edgers come in a rectangular shape. However, if you are working with tighter corners, consider getting a triangular edger since a rectangular one might not give you enough coverage.
A paint edger uses a pad that will allow you to apply the paint in ways a brush cannot. It also eliminates the use of painters' tape, which is designed to protect the trim and moldings from being painted on themselves.
If you are looking for a tool that will make painting a lot easier even when it needs to be done fast, this is a tool you'll want to use. If you've paint projects that need to be completed on a deadline (or if time isn't on your side), this is your go-to option.
We encourage you to get one regardless of whether you have all the time in the world to paint or not. We say this in the context of making sure your painting projects are easier rather than complicated.
Buyer's Guide: What to Consider When Purchasing A Paint Edger?
As mentioned before, not every paint edger is created equal. So it would make sense to find one using this buyer's guide we are putting together for you. 
This includes things you want to consider when looking for an edger. Keep an eye out for what to look for so the buying process is easier. Let's take a look at the following:
Price
The price of a paint edger will run anywhere from $10 to about $100. The more expensive it may be, the better the quality.
However, we'd like to say that sometimes the most expensive might not always be the best quality. Likewise, we also would not go for super cheap as you are almost guaranteed subpar quality.
We highly suggest finding the best quality you can afford in your budget. Also, keep in mind that you may not be using the edger as often. So you may get away with using a cheaper one if you plan on using it once or twice a year.
Size/Shape
As mentioned before, paint edging tools come in different shapes and sizes. Most of the time, edgers are small and rectangular. Yet, you'll be able to find ones that are slightly larger in size.
You may also find triangular edgers. These can only be used if you are looking to paint in very tight corners. Otherwise, a small rectangular edger will be enough for you to work with.
Replacement Pad Options
Replacement pads can be widely available and at a good price. Some others may not be available or could be pricey.
If replacement pads are hard to come by for the edger you choose, you want to conserve them. Clean them as often as possible and refrain from replacing them every single time you apply a coat of paint.
As long as you are able to wash off the paint with ease, the edger pad can still be useful. Otherwise, if the paint isn't coming off, you'll want to switch it out with a new one.
Extension Attachment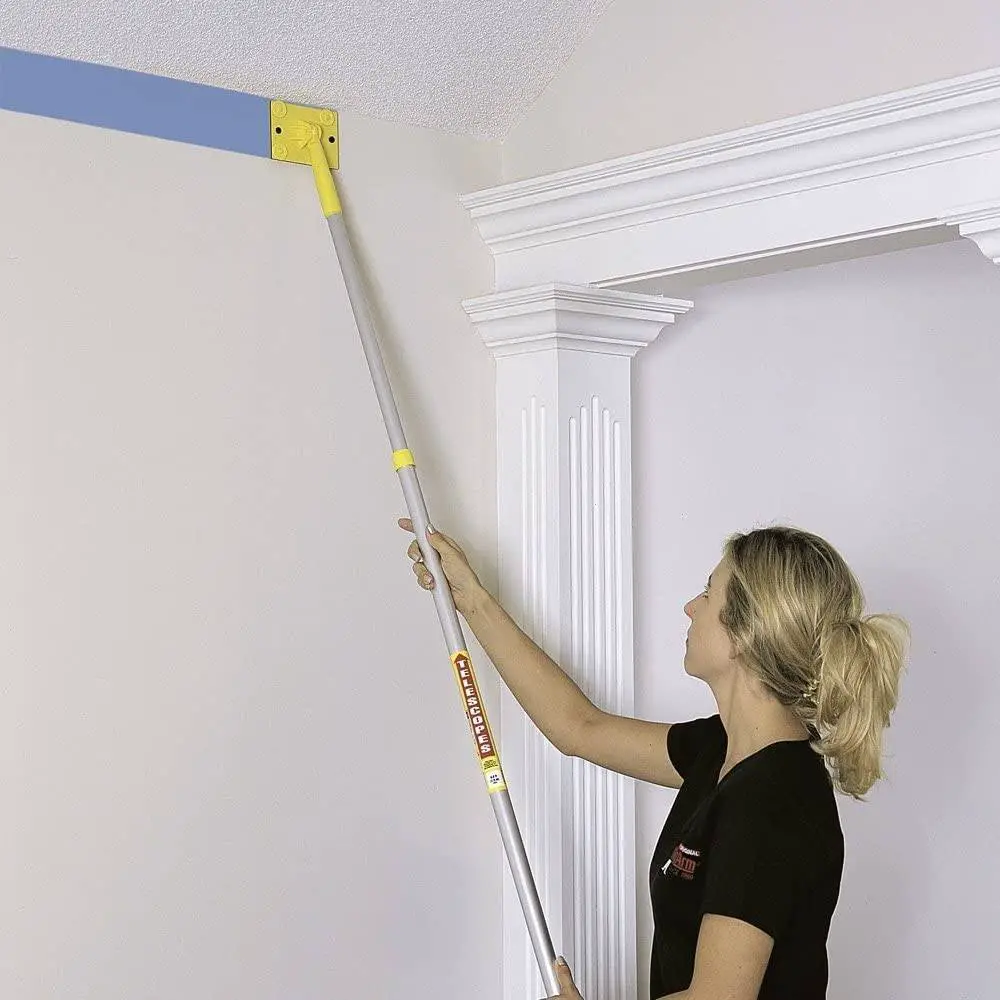 Of course, there may be times when part of the wall can't be easily accessed by a ladder. It can get to the point where you may need an extender to reach it. For this reason, find a paint edger that has a feature where you can connect an extension pole to it. You can still be able to get to those hard-to-reach places if they are too high.
However, if you can reach the top of the wall or ceiling by ladder, there would be no point in using an extension attachment.
Materials Used
Paint edger tools are either made with stainless steel or ceramic. With that said, it's important to know which one to get. It comes down to one word: durability.
Stainless steel ones are usually durable and can last quite a while. The ceramic ones may be strong, but they can break easily and can also rust quickly.
When choosing the material, it's good to know not only the strengths but weaknesses as well. At the end of the day, stainless steel or even carbon steel can be good for the long haul.
What are the Advantages of Having A Paint Edger?
You'll experience a few good advantages when you own a paint edger. Let's take a look at each one, so you know what to expect:
No Need for Painter's Tape
One of the cool things about paint edgers is that it eliminates almost any need for painter's tape. So you save money and time in the process.
If that weren't enough, you would be able to keep the paint away from the moldings, trim, or baseboard. It may take a bit of practice, but once you get the hang of it, you'll be able to keep painting 'within the lines.'
Now, this advantage will apply to almost every painting situation. But sometimes, you may be in a situation where you'll need painter's tape and even a small brush. Specifically, we are talking about situations where you need to do some complex cutting. A paint edger might not be as flexible in getting very tight or complex corners. That's where a brush and painter's tape can come into play.
Just take your time and make sure you have your spots covered. This will help you prevent any kind of imperfections or missed spots that can occur.
You'll Have Perfect, Clean Edges Every Time
Tying it to our previous advantage, clean and perfect edges can be done without painter's tape. A paint edger is designed to ensure that you are able to apply paint to the edges without having to overlap or go over.
If you want to make sure your edges are covered without overdoing it, you'd want to use a paint edger over a brush. A brush can leave spots behind, and the paint job can look incomplete.
You Can Apply Paint Faster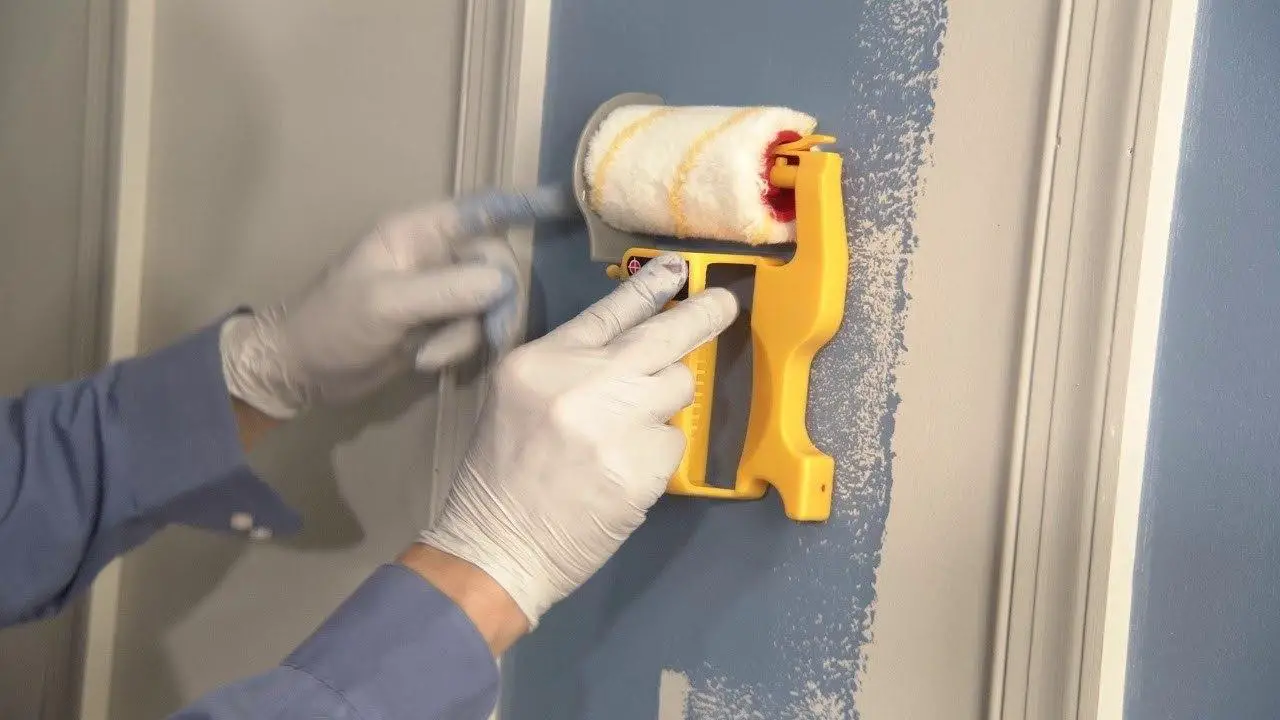 Youtube-https://www.youtube.com/watch?v=2ybsleKdBYc
If you are running on a finite amount of time, an edger will work to your advantage. If you're crunched for time, you should use this and a paint roller to get the job done.
Not to mention, it's how professionals do it as well. If you want to save yourself a bit of time and prevent imperfections and missed spots, a paint edger will certainly be a good tool to have in your painting arsenal.
FAQs
So now that you know some of the advantages of a paint edger, let's discuss some questions that are often asked about them.
Here are some common questions that we get asked:
What are the most effective edgers?
We can't say for certain because there are things that will vary from one paint edger to the next. Size, weight, and shape will differ.
Also, it can depend on the overall quality of the edger as well. The most effective edger is the one that will allow you good control, the ability to work the edges with ease, and is easy to apply every time.
Is a paint edger really necessary for any painting project?
You don't have to use a paint edger if you don't want to. However, we do suggest using it if you want to save yourself time and money. Also, if you don't want to deal with the task of applying painter's tape all over the place, an edger will do a good job.
When is a good time to use a paint edger?
The best time to use a paint edger is when you are painting an interior wall. At the same time, it can also help if you are looking for the closest you can get to a professional paint job.
Remember to not paint a room without starting along the edges and corners first. Also, a brush or roller can get so far. But it won't be able to get into tight spots as good as a paint edger.
When should you not use a paint edger?
If you are new to painting, we highly suggest not using a paint edger just yet. Focus on the basics before using other tools. 
An edger may be great for its intended purpose. Yet, it's not a perfect tool. So if you are learning about interior painting, this is when using painter's tape will be a good idea.
What is cutting?
Cutting, in painter's terms, is when you have two colors that are adjacent to each other. It's important that you set a straight line in order to separate them.
This usually occurs when the wall is one color and the molding or trim is another. You cut in against them. Make sure that the cutting line is straight so you can make the paint job more professional-looking.
The best way to create these straight lines is by using a paint edger.
Should you cut in before or after painting?
It doesn't matter. You can start by cutting or making it the last thing to do. A lot of DIY people do it first, as it makes it easier for them to get an overlap.
Is there a 'cutting' tool that you can use?
There really isn't a tool for cutting per se. So it would make sense to use painter's tape and brush if needed. A paint edger may also be a good option depending on the situation.
Can you cut the day before you paint?
You can be able to cut the day before you start the paint job. However, that will depend on your schedule.
Conclusion
If you need to look for a paint edger, we hope you'll be able to find one using this guide. The buyer's guide should be enough to help you make an educated decision.
Remember, there is no perfect paint edger. You can find one based on the quality, performance, shape, among other things. We hope this guide has been a big help to you. 
When you put a paint edger to good use, it's always a good idea to consider using it whenever you need to leave clean edges. Once you get the hang of it, you won't need to use painter's tape at all. You can just go straight to the project and not worry about painting over moldings, fixtures, or outlets.
Whatever your painting project is, good luck! And remember to take your time and not worry about making things too perfect.