If you are planning on painting your walls, keep reading. We will be discussing the best wall painting brushes that are perfect for wall painting in a moment.
To help you choose the best one, we'll put together a buying guide. We have painted so many walls over the years, and we dare say that the projects get easier with every opportunity.
Using just a regular old brush is the easiest way to get the job done. Sure, you can use a roller if you want to. But when the mood strikes, you can just get it done with a brush.
Whether it's your kitchen, a spare bedroom, or somewhere in your house, painting can be a fun thing to do. You can spend the weekend painting a small bedroom and be able to look at it in awe once it's all finished.
If you are new to wall painting and need to choose a brush that fits you best, keep reading. Let's move forward and discuss more about painting with a brush.
Why Should You Paint Walls with A Brush Instead of A Roller?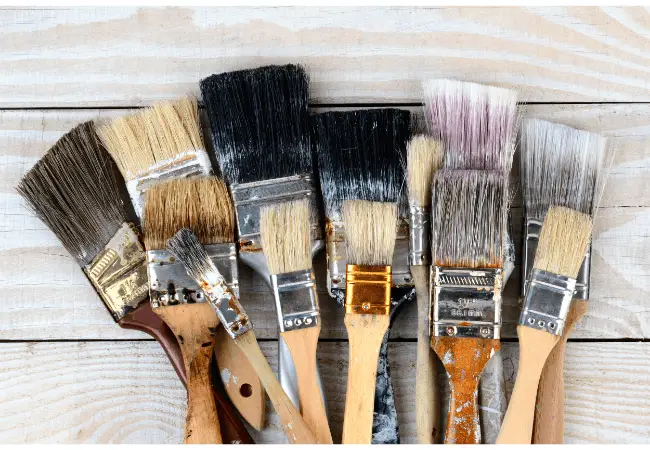 While rollers do get the job done quickly and give you plenty of coverage, there is one caveat that needs to be addressed. Specifically, it's the mess you leave behind.
Some people don't want to waste a lot of paint. So it would make sense for you to paint walls using a brush. You'll have just enough paint to cover the area. Therefore, you don't have to worry about having too much paint to work with. Not to mention, it's more of a time-saver than a time-waster. Also, you don't have to waste time going back and fixing whatever goof-ups you did beforehand.
We're not going to lie – we do like painting with a roller. But, we've made a good point about the advantages and disadvantages regarding this. However, you shouldn't mind painting with a regular brush if you want to place high importance on quality. With paint brushes, you can be meticulous about it. You'll have small coverage areas to work with, but at least you'll be taking your time.
Tips for Wall Painting With A Brush
Before we get to the buyer's guide, let's share with you a few tips you can use for painting with a brush. Let's cut to the chase and find out what they are:
Buy Brushes that Won't Fall Apart Easily
One of the biggest issues with low-quality brushes is the bristles. Specifically, the bristles will fall apart even after short-term use.
So it would make sense to purchase a brush that isn't too cheap. We'll explain this a bit more in the buyer's guide when we talk about price as well as the importance of quality.
Plan and Prep
One of the more important things to do before putting the brush into the paint is prepping. You can use a tarp if you believe you're going to make a bit of a mess.
Have a cloth handy that you can soak in case you do make a bit of a mess. Also, use painter's tape if you are worried about painting over moldings, trim, or baseboards.
Plan what you need to paint and make plans to cover up what might get affected as a result.
Avoid overload
By this, we mean avoid overloading the brush with paint. As a rule, dip about no more than two inches of the brush into the paint.
If needed, wipe the bottom part of the brush so you can keep the paint on one side. This will prevent the paint from getting trapped into the bristles (which can make cleaning a bit of a challenge).
Once again, the goal here is not to waste so much paint. Conservation is key, and paint can get expensive at times.
Don't Fix Mistakes Right Away
We get it. Mistakes can be made during the painting process. However, when you notice one, don't fix it right away.
You should rather focus on continuing the task at hand and worry about touching up the mistakes once you are completely finished. Don't be distracted by small mistakes. Keep doing what you're doing.
Avoid Dry Brushing
Dry brushing will create thinner layers of paint compared to other spots on the wall. This is something you want to avoid.
Go at least five or so strokes before you dip the paint into the bucket again. Give yourself some coverage, but do it until the brush is dry. Don't go beyond that.
Find Other Painting Tips
While we do know things about painting, we don't have all the answers. So it would be a good idea to find other painting tips that may work for you.
Youtube has plenty of videos where you can find out painting tips that will make your project so much better. Some tips may be the same, while others may be unique, but all are worth trying.
Have a little fun and learn a bit more about painting your walls by learning all kinds of tips.
Buying Guide: What to Consider Before Buying Wall Painting Brushes
Now that we have shared a few tips with you, let's talk about what you should consider buying a paint brush for walls. Use this as your reference guide as you are shopping around.
Here's what to look for:
Price
The price may be something you can focus on if you are on a budget. As mentioned, the price and quality do go hand in hand. Expensive equals better quality, whereas cheap equals not so good quality.
Find the best quality you can afford. Don't go for cheap as it may lead to disappointment, such as bristles falling apart.
Angled or Flat
Some paint brushes are flat, and others are angled. The angled brushes will work well for corners and edges, while the flat ones basically take care of everything else.
To save yourself money, we suggest getting package deals where you get a mix of angled or flat brushes. We will be suggesting some of those in the product list below.
Width
One of the big differences between one brush with another is the width. Since you are painting walls, you can go a bit wider compared to other paint brushes that you use for other projects.
Keep in mind that wider brushes that are flat will not be a good solution if you are trying to paint corners. That's where an angled brush comes into play.
Bristles
Two kinds of bristles are available: natural and synthetic. However, synthetic will do a better job collecting more paint when dipped. It can also hold paint well while you are transferring it from bucket to wall.
Make sure the bristles maintain a bit of firmness but are soft enough to where they don't scratch the walls. Also, make sure they stay intact rather than fall off the brush. Again, a brush that isn't too cheap will prevent this issue.
Best Wall Painting Brushes Reviewed
Now, we're going to be revealing our list of the best wall painting brushes. We highly suggest you check each of these out before making a decision.
Also, feel free to take note of any brushes that may stand out for any reason. They might just be the brushes you end up with.
Let's get started:
First, let's take a look at the Bates Paint Brushes. You get four different paint brushes. Three of them are flat with different widths.
You also have one that is angled. This is great to have if you want to keep things simple. You have different brush widths along with the extra angled brush just in case you need to work the corners. It has synthetic bristles that will keep the paint in place while you are transferring it from can to wall. Plus, it's quite affordable and decent in quality.
Advantages
Excellent quality

Affordable

Simple options for the beginner

Last quite a while

Easy to handle
Disadvantages
Bristles are a bit stiffer than expected.
Next, we'll be taking a look at the Pro Grade Paint Brushes. You get three of them at different widths, but they are angled. Meanwhile, the other two are t 1 and 2 inches flat, respectively.
These are about the same price, if not slightly expensive, compared to the previous option. We like these because they can work with tight corners.
Meanwhile, you may be able to use one of the two flat paint brushes just for painting the rest of the wall. The bristles hold more paint and won't leave any streaks behind. If you are looking for what might be the closest you can get to a professional finish, these brushes will be a good option.
Advantages
Great for all painting projects

Bristles are of good quality.

Great for beginners

Not too rough

Good for exterior and interior paint jobs
Disadvantages
We always like it when AmazonBasics has something. It's the brand name that you should never underestimate!
If you know that an inch and a half width is enough for a paint brush, this one will be the best option. It's perfect for all kinds of paint jobs, including walls. It has polyester bristles, which make it firm but flexible.
This brush is your go-to option if you want to worry less about leaving scratches on the walls and surfaces. Other than that, it's a pretty durable brush for the price it's going for.
Advantages
Durable

Doesn't leave any scratches

Affordable

Versatile for different kinds of use

Bristles are not too firm.
Disadvantages
Bristles may loosen after long-term use.
If you are looking for an angled brush, the Wooster Brush might just be what you are looking for. This is measured at two inches in width.
The bristles are made from a combination of nylon and polyester and work with all kinds of paint types. Whether it's oil-based or anything else, this is the brush that can handle it all!
This brush will work well with corners, so if you need to just get to them, there may be no other brush to go with.
Advantages
Easy to control

Durable

Great for cutting in

Bristles are nice and straight.

Very comfortable to hold
Disadvantage
Bristles could be better in terms of quality.
Finally, we'll take a look at the Presa Premium Paint Brushes. Sure, they are great because you get three flat and two angled brushes. Also, these ones are the easiest to clean.
That's because it has SRT filaments that will make the paint easy to clean off. However, they are quite durable and can hold paint easily, so you don't lose any during the transfer process.
If you are looking for something that is heavy-duty and will be easy to use over and over again, we recommend these brushes. These may be the most expensive on the list, but they are definitely worth every penny.
Advantages
Very durable

Excellent quality

Perfect for various paint jobs

Holds paint well

Easy to clean
Disadvantages
Bristles may be a bit too rough.
Conclusion
We hope this buying guide and review helped you find the right brush for painting your walls. You'll want to find one that is of good quality and can be reused over time.
When painting walls, you can rely on flat brushes for much of the surface. When the time comes to work on the corners and edges, an angled brush might just get the job done. Whether it's a single brush or a set, you might just have what you need.