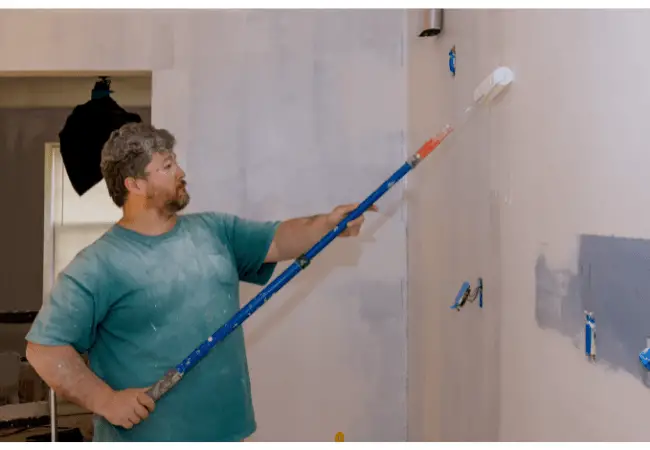 In-Depth Review And Buying Guide For The Best Electric Paint Roller
Compared to manual paint rollers, electric power paint rollers have a lot of benefits. They're significantly speedier in general. In a perfect scenario, an electronic paint roller would save you up to 50% of the time it takes to paint a regular room. Discover the best electric paint roller for your next home improvement project.
However, unless you pay close attention to the nuances, coverage varies greatly from outstanding to poor, with little in between. With electric paint rollers, it appears to be all or nothing.
This makes picking which one to buy for your next painting endeavor much more difficult than it needs to be. But don't worry! We've done all of the legwork for you, researched the products' performance, scrutinized them for both good and poor points, and then created evaluations to give you peace of mind when choosing which tool to buy from which manufacturer.
Here's a quick rundown of all of our best-selling products. Continue reading to learn more about electric rollers' functions and how to choose the best paint rollers for your project by reading our shopping guide. 
Top 5 Electric Paint Rollers
When it comes to home painting tools, Wagner has always proven to be a dependable and long-lasting brand. The Cordless Turboroll is well-known for its innovative and practical design, making it an excellent choice for giving your walls a new look.
A built-in trade-off is included with this cordless electrical roller. It works on 4 AA batteries and is quite simple to use and handle. With just a single button, you can paint walls and ceilings. Even though this device runs on batteries, it is still a highly powerful roller that is always a better choice for painters working on medium-sized painting tasks.
The large storage tube is a great innovation that Wagner has developed in their 0271008 Cordless Turboroll. By pressing the power switch, you can simply get smooth paint output, and if necessary, a manual override option can be used to paint the old-fashioned approach.
On the plus side, it significantly accelerates the painting process. There isn't any doubt about that. It does exactly what it says on the box. The coverage is good, and not having to constantly immerse the roller in a tray of paint accounts for at least 50 percent of the time savings. Coating the rollers, as well as the hours spent turning back and forth to the tray, doesn't take long when done once. However, when you have to do the same thing over and over all day, it starts to add up.
The fact that it produces more paint in less time than traditional manual paint rollers saves time as well. It's also less difficult because you don't have to lift your arms that much. Painting is difficult to work regardless of the instrument you employ, but this roller helps to ease the load.
The only drawback to this instrument is the cleanup time, which is way longer than with a traditional roller. However, the time saved on the front end more than compensates for the cleaning time on the rear end.
We discovered that this roller sheds a little at the start of your painting when we tried it. You'll also have to fill the electric paint roller tube once to get the roller full of paint, then refill it.
It takes around 30 minutes to clean up, so map out all the spots and colors you want to paint ahead of time. Prioritize the areas that require the most attention. Set aside some time for yourself.
Pros
Exceptional coverage

Simple to use

Allows you to complete your painting rapidly.

For ceilings, this is a fantastic solution.

It takes less effort.

There's no need to keep refilling.

Powered by a battery

On a set of batteries, it can pump 15 gallons.
Cons
Doesn't work well in confined spaces.

Sheds at the start of the painting

It takes 30 minutes to clean up 

Have to fill the tube once at the beginning to fill the roller
Look no further than the Wagner Spraytech SMART SideKick if you're searching for the Cadillac of power rollers. This motorized paint roller is suitable for even bigger painting operations, with a 1 to 5-gallon capacity.
This paint roller absorbs paint straight from the can and transfers it to the roller via a plastic tube. When you don't have to wait to coat the roller with paint from the paint tray, the time savings add up quickly for a day of painting. It does an excellent job of evenly dispersing the paint.
This one does require you to plug it into the wall, which can be inconvenient, but it compensates by immediately putting a steady stream of paint into the paint roller cover.
That means you won't have to worry about that as well; simply put this small machine in a gallon paint bucket and your paint roller will last till the pail of paint is empty!
When you consider how much time and effort this device may save you, it's a no-brainer. There is also a quick-release lever that allows you to quickly remove and replace components.
This Wagner electric roller features a direct-feed delivery system for a continuous supply of paint, allowing you to paint the walls without interruption. If you don't enjoy working with paint sprayers, this device might serve as a good replacement that would still help you save your painting time in half.
While it is more expensive, it is usually less than $100, and an expert painter will tell you that it is well worth the money to protect your back!
However, there is a major cleanup task on the back end, so keep that in mind. You will also need to handle extension wires and the plastic hose that connects the can and the roller handle. Once the hose is loaded with paint, it might get rather weighty after a while. Eventually, the weight will have taken its toll on you. Then there's the thirty-minute clean-up. The only disadvantage of this Wagner electric power roller is its time-consuming cleanup.
Pros
Fills directly from the paint can

Controls the flow of paint from the handle

Simple to set up and use

Much less expensive than a paint sprayer

Extension handle connection 

Gives you quick and uniform coverage.

Saves a lot of time, especially for large applications 

No paint leaking from the connectors
Cons
On the expensive side

It only works with thinner paints, according to some consumers.

Cords and hoses.

Cleanup will take a long time.

Working with high ceilings is difficult.
This is yet another high-quality pressure roller. The Graco 244512 is a multi-purpose power paint roller (for house painting) that comes with a variety of extensions. A pressure roller handle, a 40-inch extension rod, and a 1/2-inch nap roller cover are included in this set.
This power electric paint roller system is an excellent choice for any painting endeavor due to its lightweight and simple design. The stainless-steel roller glides across the surface without causing any uneven turns, resulting in a clean and expert finish every time.
Furthermore, Graco (like Wagner) has been producing excellent painting equipment for a long time, and there's a reason why expert painters regard them as such.
This is an excellent choice for you if you want to invest in a product that will help you for years to come!
Pros
More time is saved than with any other roller.

Outstanding built-up construction

a long extension

It includes a paint gun adaptor.

Great for larger projects

Provides consistent paint flow 

Lightweight 

Simple to set up and use 

There will be no dripping or paint accumulation. With a 7/8′′ thread, it can be used with airless spray guns.
Cons 
It's a little pricey 

It's a little heavy for non-professionals
The HomeRight PaintStick EZ-Twist is one of the simplest power rollers to use, and it has a length of 64 inches! With a range of up to 64 inches, this model is best suited for painting projects on high walls or ceilings.
There's no need to juggle a step stool or a ladder; this roller will take care of everything for you.
This Power Roller has an 18-ounce paint capacity in the handle, so you can spend less time replenishing and much more time painting. The EZ Twist handle pulls paint straight from the can, eliminating the need for a tray. You should be able to paint approximately 70 square feet in a matter of minutes or less.
It also includes Wagner's shed-resistant paint roller coverings, which have perforated holes to enhance the cover's capacity to absorb and disperse paint. The Wagner Spraytech HomeRight PaintStick EZ-Twist roller's clever twisting function helps painters to cover tricky corners and curves with relatively little effort.
When you're finished with your job, our EZ-Twist roller is also incredibly easy to clean. This just takes about ten minutes, which is fantastic for those of us who dislike that specific step of the job.
When we tested it, however, we discovered that the device became quite heavy and that we could only paint overhead for approximately 10-15 minutes before having to stop.
Overall, this model allows even novice painters to paint like professionals, therefore it's worth adding to your list of must-have painting supplies.
Pros
Less refilling 

Simple to use

Increased coverage

There will be no dripping or dirty surfaces.

Coverage of difficult-to-reach places is simple.

64-inch reach

18 oz. paint capacity

Paint roller covers that don't shed
Cons
Before it gets too heavy, you can paint for 10-15 minutes.

It can be difficult for first-time do-it-yourselfers.
If you're looking for a more budget-friendly version to try out, the Paint N' Roll is a great choice.
It's a more basic version of the SMART Flow Roller, and it lacks the "power" option, so you'll have to physically hold down the button when you need extra paint.
If you're undertaking little paint projects, this little gadget can help you save time. It's the same tool that helps you cut your painting time in half, but it also has a new feature to assist you to get rid of all those annoying patches and smears from things like bugs or anything equally bothersome!
For those wishing to check out this unusual pastime without breaking the wallet, the Paint N' Roll is a terrific option.
Pros
Fills up with paint from the can

18 oz. paint capacity

Inexpensive
Cons
When it comes to filling it up, there is a minor learning curve.
Advantages Of a Power Roller System
Below are some benefits of having a power roller system paint.
When painting, there is less mess and better organization since the power roller system automatically transfers the paint from the can to the roller. This eliminates the need for a rolling tray. It is no longer necessary to make trips to and from the bucket and rolling pan, resulting in less mess. Painting becomes more structured using the power roller's electronic system.
Painting becomes easier. It becomes more economical and time used to paint is cut in half thanks to automatic paint distribution.
All Equipment in One Package- Power roller systems come with a number of tools that allow you to paint areas that are difficult to reach or are extremely large.
Buyers' Guide
Price
This is most likely one of the very first things that many of us think about, and with good cause. We don't want to splurge on a product, but we also don't want to underspend and wind up with a dud. A motorized paint roller will usually cost between $50 and $300.
Understandably, paying more money will result in a better product. But you should still buy a product that fits your needs.
Brand
Above in the review section, we discussed which particular brands appear to be producing the greatest items.
But, for the time being, let's just say that researching the brand and considering its history and appeal is critical. It's a good sign if they have largely positive ratings.
If, on the other hand, most of the reviews are bad, you'll need to hunt for a high-quality power paint roller from a different manufacturer. So, before you buy a power paint roller, make sure you do some research on each brand and model.
Although this guide will assist you in narrowing down your selections, you should research the items to determine which one best suits your needs.
Suction System
When purchasing a power paint roller, it's important to think about the suction system. It is one of the most important factors to consider while purchasing. If your roller can only choose specific types of paints, it's useless, irrespective of whose brand it is or how long the manufacturer's warranty is. Remember to verify the power of your paint roller, especially if you're going to use thick paint or heavy primers.
Portability
Always keep in mind the weight and volume of these rollers. We would even recommend that you keep the roller in the market for a while to get a better idea. A clumsy electric paint roller that is difficult to set up and would be nothing more than a source of frustration.
Please choose the one that is more portable, as it will be less of a problem to utilize. If you're short on space or have storage issues, you should also consider portability.
Quiet Mechanisms
Painting is a difficult task. To deal with the noise, we recommend choosing a roller with a quiet operation; trust me, it will come in handy. This is something that all contractors and do-it-yourselfers should be aware of. 
Painting is a procedure that takes 4 to 5 hours every day, and you would subject yourself to the obnoxious and loud noise of these power rollers. Remember that good paint roller systems have low-noise machinery.
Ease Of Use
For this purpose, we advise you to study the electric paint roller's extensions. It will determine the maximum height to which you can attain. The greatest strategy is to figure out how much your walls and ceilings are worth. Then, identify the extensions that are required.
Don't forget to thoroughly inspect the pump mechanism. The higher the force's requirement, the more challenging it will be to execute massive projects.
Conclusion
Hopefully, by the time you've finished reading, you'll have figured out what kind of  best electric paint roller you require.
The Wagner 0271008 Cordless TurboRoll earned first place in these tests. It's a power painter that's quick and simple to use. There are no power cords to stumble over because it is battery-powered. No hoses are linked to paint cans that could spill all over the floor because all of the paint is kept in the handle.
You may rest assured that all of the brands indicated above are reputable, dependable, and provide a high-quality finish. As a result, there is little or no chance of having any doubts regarding the quality. Examine each thing in the manner that you desire and satisfy yourself, as this is your ultimate consumer right.
Consider everything carefully, reflect on your requirements, and then spend it wisely on the best electrical roller for your demands. Then go ahead and choose the perfect electric power paint roller for you and start painting.
Related Article