Are you looking for the best sprayer for Plasti dip? Well, most people don't understand the importance of getting the right sprayer for the job since Plasti dip is thick in texture. However, the good news is that there are a variety of sprayers that can handle high-density paints.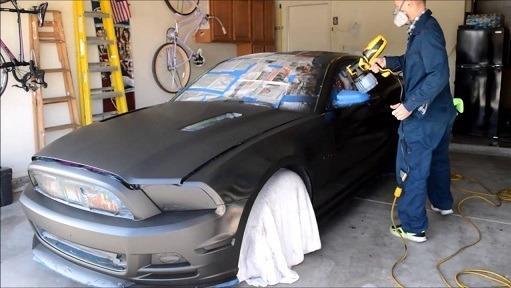 Have you been thinking of using Plasti dip for your next project? This top 4 list will come in handy whether you are a beginner or professional. You should be able to find a suitable model by the end of this article.
| Products | Product Name | Details | Price |
| --- | --- | --- | --- |
| Top Pick | Earlex HV3500 |  Supports 9ft. Hose | |
| Overall Pick | Wagner 0529031 |  39ft.Supports Hose | |
| Budget Pick | NEU Master 600 | Air hose length: 6′ | |
Top 4 Best paint sprayer for Plasti dip – Reviews
The Wagner Spraytech 0529031 is an excellent choice for Plasti dip because it comes with two nozzles. You get an iSpray nozzle that is perfect for thick paint such as Plasti Dip, and a detail nozzle for thin paints. This impressive sprayer, therefore, gets you versatility which always comes in handy when you are a professional or regular DIYer.
What I love about the Wagner Spraytech 0529031 is the X-BOOST turbine that delivers impressive performance when using either thin or thick paint. You will get excellent atomization regardless of the nozzle that you are using.
Note that this sprayer also comes with a 39-ft hose that ensures you can easily get to those hard-to-reach places. You will also find it quite easy to apply coats on different surfaces including your car. Working on large projects is made considerably easy with this sprayer.
Other notable features include detachable parts that ensure fast and easy cleaning. You also get several adjustment control knobs that allow you to dictate the spray pattern and paint flow. Note that more control gets you a smooth and professional finish.
 Pros
Easily detachable parts save you a lot of cleaning and maintenance time
Includes two nozzles making it perfect for thick and thin materials
Adjustable fan pattern, paint flow, and fan width
The built-in handle makes it easy to carry
 Cons
Quite expensive when compared to other models
The NEU MASTER 600-Watt High Power is a high-performance sprayer that comes at an affordable price. The built-in turbofan ensures you get an even airflow when using the sprayer. You will enjoy working on different projects with this outstanding sprayer.
What I like about the NEU MASTER 600-Watt High Power is that it comes with three pattern settings for horizontal, circular, and vertical spray patterns. You also get to use either a 3.0mm or 2.5mm nozzle which is ideal for most projects.
However, this sprayer is somewhat limited when it comes to versatility. Notice that you can only use a 3.0mm or 2.5 mm nozzle. Some projects may require a smaller or larger nozzle to get a high-quality finish. The good news is that this sprayer works seamlessly with Plasti dip, thus ensuring you get a high-quality finish.
The NEU MASTER 600-Watt High Power packs a lot of power to get you a superior finish. You will get to complete projects faster without compromising on the quality of the finish. Note that its lightweight and compact design will ensure you work for longer without getting fatigued.
However, this sprayer lacks options when compared to other models on our list. Note that it is designed for simple tasks around the home. You will find it quite challenging to finish large projects when using this sprayer. The small tank can be rather frustrating since you will need a lot of refills to complete large projects.
Finally, the NEU MASTER 600-Watt High Power is easy to use making it ideal for both professionals and beginners. It is a worthwhile purchase when you are looking for a cheap sprayer for Plasti dip.
 Pros
High-performance sprayer
Adjustable settings improve the quality of the finish
Pocket-friendly price
Easy to use and clean
 Cons
Lacks operational options
The next best paint sprayer for plasti dip on our top four list is the Earlex HV3500 Sprayer. Note that this is the ideal sprayer for a homeowner who loves working on DIY projects. The setup is quite easy, and you can use it straight from the box.
The Earlex HV3500 Sprayer comes fully equipped with a two-stage motor that packs 500W. You also get three spray patterns including round, vertical, and horizontal. Users can, therefore, enjoy using this sprayer for different types of projects.
What I like about the Earlex HV3500 Sprayer is that it lest you change the material speed using your thumb. You can, therefore, save a lot of time when working with this sprayer. Note that you can work on large surfaces quickly when using this impressive machine.
The Earlex HV3500 Sprayer is a beast when it comes to flexibility. You can quickly move around and spray in any direction without any problems. However, note that this sprayer has considerable overspray when compared to other models in the market.
 Pros
Sturdy and powerful motor
Three spray patterns
Easy to use and clean
Adjustable settings
 Cons
If you are looking for an easy to use the best sprayer for Plasti dip, the Can gun1 2012 Premium Can Tool is an excellent choice. It features the first full grip trigger that gives you more control and comfort. Understand that you can easily get a better finish when you have more control over the sprayer.
What I love about the Can gun1 2012 Premium Can Tool is the arthritis-friendly design. You can operate this gun with one hand without compromising on the quality of the finish. Note that the sprayer can also work with different types of material including Plasti dip.
However, this device is only ideal for light use. Understand that the gun is specially designed for DIY warriors who attend to small tasks around the house. Using this sprayer for large projects will take a lot of time.
One of the similar accessories for spray cans is a spray can extension pole that will help you reach high spots when painting. Most of the top paint suppliers make some sort of variety for the DIYer.
 Pros
Pocket-friendly price
Ergonomic arthritis-friendly design
Lightweight and compact construction
Includes two guns
 Cons
Not ideal for large tasks
Things to know before buying the ideal sprayer for Plasti Dip
Before you purchase a sprayer for Plasti dip, you need to know the few things that must be considered. Understand that there are several options in the market and you need to know how to choose a suitable model. In this next section, we will take an in-depth look at the things to consider when buying a suitable sprayer for Plasti dip.
Pressure Controls
When it comes to sprayers of Plasti dip, they must have pressure control knobs. Notice that having an adjustable pressure control knob will get you a high-quality finish. Note that the odd angles and tight corners will need several adjustments to give you a smooth finish.
Note that a pressure control knob will get you the right amount of power and Dip spray to complete a project. Understand that high pressure will be suitable for large projects, but will give you a poor finish when handling small projects.
Paint Cup Size
When it comes to cup size, you need to find the perfect balance. Understand that you need a tank that will not need constant refilling without making the sprayer too heavy. Note that constantly refilling the paint cup will compromise the quality of your finish due to increased downtime.
However, a big paint cup will be too heavy which might also slow you down. Take your time and think about the paint cup size when making a purchase. Find a paint cup size that suits most projects without making the device too heavy to operate.
Mobility
When you are spraying broad flat surfaces such as walls, a bulky gun that covers a lot of ground will be efficient. However, if you are painting a complex project such as a car, you will need a lightweight sprayer that gets you a lot of mobility.
Note that the HVLP sprayers are easier to set up when compared to the conventional compressor sprays. You are better off with an HVLP sprayer that balances both weight and performance. Note that you will need your sprayer for different types of projects in the workshop.
Price
Note that price is a huge determinant when purchasing any piece of equipment. Start by asking yourself whether you will be using your Plasti dip sprayer often. Understand that investing in the high-end models that cost a fortune will be pointless.
However, you also shouldn't go for the cheap models because they are constructed from poor quality materials. Note that having to repair or replace your sprayer often can be rather costly and frustrating. Find a suitable gun that fits within your budget.
Warranty
Always go for a sprayer with a long warranty. As a rule of thumb, the more warranty that comes with a piece of equipment the better. Having a guaranteed warranty will protect you when you accidentally drop your spray gun.
Get a two-year warranty, especially when you spend a fortune on a Plasti dip sprayer. Understand that a sprayer for heavy-duty projects may break down due to several factors. Also, note that the warranty length will showcase the confidence of the manufacturer towards their project.
How To Spray Plasti Dip on Your Car -Tips
Have you been thinking about using Plasti dip on your car or its accessories? Well, Plasti dip is a substance that is perfect for protecting different kinds of surfaces during the winter. Note that Plasti dip is resistant to winter ice, sun fading, salt, and cold. The good news is that it is a durable substance that is easily removable after a certain period. Below is a step by step guide on how to spray Plasti Dip on your car.
1. Find the Ideal Location
Find a wide area that is large enough to house your car and leave enough ventilation room. An open garage will be a perfect suggestion because it gets you a lot of ventilation space. However, you need to avoid areas with direct sunlight because it will ruin the quality of your finish.
2. Gather Materials
Gather all the materials that you will need for the project. Ensure you have a suitable spray gun, old newspapers. Painter's tape, painter's goggles, painter's mask, gloves, Plasti dip paint, and 2 one-gallon buckets.
3. Wash and Clean the Entire Surface
You need to clean your car properly before you can start applying Plasti dip. Note that Plasti dip will form a separate layer on whatever surface you spray it on because it is an overlay. It would, therefore, be best if you cleaned the surface before applying the Plasti dip.
However, let the surface dry for a couple of hours. You can always use a piece of dry cloth to fasten the drying process. However, do not use shirts with logos and designs because they will create scratches on the surface.
4. Prepare the Area
Although removing Plasti dip is considerably easy, it would be better to prepare the area first before application. Note that proper preparation will reduce the hassle when you need to remove the Plasti dip. Use the old newspapers and painter's tape to cover any windows and areas where you don't want Plasti dip to be applied.
5. Paint in Sections
Painting in sections will make it quite easy to finish your project within a few hours. However, note that the entire process will take somewhere between six to eight hours when done correctly. For example, you could apply the first layer on the hood, and move on to the roof while the hood dries. However, note that you shouldn't touch any place with wet Plasti dip during the entire process.
The first layer needs to be a light dusting because it is the binding layer with a 50-60% transparency. Hold the can at 7 inches from the surface and spray in a clean sweeping motion. Give the first layer about 30 minutes of drying time before adding the second layer.
6. Spray additional layers
You can then spray as many layers as you need depending on the size of the project. note that increasing the number of layers will equally increase the durability of the paint. However, use an average amount of five layers to get a smooth and consistent finish.
7. Remove the tape/newspaper
Once you are done with the final layer, remove the newspaper and painter's tape from the different surfaces. Ensure you remove all the newspapers before the paint dries up. Understand that you shouldn't let the overspray dry before removing the newspaper and painter's tape.
You may Like also:5 Best Paint Sprayer For Cars In 2021
Final Verdict
When choosing the best sprayer for Plasti dip, you should go for a high-end model at an affordable price. Due to this fact, my top choice has to be the Earlex HV3500 Sprayer. Note that the angled pick-up allows you to spray in any direction, thus making work quite convenient. It also features a compact and lightweight construction that will get you long-lasting services.
However, ensure you pick a model from our list that suits your needs. Note that you don't have to spend a fortune to get a high-quality Plasti dip sprayer. It would also help if you looked at customer reviews before making a purchase. Understand that the different customer reviews will get you a clear picture of the sprayer.
FAQS
Can I use an HVLP gun to spray Plasti dip?
Yes, HVLP sprayers are an excellent choice when working with Plasti dip. Note that the HVLP guns are versatile, cheap, and there is less clogging. The conventional spray systems get clogged up quite quickly and become a huge problem.
How many years does Plasti dip last?
When Plasti dip is properly applied, it can last for up to 3 years. Note that the longevity of the Plasti dip will depend on the number of applied coats, spraying distance, and temperature. The good news is that you can always apply a fresh coat of Plasti dip after every couple of years.
Can I Plasti dip over an area with Plasti dip?
Provided the original coat is still new, then you can always apply a fresh coat of Plasti dip. However, you should remove the original Plasti dip before applying a fresh coat if it has dents or defects. Note that the same defects will appear on your fresh Plasti dip coat.
Can I apply Plasti dip over taillights and headlights?
Yes, you can apply Plasti dip over taillights and headlights. However, note that you need to check the state's vehicle regulations to ensure that it isn't against the law. Also, understand that most taillights and headlights will create a tight bond with Plasti dip just like the body.
Can you use Plasti dip with a spray gun?
Yes, both pressure feed and gravity feed spray guns can work effectively with Plasti dip. However, ensure you use the right pressure to get a smooth and professional finish. The good news is that Plasti dip can be diluted by up to 50%, thus ensuring you can use different nozzle sizes. Ensure you find a sprayer model that works with a wide range of products to guarantee versatility.