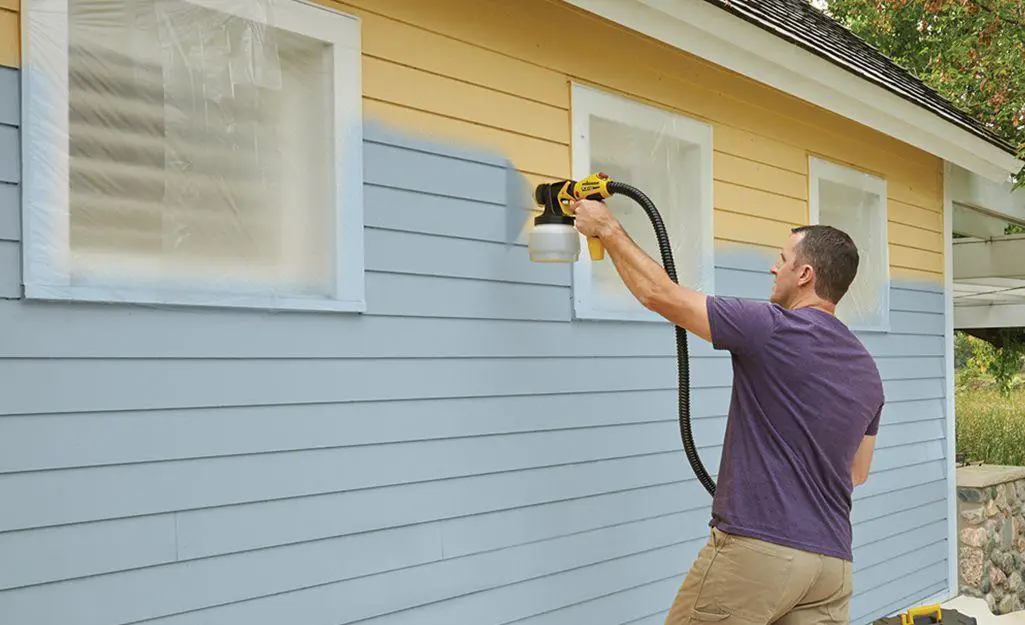 The 21st century has seen the rise of DIYers. All around the globe, people are now indulging in home projects themselves instead of opting for professional services. Discover the best paint sprayers for your home in the following buying guide.
Whether it's painting one's home in new shades or restoring an old piece of furniture to its old grandeur, people are taking matters into their own hands. Given that, a paint sprayer gun is a tool that any DIYer would like to recruit in their arsenal. 
If you too are looking to get yourself the best paint sprayer for your home projects, then you are in the right place. Today we'll be talking about some of the best products on the market so that you can go in for the best purchase depending on your needs. 
All the products that you will see on this list have been chosen on the basis of specific criteria. We chose machines involving different technologies and applications so you can have a complete buying guide. We have included conventional corded options, as well as the fully mobile and portable cordless ones. Price was also an important consideration. This list includes products priced around $100 to ones that go beyond $500.
Things to Consider
Paint sprayers use various technologies to provide the desired output. Depending upon your needs and application, some tech will work better for you than the rest. For example, if your project involves large scale application, then an airless paint sprayer will cater to your needs well. Since they have the capacity to work for extended periods and with larger amounts of paint, they become a natural choice.
However, if you are planning to redo your furniture or any low-volume work, and need your sprayer to cover the tiny crevices and corners precisely, an LVLP (Low-Volume, Low-Pressure) paint sprayer will do the job for you. In case your furniture needs a thicker coat with a viscous liquid, then an HVLP (High-Volume, Low-Pressure) sprayer will suit your needs the best. 
LVLP sprayers tend to work the best with thin liquids. HVLP sprayers are also known for being highly compatible with a range of fluids. Since they also allow users to customize and regulate the machine according to the need of the hour, HVLP sprayers tend to be more versatile. The user can go for more propelling turbines and also choose specific turbines to work at a given point in time. 
Before we delve deep into our selections, let us take a look at all of the best paint sprayers for your home.
Best Splurge: Titan Control Max 1900 Airless 
Best Airless: HomeRight Power Flo Pro
Best Overall: Wagner FLEXiO 890
Best Economy: Wagner 0529033 Home Decor HVLP 
Best Cordless: Graco Ultra Cordless Airless 
Much akin to their name, Titan is one of the strongest brand names when it comes to home improvement tools and machinery. Since 1974, Titan Tools have carved out a niche in the industry with well-engineered equipment. 
The Control Max 1900 PRO is one of the most efficient tools when it comes to your home projects. Whether it's painting some walls, or completely revamping the look of your house, this heavy duty assistant will have your back.
This airless paint spraying ensemble consists of a station cart which carries the paint container and the hose. You can easily keep this cart stationary while you walk around painting 0 thanks to the 50 foot hose that this product provides. If the situation demands it, you can also extend it up to a whopping 100 feet! Talk about reach!
The HEA (HIGHLY EFFICIENT AIRLESS) technology reduces any overspray up to 55% while maintaining top-notch performance. Not to mention, this paint sprayer is also capable of spraying several hundred gallons of paint throughout a year. This can be attributed to its robust metal build. 
If your applications are large scale and your budget is sizable, we recommend this workhorse by Titan Tool.
Pros:
Durable build

High portability and reach

Can do heavy-duty work for extended periods

High capacity for paint

Compatible with a range of materials
Cons:
Expensive

Require some experience

Not ideal for small projects
HomeRight has become synonymous with effortless and smooth home improvement, and rightly so. Their products have delivered excellence since 1993, and the Flo Pro 2800 continues to do so. 
With a powerful 0.5 horsepower engine, this airless wonder works at high pressure to produce superior atomization even in unthinned materials. 
The spray gun is chrome-plated to prevent any rust or damage and consists of an effective and durable 100-mesh filter. While most paint sprayers struggle with clogging, the Flo Pro 2800 tackles it effectively with a reversible nozzle tip. Also, with the help of the pressure control knob on the gun, you can easily adjust the amount of paint that flows at a given point in time and even alter the spray pattern. 
The machine comes with a 25 foot hose from the paint station, which can hold paint containers of up to 5 gallons. You can easily set down the station and walk around going about painting. The whole unit is also fairly easy to move around, thanks to the carry handle on the top. 
For your mid-sized to heavy-duty applications, the HomeRight Power Flo Pro 2800 can work wonders. 
Pros:
Fair portability and reach

Durable build

High capacity 

Compatible with a range of materials
Cons:
Slightly expensive

Not ideal for small projects
It is perhaps impossible to curate a list of paint sprayers without the mention of one of Wagner SprayTech's products. Wagner has dedicated their work to making spray painting a breeze, and that is what the FLEXiO 890 does.
This HVLP sprayer excels at all home-based projects. Be it a large-scale application or just a furniture piece – FLEXiO has your back. This sprayer uses a powerful X-Boost turbine to provide you utmost compatibility with any material. With the press of a button and knob, you can simply control the amount of pressure exerted by the turbine, as well as the amount of paint flowing into your gun. 
The ensemble comes with an 11.5 foot hose that can be extended up to 23 feet. To add to that, you also get two different nozzles – The iSpray and the Detail Finish. Large scale painting? Use the iSpray. Need fine detailing and finishing? Whip up the Detail Finish. 
Also, the turbine base has ample space to store the extra peripherals (the hose too!), so the whole unit is fairly portable.
All in all, the FLEXiO 890 is one of the most well-rounded products on the market. If your work range is extensive, so is the FLEXiO 890's versatility. 
Pros:
Ideal for any project

Fairly portable, fair reach

Compact storage
Cons:
Not compatible with very thick materials

Not handy for very large-scale projects
It is no surprise that Wagner appears on this list for a second time, because they have ensured to cover all the needs of any home DIYer. Whether it is a utility project or craft, Wagner has a machine that will deliver unsurpassable performance.
The Home Decor by Wagner is a fantastic product if you are looking to revitalize your furniture pieces, or create something artistic. Yes you read that right! The Home Decor provides amazing support for any small-scale craft projects – thanks to its pinpoint accuracy and transfer efficiency. 
It comes with a 6 foot hose to go with the base, which helps the user maneuver around the object efficiently. However, one must not be deceived by its size, since the Home Decor is also capable of working for extended periods. 
When it comes to the intricate edges and corners, Home Decor will provide an even, professional finish. To add to that, it will always execute your creative ideas with finesse. 
Pros:
Ideal for small, mid-sized projects

Also useful for arts and crafts

Lightweight; easy maneuverability 

Budget Friendly
Cons:
Not ideal for large scale painting

May have trouble with thicker liquids
Cords can sometimes be difficult to work with when it comes to precision spraying. The Graco Ultra removes this obstacle and presents a cordless option that is as effective as most conventional sprayers out there. Not only will it tackle your large-scale work efficiently, but also take on any furniture redos with great control. 
This cordless sprayer uses the Triple Piston Pump mechanism to work at air pressures of up to 2000 PSI to create good atomization and produce even and superior finishes consistently. To achieve that, it uses a 60-mesh filter. The best part about this exquisite spraying machine is that it allows you maximum portability and movement. The Flex Liner Bags provided with the product allow you to operate this product smoothly even upside down.
The Ultra Cordless uses DeWALT 20V Lithium-batteries that give a long life. This machine can go on spraying for up to an hour with a single charge. Not to mention, you get two batteries with the product package. 
Another point to be noticed is, the Graco Ultra works with just about any material at any thickness. Its versatility in terms of materials and pressure adjustment is very competent with other corded options available. If you are one who likes a free hand with their paint gun, then the Graco Ultra Cordless is bound to impress you.
Pros:
Ideal for any scale of application

Cordless, can spray in any position

All parts are repairable

Works with most materials
Cons:
Expensive

Slightly heavy, can cause user fatigue

Batteries need to be replaced every once in a while
The Bottom Line – Best Paint Sprayers for Your Home
In case you are a semi-professional or require a large-scale solution, we sincerely recommend Titan Control 1900 PRO. In case your budget is tighter, the HomeRight Power Flo Pro will do the trick for you. 
If you need to scratch your creative itch and give your furniture a new look, the Wagner Home Decor HVLP will help you get crafty with the colors. 
In our opinion, if you are looking for a sprayer that is multi-functional, the Wagner FLEXiO 890 is one of the most impressive products you will come by.
For domestic uses, all these paint sprayers are excellent options. However, it is your purpose that will decide which one's the best for you. 
Related Article