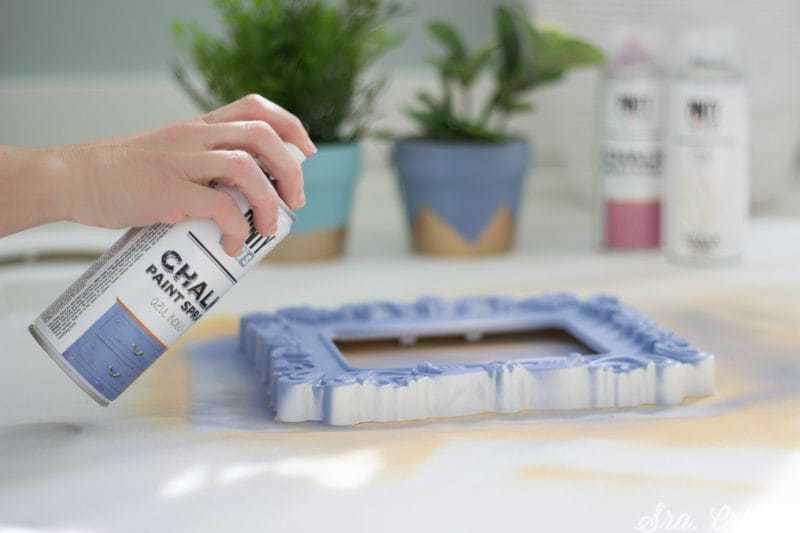 Chalk paint is quickly becoming quite popular because it provides a smooth finish and dries quickly. With the newly introduced chalk spray paint, many DIYers and professionals are embracing the use of chalk paint for most projects.
However, most people aren't entirely sure about how to effectively use chalk spray paint without compromising on the quality of the finish. If you are a beginner in chalk spraying, you have come to the right place.
How to use chalk spray paint-6 Tips
Today we will take a comprehensive look at how to use chalk spray paint. By the end of this article, you should get a high-quality finish when working with chalk spray paint.
Cleaning/Preparing the Surface
Before we start working on any kind of project, you need to clean the surface thoroughly. Use soapy water or rubbing alcohol to clean all traces of wax or oil from the surface. Understand that you will only get a smooth and even finish when working with a clean surface.
Now, most people tend to think that you don't need to carry out any preparations when working with chalk spray paint. However, you will quickly know that this isn't true if you have worked on painting projects in the past. Understand that proper preparation will dictate whether or not you end up with a professional finish.
I would recommend sanding the surface before you can start the project. When dealing with old pieces of furniture you have to sand the surface to ensure all the spots and debts are removed. Simply applying chalk on the surface will not remove the dents and spots.
It is also worth mentioning that sanding glossy surfaces will make it easier for chalk spray paint to stick. Note that chalk-style paint will adhere well to raw wood, which means that you have to perform light sanding when dealing with new projects.
It would also help if you applied primer to the surface before applying the chalk paint. Although priming is not an essential step, it will come in handy when you need a smooth and professional finish. Applying a coat of primer paint does not take a lot of time.
Choose an Ideal Chalk Spray Paint
When you look around, you will notice that there are many variations of chalk spray paint. What you need is a suitable type of chalk paint for your project. Although initially designed by Annie Sloan, many different companies have started producing chalk paint spray.
If you carry out a quick online search, you can also learn how to create chalk spray paint in your home. However, note that the DIY chalk paint will not give you a consistent finish. What you need is a high-quality product that can deliver an even finish.
The good news is that chalk spray paint gives you a lot of options when it comes to color. Ensure you pick out a suitable color that will match your project. Finding the best chalk paint for your project is not a task that should be taken lightly.
Purchase a Spray Shelter
Most people tend to overlook the fact that sprayers come with considerable overspray. To avoid getting chalk paint all over your workspace, you need to invest in a high-quality spray shelter. Getting chalk paint off the walls and floors is not a simple task. You will also spend a lot of time cleaning up if you do not use a spray shelter during your project.
The good news is that spray shelters are available in all different shapes and sizes in the market. Your basic options include either the small, large, or medium spray shelter. The size you pick will depend on the type of project you are working on at the time. However, going for the large size shelters is always a huge advantage because you can use it for most types of projects.
Other accessories that you will need for the project include a face mask, eye goggles, and a pair of gloves. When spraying chalk paint, a lot of particles will get into the air making the environment unsafe. Lack of safety equipment may lead to serious health conditions. Ensure you always work with paint sprayers after wearing your eye goggles and face mask.
Thin the Chalk Spray Paint
Only a few sprayers in the market can effectively handle chalk paint. Most of the models will need you to thin the paint before you can use it with your spray gun. Note that chalk spray paint is water-based which means that all you need for the thinning process is clean water.
Thinning chalk spray paint is simple and straightforward. You simply need to add a little amount of water and stir to ensure you have consistency. Follow the included instructions to ensure you use the required amount of water for the thinning process.
However, you can work with unthinned chalk paint if you have a powerful chalk spray gun. What this means is that your sprayer will dictate whether you need to thin your chalk paint or not.
Spray the Chalk Paint
Getting a consistent finish comes down to mastering the spraying technique. Note that you need to stand about 10 inches from the surface when spraying. Working with continuous and long movements will help you get a smooth finish. Ensure that your trigger is switched on before you get close enough to the surface.
Work with overlapping strokes to ensure an even balance of paint on the surface. Each of your strokes needs to overlap by about a third. The good news is that you can always practice your spraying technique on a piece of cardboard before you start painting.
When working with chalk spray paint, you need about two-three coats for an even and professional finish. However, you need to allow adequate drying time between the coats of chalk paint. The beauty of chalk spray paint is that it dries within two hours. You will, therefore, not need to wait for long periods before applying the next coat.
Use the same technique to spray paint the next coat(s). Understand that sticking to the same painting technique will help you get a professional finish. Work in the same direction and with similar movements when applying extra coats of chalk paint.
Clean your Equipment
You have to clean your painting equipment once you are done with a painting project. Understand that you will get long-lasting services from clean equipment. Note that you spent a fortune on pieces of equipment such as the spray gun. Proper cleaning will also ensure you get a smooth finish during the next project.
Final words
Hopefully, you have learned how to use chalk spray paint effectively. The beauty of chalk paint is that it creates a chalky-like appearance that will give your surface that much-needed aged illusion. It is a universally used color treatment that is ideal for fabrics, furniture, and more.Ensure you find a suitable chalk paint sprayer before you start working on your project. Understand that not all sprayers can effectively handle chalk paint. Since chalk paint is water-based, ensure you find sprayers that can handle water-based paints easily.