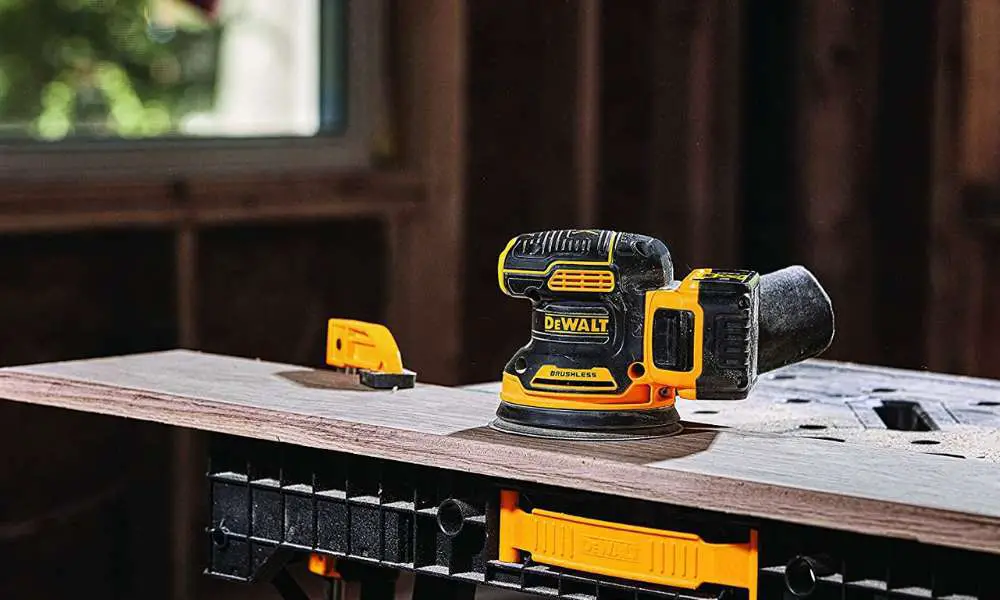 One of the most diverse power tools in any workplace is the random orbital sander. You can get to complete DIY projects quickly and effectively with the help of this handy tool. How to use a random orbital sander is, however, quite challenging to a majority of regular DIYers and beginners.
Understand that you can select the right orbital sander for the task ahead only when you know how to use it correctly. Note that you will also get maximum benefit from your tool when you understand its workings.
How To Use A Random Orbital Sander
Today, I will walk you through everything you need to know when using a random orbital sander. By the end of this article, you should be able to make the most out of your sanding tool. 
​Always Use the Right Amount of Pressure
Many people who are new to using sanding machines tend to believe that applying a lot of pressure will get them a good finish. However, understand that random orbital sanders are pretty powerful, and excessive pressure might end up damaging the surface.
The truth is that you only need to apply a little bit of pressure when working on a project. Understand that orbital sanders are designed to give you a smooth finish with just the weight of the machine. Never press down on the surface when working on a project. Note that too much pressure could also damage your electric sander.
The Learning Process Will Take Time
Learning to effectively use a random orbital sander will take a little bit of time. Understand that the machine has to be held and used in a specific manner to get you a consistent finish. For example, the machine can't give you a smooth surface when you move it too quickly over the surface.
Start by guiding your sanding machine slowly through the entire surface. If you are a beginner in woodworking, you might want to practice the technique on an old or discarded piece of wood. Doing this will ensure you learn how to effectively operate the machine.
Always move your sanding machine in the direction of the grain. Understand that working against the grain might damage the surface. Guide the random orbital sander an inch at a time until you get the entire surface properly sanded.
It would also help if you read the user manual before using your orbital sander. Understand that the tool might seem a little complicated especially when you are a beginner. The user manual will give you all the relative information to use the device safely. Understand that you need to practice caution when working with any power tool.
Secure the Surface
Your electric random orbit sander will only get you good-quality results when working on a stable surface. The first step before you begin any project is to ensure that the surface is well secured. Start by setting up the work support before you power your sanding machine.
Consider clamping the workpiece to ensure that it is securely in position. Note that clamps will keep the workpiece in one position until you complete sanding. Avoid sanding an unsecured workpiece because it could lead to accidents.
Also, understand that an unsecured workpiece can be quite difficult to sand even with a sanding machine. You will not get a smooth and consistent finish since the piece will be moving about under the electric sander.
Always Consider the Dust Removal Feature
Did you know that the dust removal system is not for keeping your work area clean? Understand that when the dust starts piling up between the pad and the surface, it will reduce the efficiency of your machine.
You will, therefore, find it quite difficult to get a smooth and even finish without an effective dust collection system. The good news is that most models in the market come with a dust collection system that helps take care of this problem.
When shopping around for a random orbital sander, ensure you find a model that has a flexible dust collection system. I prefer using a sanding machine with a dust collection system that can be attached to a shop vacuum. These models might be slightly expensive, but are worth every extra penny you spend. You will get to maintain a clean work environment and enjoy all the benefits of a smooth and professional finish.
Use an Orbit Palm Sander for Edges
Many people who are new to sanding machines will shy away from working on the edges. Understand that the random orbital sander is the perfect sanding machine when dealing with edges. Do not avoid sanding the edges because it will not cause any problems to either the work piece or the machine.
What most people tend to forget is the fact that the edges are part of the project. You will also give yourself a lot of work if you are planning to sand the edges using your hands. Do not avoid using your electric sander near the edges of your work piece.
However, you have to exercise a lot of caution when sanding the edges. Hold your work piece securely during the entire process. You should also not let the sanding pad move too far away from the edge of the work piece. The good news is that you will slowly learn how to effectively use your sanding machine after a few trials.
Do Not Angle Your Sanding Machine
Your orbital sander should always be placed flat on the surface when working on a project. do not try to angle your sanding machine when you spot any high marks or spots. You could cause serious damages to your random orbital sander.
You will use a sanding block to deal with any mark or spots once you are done using the machine. Understand that the spots are usually few, and you could always use your hand to sand these areas. Replacing or repairing your sanding machine will cost a fortune.
Know the Different Sanding Discs
Although your random orbital sander is designed to carry out a lot of work, the sanding discs will determine their effectiveness. Note that different sanding discs are used for different types of projects.
Before you can make the most out of your electric sander, you need to start by knowing the different types of sanding discs. It is important to know the main difference between the grit-sizes and the use of each. Understand that selecting the wrong sanding disc can damage the surface of the work piece. You must learn when to use each of the available grit in the market.
Conclusion
Learning how to use a random orbital sander will always come in handy in the workplace. You will quickly get a smooth and even finish when working with different materials. Understand that all it takes is a little bit of practice. You should be able to fully master how to use your electric sander within a short period.
However, ensure you purchase a high-quality sanding machine for your workplace. Note that this machine will be useful when working on multiple projects around the home. Look at different customer reviews to figure out which random orbital sander is best for you.